happy wednesday, y'all.
i'm moved beyond words that a certain mr. tiny over at
wacky tacky
has found my little ol' space on the web award-worthy. gotta love a fellow vintage lover who can appreciate some good junk. thanks for the nod, mr. tiny!!
and now for my end of the deal: a secret fact about myself, 7 posts that stand out (for being beautiful, popular, controversial, helpful, successful, underrated, pride-worthy, etc), and 7 blogs that i would like to pass the award on to.
FACT: i'm sorta obsessed with other people's memories. this shouldn't come as a surprise seeing as how i like collecting their old junk so much, but i also have a very large collection of found phototgraphs that i can't seem to let go of. when i worked at a thrift store, we threw away ephemera like this, so i took to collecting all the pictures and keeping them from the dumpster. it got so that everyone who worked in the back room would save them for me and give me stacks to take home. i especially like the old ones (duh). sometimes, i might have a particular favorite hanging in my house (ok i have quite a few) and people always ask "oh, is that your grandma?" or "is that your family?" and i have to tell them no, i just kinda like it. i don't know if this is weird or not (i guess it is) but i'm comforted to know that i've read of at least a few other bloggers who can't resist a "found relative" when they get their hands on one.
oh look, here's a good one now: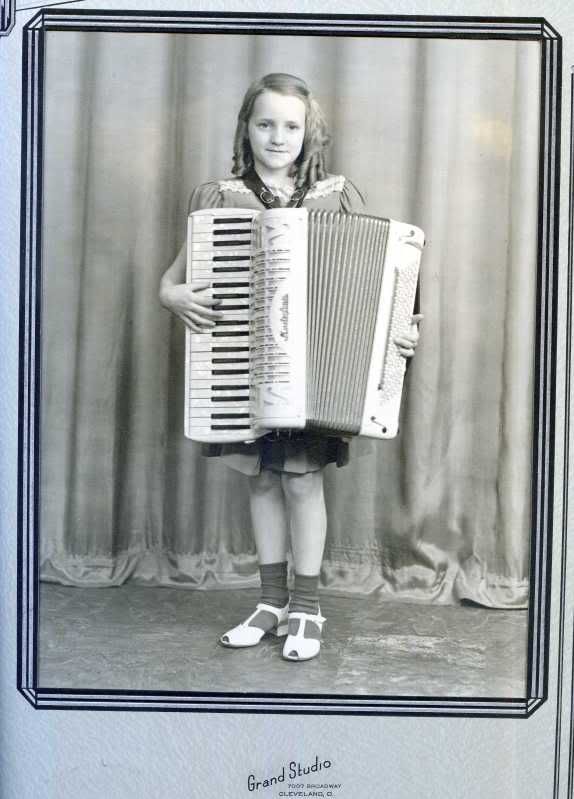 and now for 7 blog entries that stand out to me:
1.
adventures in petting a dolphin
(meeting some of my favorite "celebrities")
2.
from ida and elmer's to the ryan arms
(a big event in my life, buying our first house)
3.
when the monkees come to town...
(about my lifetime love for the monkees)
4.
got some 'splainin to do
(a funny story about my funny boyfriend)
5.
my most prized possessions, halloweekend, and NEWS
(a few of my favorite things...a great weekend!)
6.
the hurdy gurdy man
(well, what DOES the hurdy gurdy man look like?)
7.
attack of the sleeptalker
(my favorite josh sleeptalking stories)
and now, award time! drumroll please...
-
from bettie page to betty crocker
: i admire her sheer ability to keep blog after blog for as long as i can remember
-
functional rubbish
: i wish ryan updated more often, we have far too much in common for me to be missing out on his life! (note: the photo on his blog probably answers my blog post highlighted above about what the hurdy gurdy man looks like)
-
gonked, glooked and slurped
: the ultimate in drool-worthy vintage collecting!
-
hoarder of awesome
: ben is practically my twin. we love the same junk, listen to the same music, know the same goofy people. he's one of my favorite active artists, to boot!
-
phoebe's stupid cancer
: one of the most inspirational and creative people i know (and she's off on an amazing adventure in italy as we speak!)
-
ranch dressing with eartha kitsch
: you know eartha is somethin special because this is the second 7x7 award i've seen her get, but i would be negligent if i didn't cast my vote her way as well. her blog always makes me smile and she always makes me feel like she really GETS me. is that weird? i guess so.
-
i heart everything
: i can never get enough oogling other people's awesome collections...plus, she has a really amazing car and she knows how to work on it herself! aces.
congratulations and thanks, all!