today ruled so hard.
it all started when josh called me at 7am to say that little richard is coming to town. I AM FINALLY GOING TO SEE LITTLE RICHARD! he will be at the moondog coronation ball this march along with peter noone of herman's hermits, tommy james and the shondells, three dog night and jerry butler. seen 'em all except rich. good 'ol richie. FUCK YES! now i just gotta see chuck berry and fats domino to feel complete.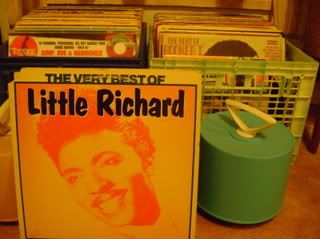 so i believe i have little richard to thank for setting the tone of the day because everything that followed ruled just as much. the next thing was that i got my computer back after not having it for a week. my friend mike fixed it up so now it works "like butter!" (whatever that means). not having a computer for a week makes me CRAAAAZEEEEE. i finally have to admit what josh has teased me about all along: i am addicted. so sue me.
next up, my cute boyfriend came home and gave me a present for no reason at all. he found me these adorable anchor hair clips and he secretly ordered them and had them sent to his work so i wouldn't see them come in the mail. aw! he knows me so well it's nuts. not just my taste, but the fact that i dig surprises. too fucking cute.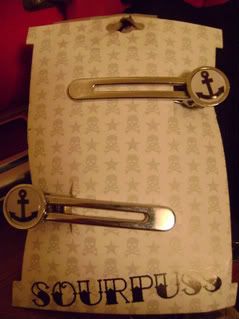 THEN he insisted (absolutely INSISTED!) that he take me on a date. we went to dinner and had great cheeseburgers. i love burgers! and cheesecake for dessert! then we went to buy RECORDS! yay, rock'n'roll! and i got to use all my gift certificates from christmas so i didn't pay a damn cent!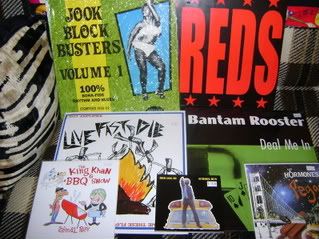 and finally, the perfect way to end the date, we went to buy porn. found some real gems, like "vagina is for lovers," one about nerdy girls wearing glasses (??), one called "mysexspace" (HA!) and the best one we could find, titled "white trash pieces of shit." oh man. can't wait to sit down with a bowl of popcorn for THOSE.
ended the perfect day by announcing the horriblefest 4 lineup, which is very exciting to me. can't wait to see bands like kajun ss, the ladies, the stitches, livefastdie, magnetix, holy shit!, shoot it up, etc. mark your calendars for april 30th-may 2nd! cleveland is about to get a whole lot more horrible.