i wanted to make one of those "best albums of 2009" lists. but it ended up that i really wasn't jazzed about too many things this year. so i made a more general best/worst of 2009 list. enjoy!
3 best shows i saw in 2009:
-THE MUMMIES @ southpaw in brooklyn, ny
-nobunny and rock'n'roll adventure kids @ cafe bourbon street in columbus
-the 2 wizzard sleeve sets @ horriblefest 4 (tie)
-the zero boys @ wcsb halloween show (tie)
3 favorite music releases that came out in 2009:
-the cave weddings ep
-the flying trichecos 7"
-wizzard sleeve "make the world go away"
(we were at this show. josh ended up getting hit in the head with a beer bottle and bleeding profusely. we go to these kinds of shows all the time. i think some people would be surprised at that. ha.)
3 most fun adventures i went on in 2009:
-nyc and back in 24 hours
-exploring the backwoods of west virginia
-running amok in buffalo/canada
3 proudest moments of 2009:
-being there when my cousin amy had charlotte
-quitting a job that was ruining my life
-maintaining a wonderful relationship with my dream boy (today is actually our year and a half anniversary!)
3 coolest experiences of 2009:
-pajama party at the house of one of the dead boys
-dj'ing the radio station halloween party with the zero boys on the bill (WHILE dressed as a bloody sharon tate!)
-getting accepted to be published in a book! (will be out in early 2010! i haven't spilled the beans on this one yet BUT I WILL SOON!!!)
3 new friends i made in 2009:
-
laura
-
kelly
-
erin #1
3 previously unknown bands i was pleasantly surprised by when i saw them live in 2009:
-love collector
-box elders
-the points
3 musical acts i never thought i'd see that i saw in 2009:
-THE MUMMIES!
-little richard
-baseball furies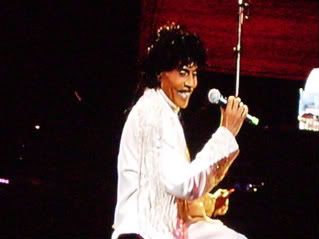 3 low points of 2009:
-being unemployed and feeling useless
-feeling physically
old
for the first time
-being poor
3 awesome blogs i read religiously in 2009:
-
gonked, glooked and slurped!
-
tattoo tales
-
the dainty squid