this is definitely one of the longer stretches i have gone without writing. in case you've been wondering what i've been up to, here is a recap:
1.
writing elsewhere
last month, i was approached by the great folks over at
HEXBEAT
magazine to see if i wanted to start contributing to their new publication. so far its only available online, but there's always hope for expansion. basically its a gathering place for people with underground/offbeat interests with a focus on the creative arts. i have already submitted several pieces, including a review of the recent monkees tour and a Q&A with my great pal and dead boys bassist, jeff magnum. check it out if you have a minute, and follow us on
facebook
!
2.
monkee-minded
speaking of the recent monkees tour...ever since the tour in november (which was a huuuge deal, both personally and otherwise), i have been freshly obsessed. i've gone through stages throughout my life where my love has been reignited, but this is by far the worst it's ever been. for a few weeks after the shows they were all i wanted to listen to and all i wanted to watch on tv. poor josh was in hell (or at least pretending, as i think he likes them a little more than he will let on. i'll take it). even now, i get down to the radio station on tuesday nite and have to talk myself out of the urge to play non-stop monkees records for the whole show. i've really been stepping up my game on collecting memorabilia, and have gotten some neat things for my collection. i think i'll save photos for a post of their own. i am holding out hope (like all monkees fans are, i'm sure!) that the carefully worded "thanks to everyone who came out to see the monkees this year!" is actually a thinly veiled hint that there is more to come next year. fingers crossed. this band means so much to me, and is so much more than just a music group or a tv show!
3.
babysitting boogie
having a puppy is
lots of work
. i've always been a cat person and it still weirds me out that we now have a dog living in our house. what weirds me out even more is how much i dig this little guy. schlitzie has adapted to his new home fabulously, and in just two months i've already fallen for him hard. he turned 6 months old in december, and as much as i love him being a puppy we are patiently waiting for the day he (hopefully!) calms down and starts acting like a real dog :)
teething was a big problem for a minute, although telling him, "no biting!" seems to have finally sunk in when he feels like actually listening. i even had to take away several loose baby teeth that he was chomping away on like they were snacks. now we've moved on to training him to bark to be let outside, and he is picking that up nicely as well. we both read that dachshunds are notoriously stubborn dogs to train, which i definitely see; however, i'm still very proud of how quickly schlitzie picks up on things. at six months old, some of his favorite things include sitting by the vent when the heater kicks on, trying to steal the socks right off our feet, rough-housing with the cats, and howling along with josh while he sings and plays guitar.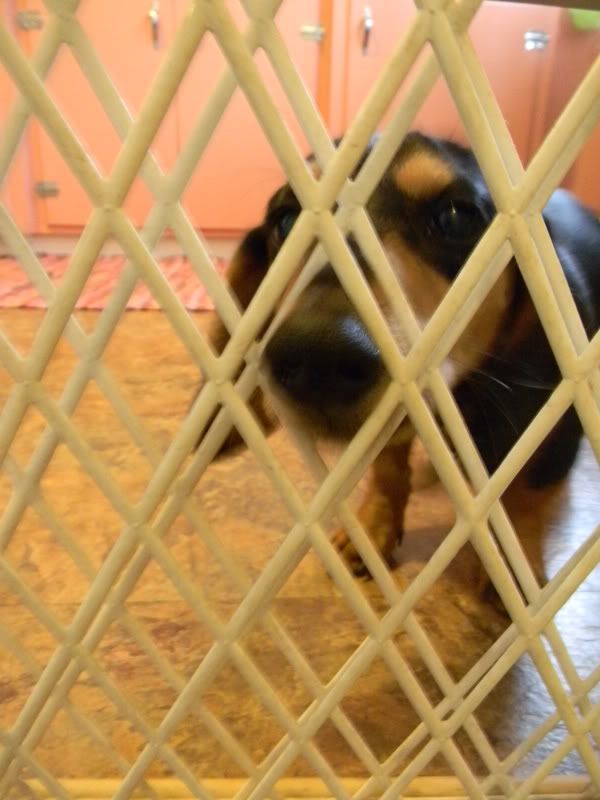 4.
it's beginning to look a lot like christmas
wow, this one really snuck up on me. i can't believe christmas is less than two weeks away! we're having both our families over to our house this year, so i'm a little nervous making sure everything is just right. i plan to spend my day off next week baking christmas cookies. although i usually make a big assortment, i've narrowed it down to just three this year: orange chocolate chip (a favorite that has become a tradition), peanut butter kisses (josh's favorite) and cherry-almond shortbread with cherry glaze (a recipe from the adorable mr. tiny at
wacky tacky
that i can't wait to try!) here are some photos of christmas season 2012 here at the ryan arms: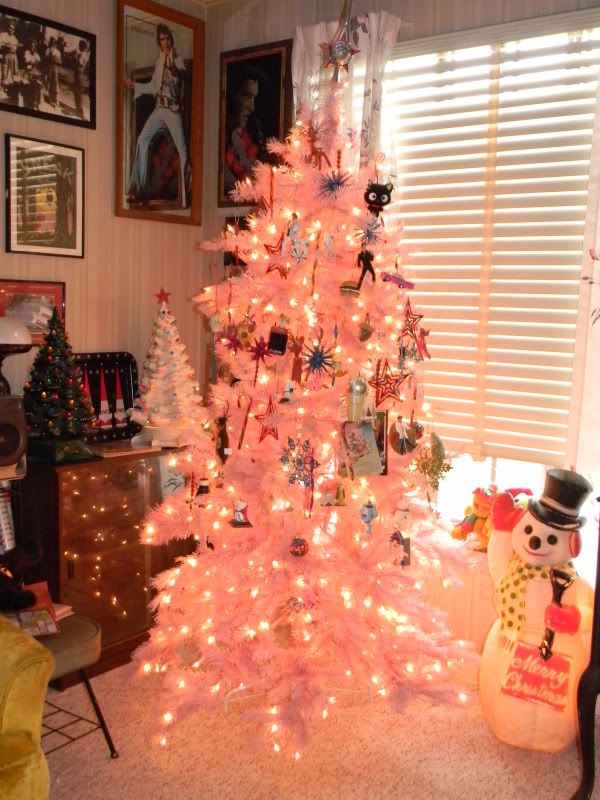 notice that the bottom of the tree is conspicuously devoid of any ornaments...that is because the cats and schlitzie are in cahoots. the cats (mostly lemmy) like to bat the ornaments off the tree, knocking them off so schlitzie can take them and snack on them. rascals!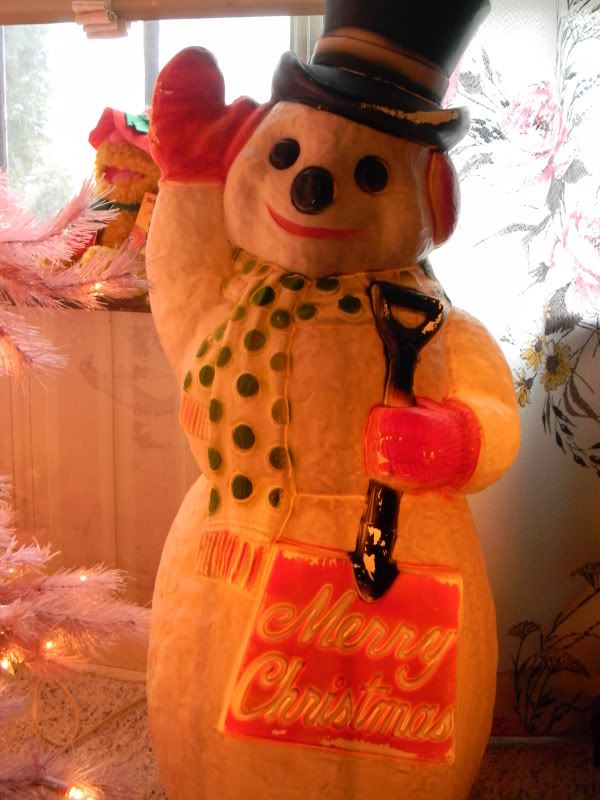 best $5 estate sale blowmold score ever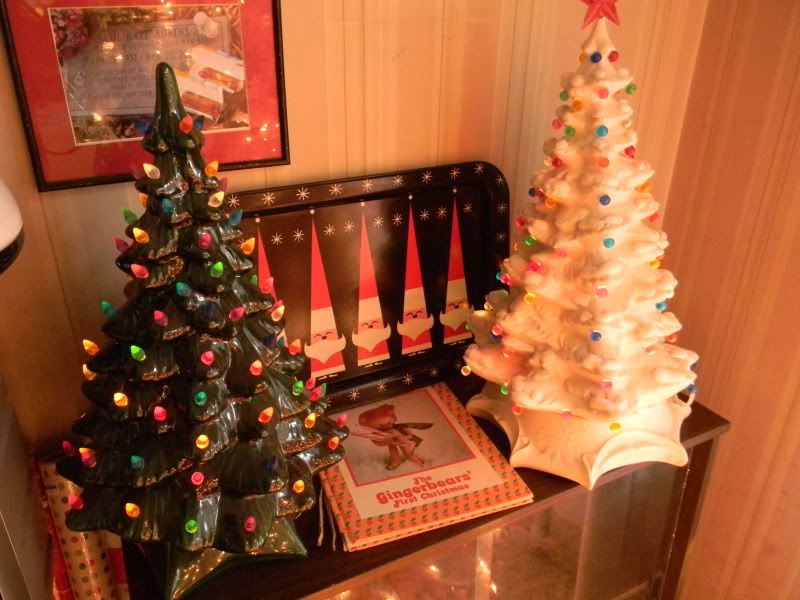 these ceramic trees are something i've only come to appreciate now that i'm older. i finally found one cheap at an estate sale last year, and the white one was passed down to me and finally dug out of my mom's attic this year. it was made by my grandma, who i really miss. i wish she could see all the beautiful vintage decorations that used to belong to her, now in my house. also: that tray! i'm so in love. the "gingerbear's first christmas" book was a christmas present to me when i was a kid that i still have. it was always a favorite.
evil little santa has a comfy spot on the chair, except when schlitzie decides to gnaw on him and we have to move him to the top of the chair.
bad lemmy being ornery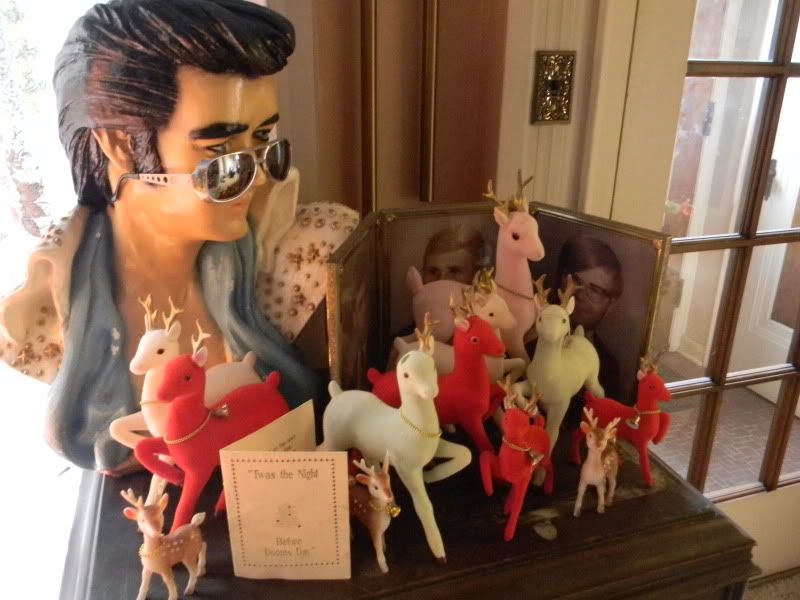 several of these cute pastel deer are missing antlers, thanks once again to bad lemmy. the worst part is that some
disappeared without a trace
! did they end up in lemmy's belly? highly unlikely. did he knock them under something where i would never think to look? possible. all i know is that the antlers have been missing since the old house, so i'm never going to see them again. poor guys!
scored back when you could still find cool vintage holiday decor at thrift stores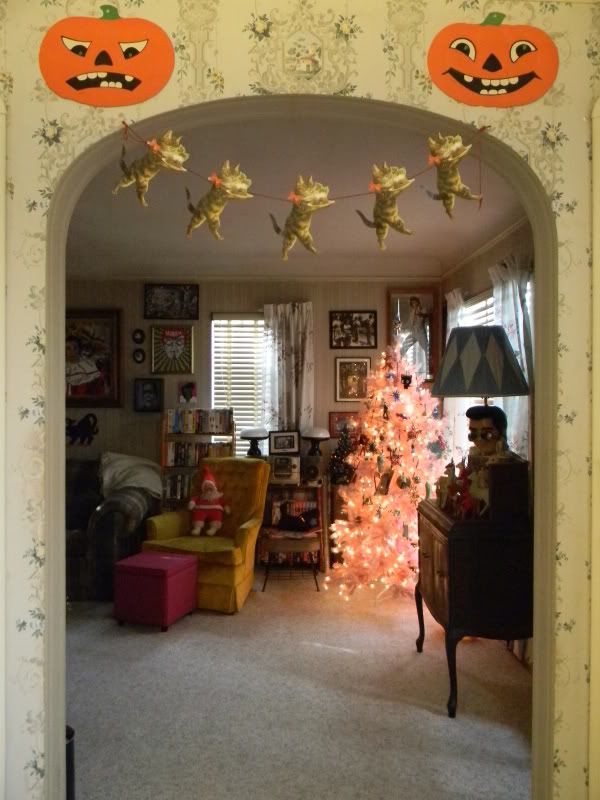 the view of the living room from the dining room...but more importantly, my favorite holiday decoration EVER: cats carrying fruitcake garland!!!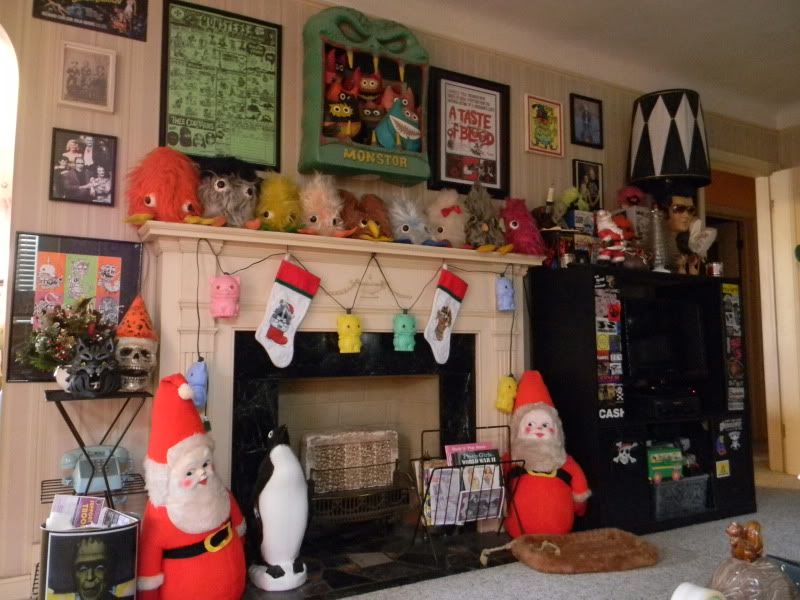 josh had better fill that stocking good and full if he knows what's good for him
wotta creep
ha! he learned what "sit" and "stay" means!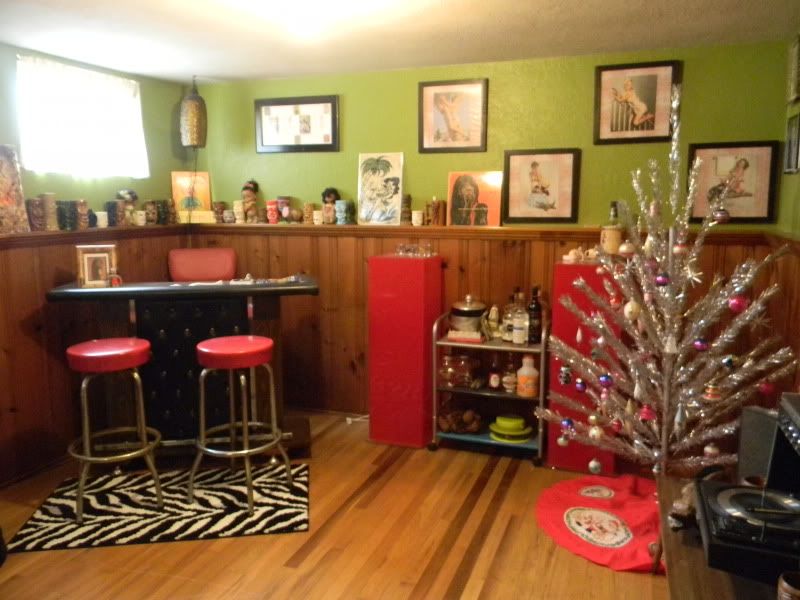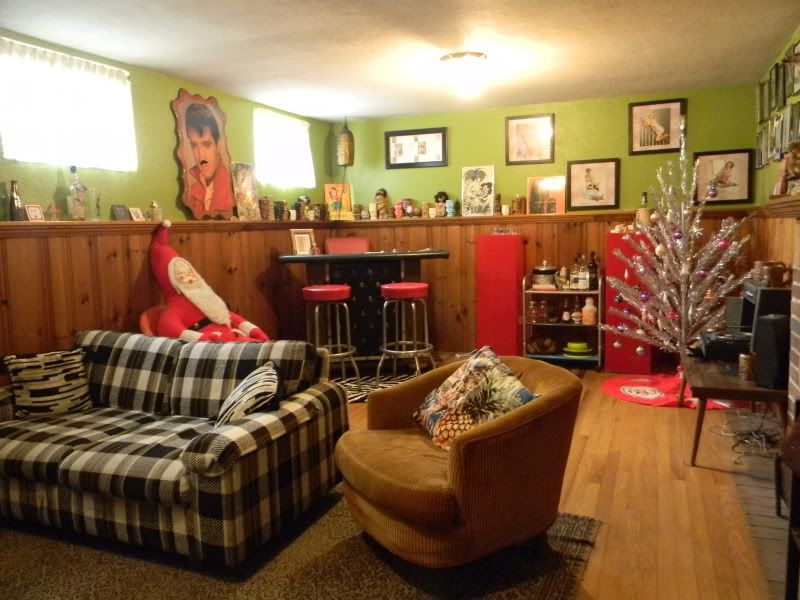 christmas in the boat room (in the basement)
creepy life-sized (slightly cross-eyed) santa hangs out at the bar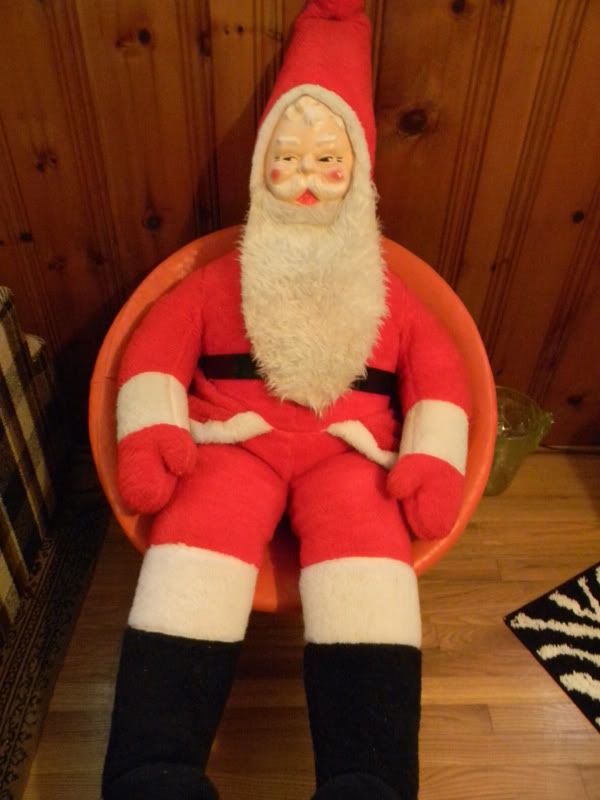 $20 garage sale score
aluminum tree courtesy of the fabulous
MISS FIRECRACKER
! i love it so. decorated entirely with beautiful vintage ornaments that the animals are NOT allowed to be near.
i wish such a beautiful tree could be upstairs where i could look at it in all its splendid glory more often, but it is relegated to the basement boat room because it has a door that can shut the cats out. the one year i tried having it upstairs, their favorite game was to take the branches and see how far they could run with them before i caught them.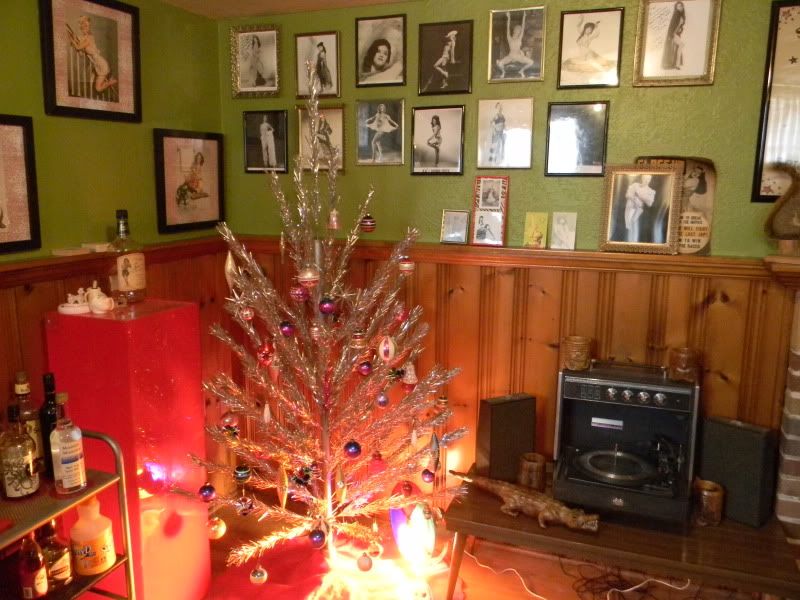 vintage christmas + naked ladies = perfection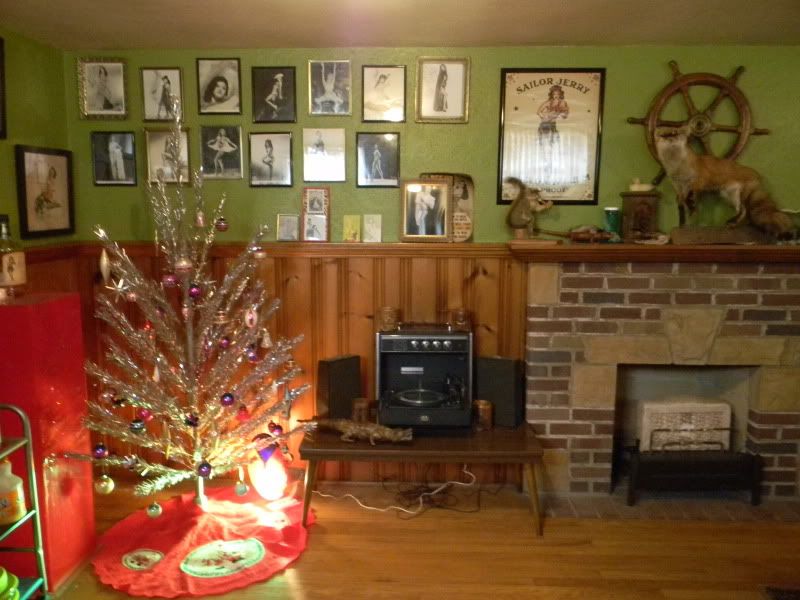 vintage christmas + naked ladies + weirdo taxidermy = my kinda christmas
hope everyone is staying (mostly) stress-free and has lots of time to spend with family and friends. i promise to try to stick around blogspot more often in the new year :)