christmas 2009 was nice. i hope it was the same for everyone. ready for a recap of my busy weekend?
the holidays start on christmas eve for my family. i had the day off, but while i waited for josh to come home from work i tortured my poor kittens and made them dress up in this santa outfit. none of them would let me put their legs through the holes, so i just sorta set it on their heads and fastened it on. they hated me.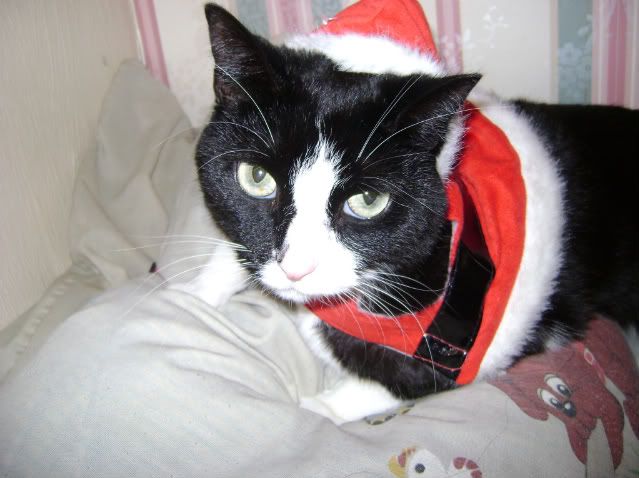 when josh finally got home, we exchanged gifts. yay!
josh is a wonderful gift-giver. i think that is an important quality that says a lot about a person. haha, no seriously. i like it when someone really puts thought into something rather than just doing something to get it done. i try really hard to pick things for people that i know they will really love. josh knows me so well, he knows exactly what will make my heart smile!
here were the goodies from my stocking: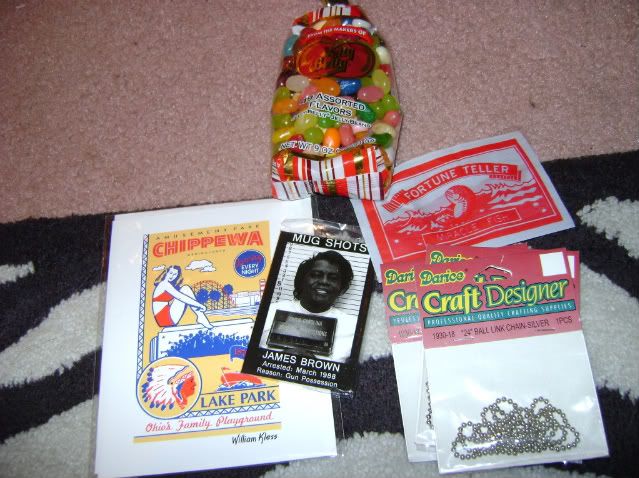 he got me a james brown mugshot magnet (ha!), a card with a picture of
chippewa lake amusement park
on it, some jellybelly jellybeans, some extra chains for all the pendants i have, and a fortune-telling fish :)
he also gave me these killer vintage rhinestone cat eye sunglasses that i was drooling over in
MAB jewelry's shop
a few months ago :)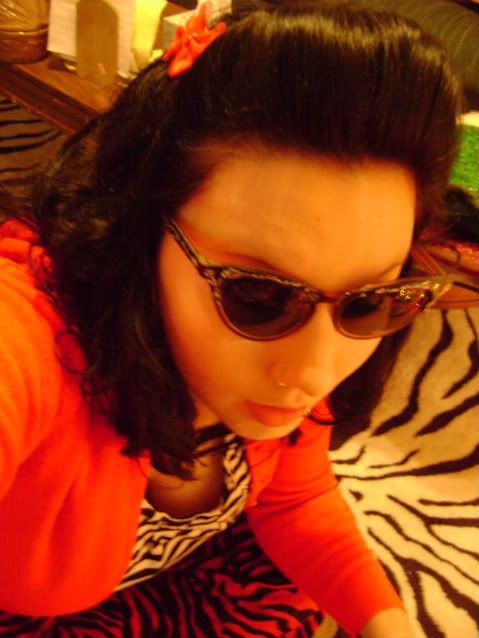 he picked out this 2-disc cd set of vintage sex songs, with artists like wynonie harris:
and this awesome vintage halloween decoration from the 40s. i love vintage halloween decorations and want to start collecting them, but i need to get a job before i can start doing that!
he got me this elvis book and cramps cd,:
this book of shag art,:
this 10" record by one man band dead elvis and his one man grave,:
and finally, gift cards for my favorite record store and book store in town!:
holy cow! best boyfriend ever!!!
i got josh this hair grease made by one of his favorite musicians, bloodshot bill. i also got him a bloodshot bill tshirt: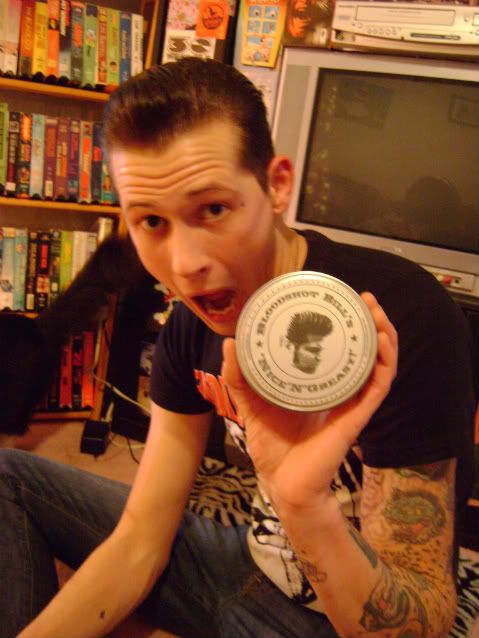 i found him this awesome old fashioned-style letterpress postcard in
yee-haw industry's
etsy shop. i put it in a frame and gave it to him since he wants to make biscuits and gravy for breakfast every weekend, being the hillbilly from west virginia that he is :)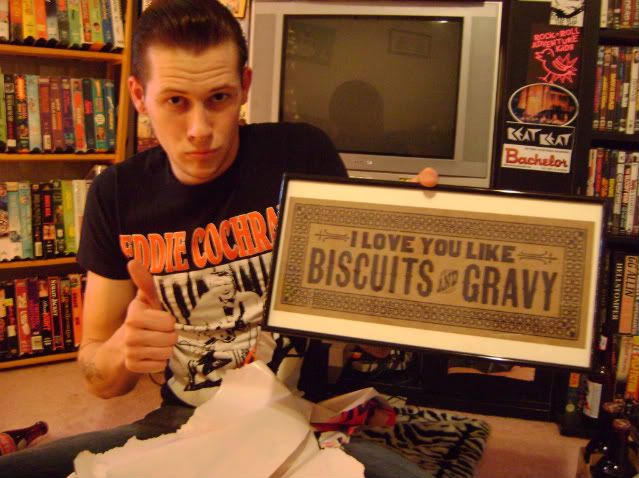 i also got him this zombie movie featuring hasil adkins. i'm glad i did because it's my new favorite!!! it comes highly recommended if you like cheesy horror blood and guts, ridiculous monsters like "coconut head face man!", inappropriate sex jokes, naked girls, superhero outfits with capes made of human flesh, fart jokes, and sleazy rock'n'roll:
while doing a search for "hillbilly" on etsy, i also came across this great vintage trucker cap for josh. haha i did NOT plan the setup for a photo like this, the most hillbilly christmas haul EVER! minus david hasselhoff, of course. he is in a category all of his own: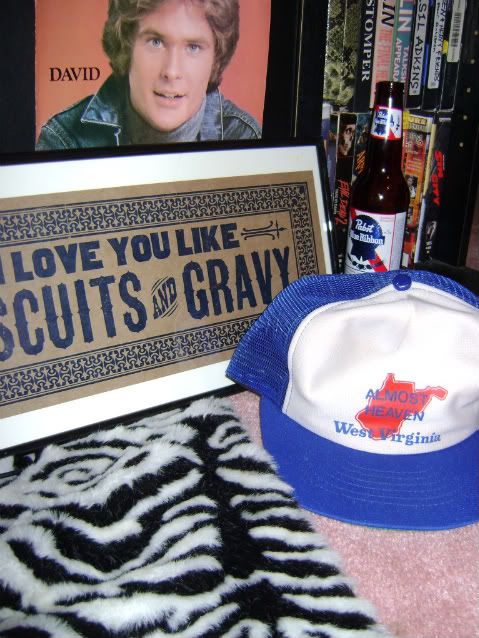 the cats had a ball, rolling around in the wrapping paper and tearing things up: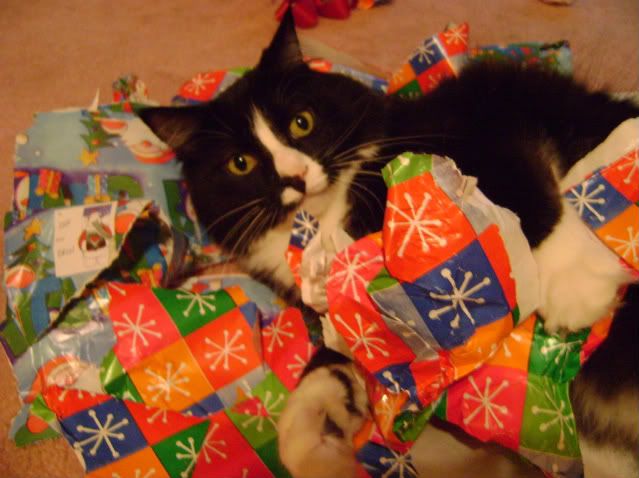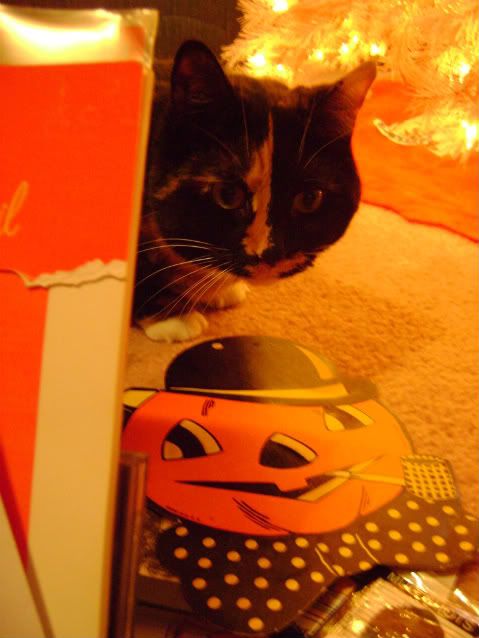 it was very lovely :)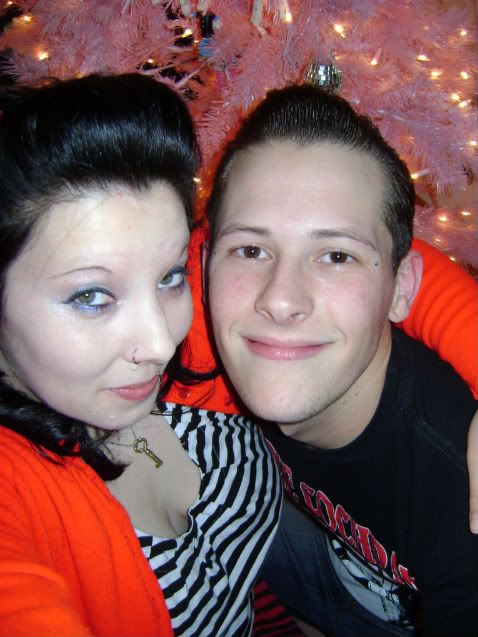 next we went over to my parents house for the traditional chinese dinner on christmas eve. then we all opened gifts there. i have never seen so many presents under one tree before!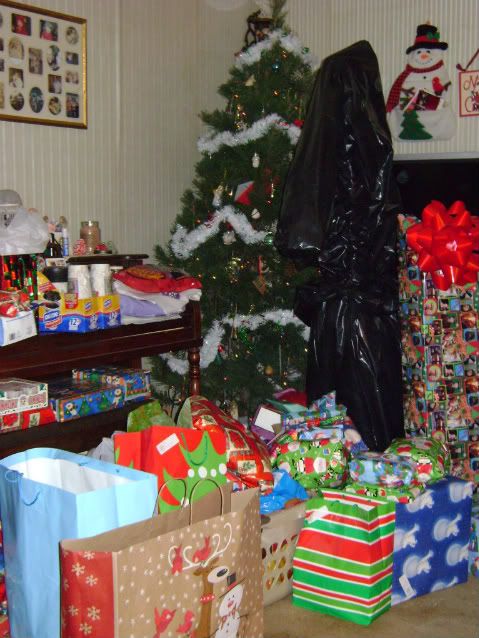 everyone in my family went together to get josh a new guitar like he's been wanting. i don't think he had a clue!
i got lots of nice stuff, including a bunch of BOOKS! yay!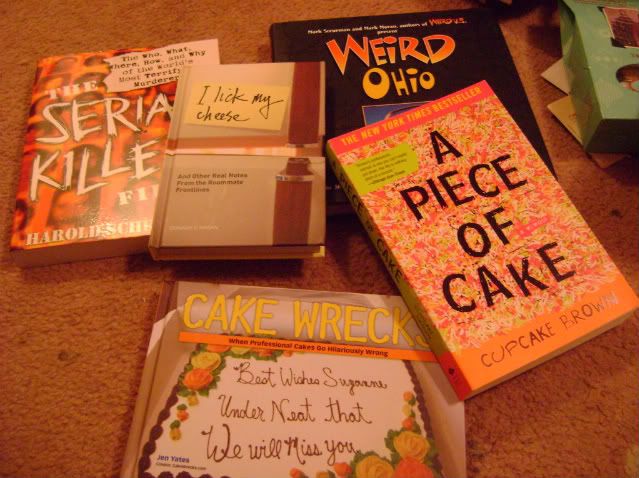 i also got this game that i played during a hangout session with lacey and phoebe..i can't wait to play it again!
i got lots of other great things, like bacon bumper stickers and those bump-its for your hair. whee!
my little brother proposed to his girlfriend while we were there, so i also got a new sister-in-law from santa! i won't go into detail about how my heart was so sad because that's exactly what *I* was hoping santa would bring me...so i'll just move on.
on christmas morning, we went to visit josh's grandma and her boyfriend. then we went over to my family's house and we had all the extended family over. it was the first year in a long time with a baby at the holidays, since amy and matt had little charlotte this year!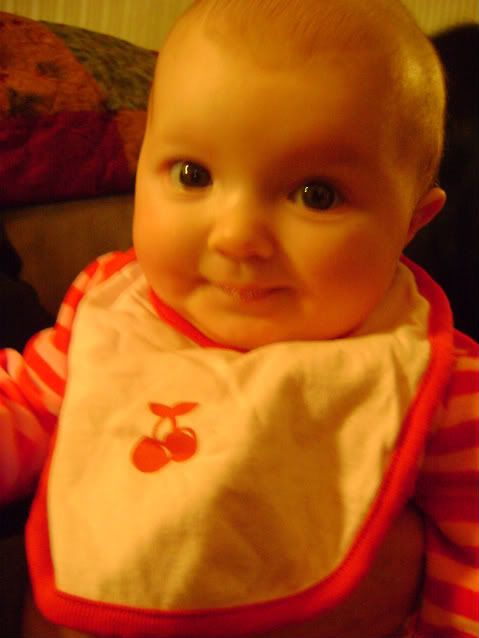 we ate lots of yummy food and exchanged gifts, and then it was off to josh's family's house. phew! hung out there for a while and exchanged more gifts and finally made it home in one piece. by the end of the nite, we could barely stay awake (and as you can see, josh didn't even make it to the bed before passing out!)
on saturday i caught up with some friends that i don't get to see often because we're all off doing our own thing. we had a late chinese dinner, then came back to my place to watch silly videos and laugh a whole lot. today josh and i laid low and got crafty; he started taking up painting, while i began a new project for
FRENZY!
that i'm excited to unveil in a few days.
it was a long, exhausting, wonderful weekend.
:)