fixing up a new house is really difficult when you're also saving up for a wedding at the same time. we've really had to prioritize the order in which we want to get things done so that we aren't just sitting around doing nothing but we're also not blowing all our extra money that we need to be saving up to have this wedding (countdown: almost exactly 3 months away....and i can't WAIT til its over!)
nevertheless, i've been really proud of josh for all the projects he has managed to complete since moving into our house last august. you might remember, the house was move-in ready when we bought it and we liked the old-fashioned charm and vintage look so much that there was very little we needed to do right away to be happy with our new home.
the only major project we tackled right away was painting the finished room in the basement and turning it into a better hangout spot.
before: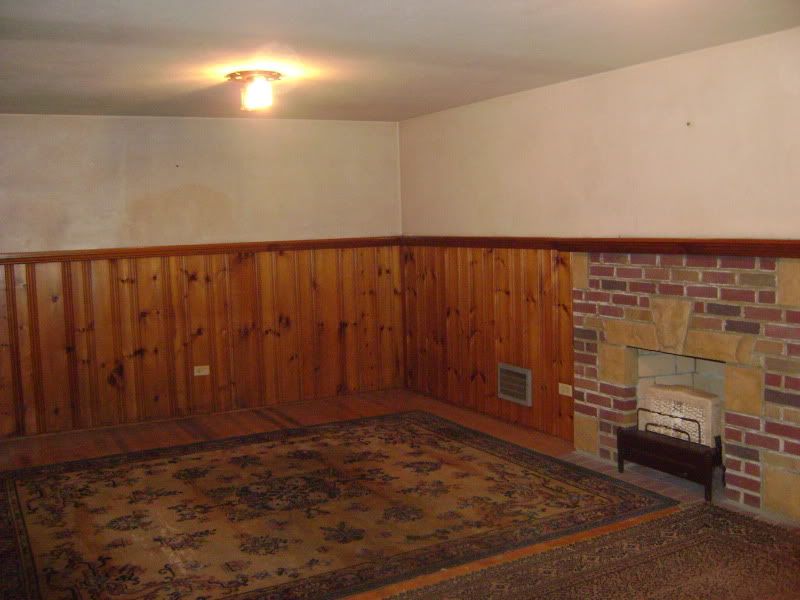 after:
since then josh has been checking off minor projects left and right! when he didn't know how to do something, he taught himself. i'm happy to have such a handy future husband :)
#1 broken vanity lights
i was smitten with the retro bathroom the minute i saw the place. from the original wall/floor tiles to the built-in wall medicine cabinet and the vanity lights, i just adored it. so i was very disappointed to realize that only one vanity light turned on. josh systematically eliminated one reason after another until he found the problem and fixed it. adorable!
before:
after: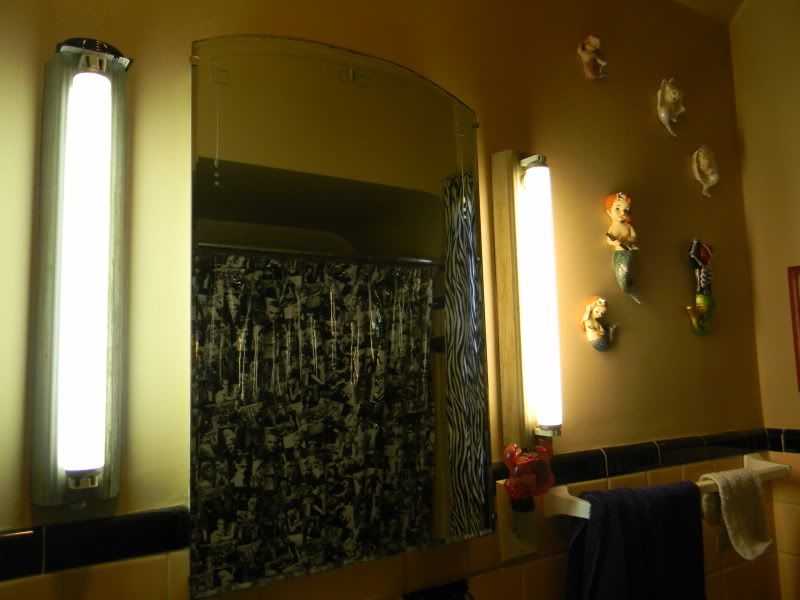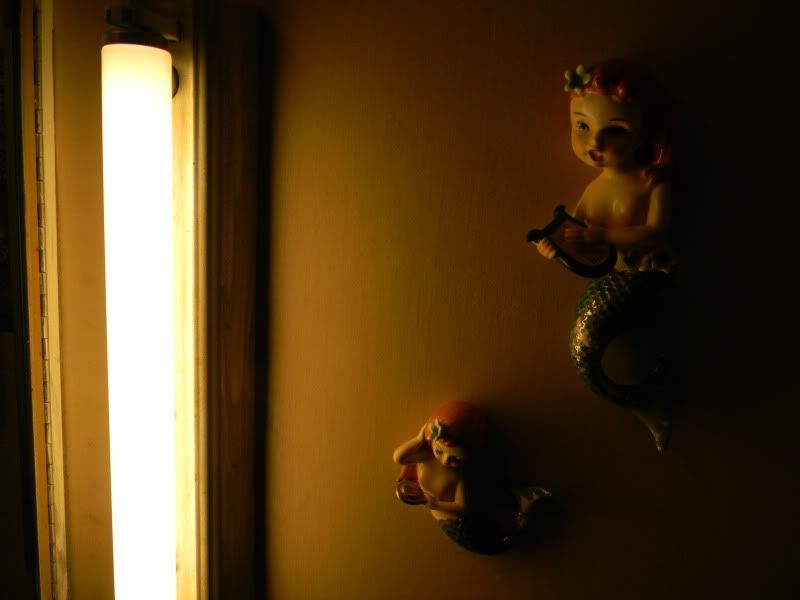 #2 creepy bathroom with broken toilet
we only have one bathroom in the house, so having this second 1/2 bath in the basement was nice. the design of it is rather strange, being built into a wooden wall and containing only a toilet (no sink!) so that it sorta has the appearance of an outhouse. josh decided that when he fixed it up he wanted to make it a "hillbilly" themed bathroom, which he is something of an expert in, being born in the hills of west virginny and all. the toilet was broken when we bought the house, so josh learned how to install one on his own and he found a great vintage pink one at a habitat for humanity salvage shop. we have begun accessorizing the room with various decorations: josh's grandpa's spittoon, a moonshine jug featuring a sleeping hillbilly, an old beer can made in west virginia, a vintage postcard that needs a frame, and the most perfect toilet seat cover known to man, etc. we still need to paint the walls, but its at least a functional 1/2 bathroom for now!
before: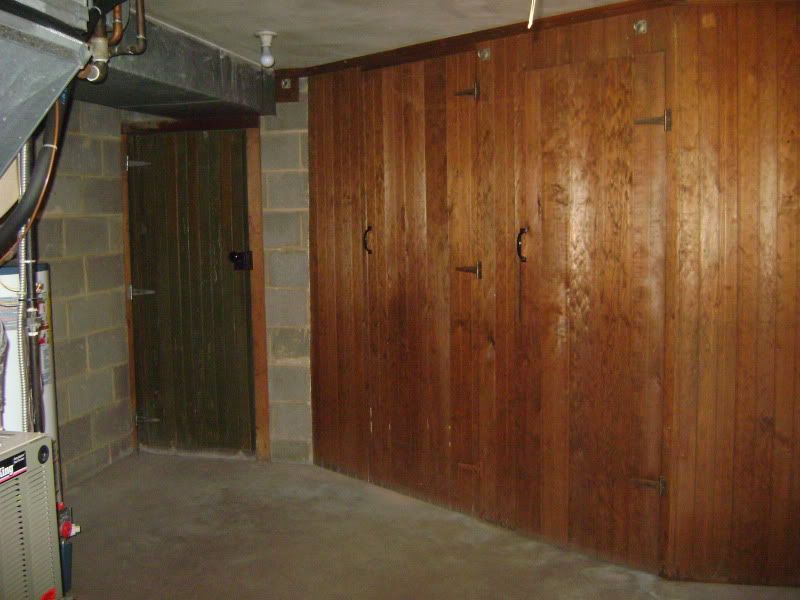 [guess what's behind door number three, win a prize!]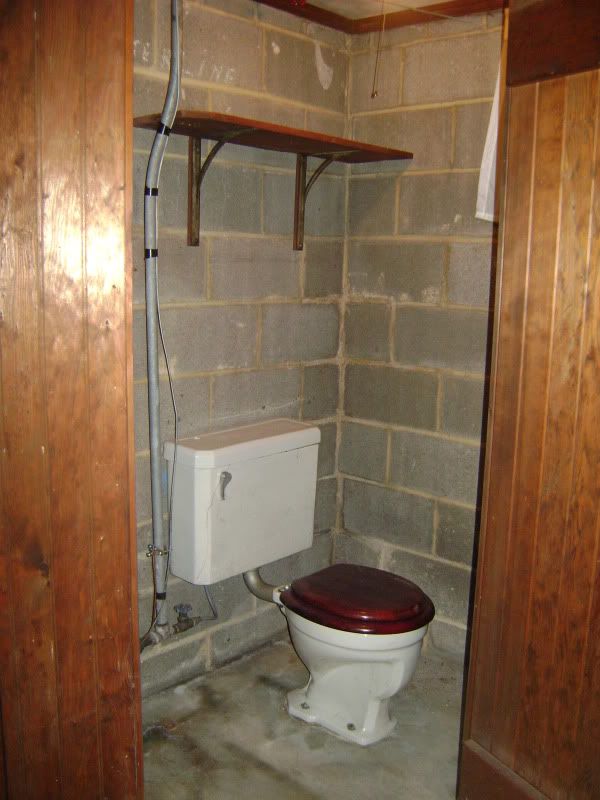 after: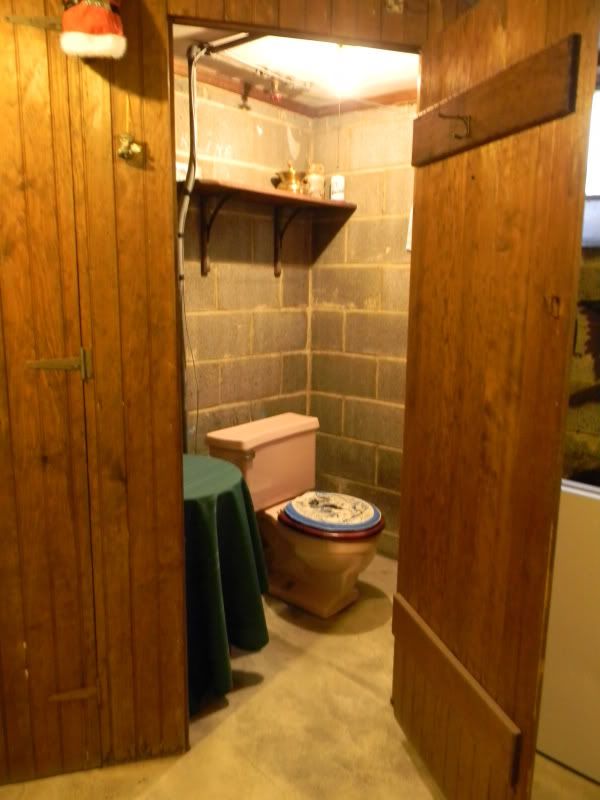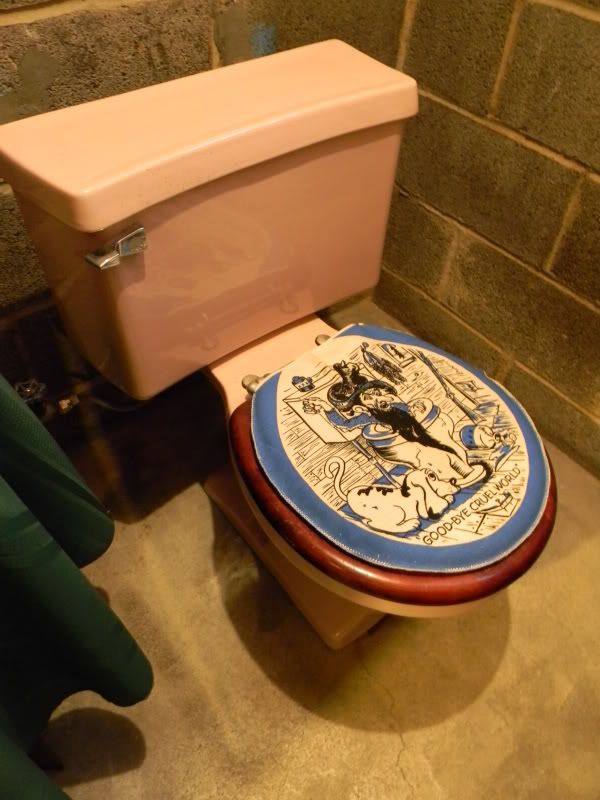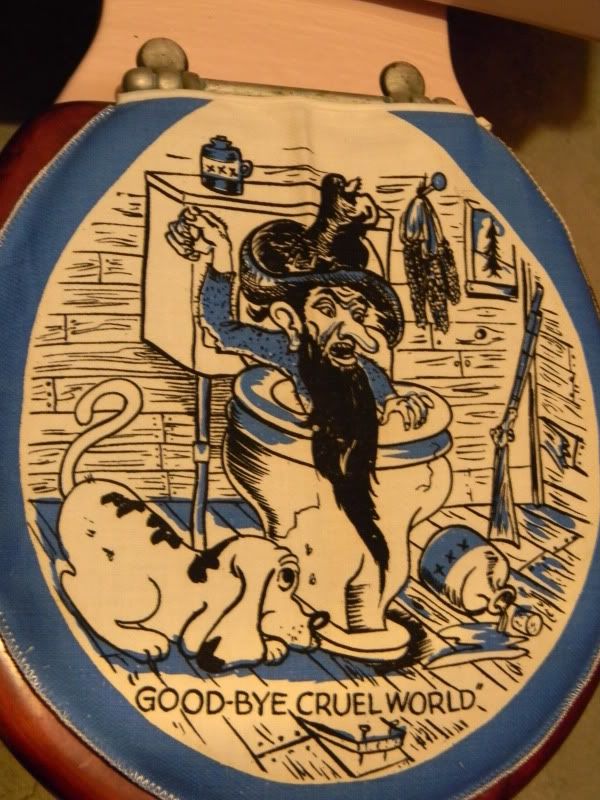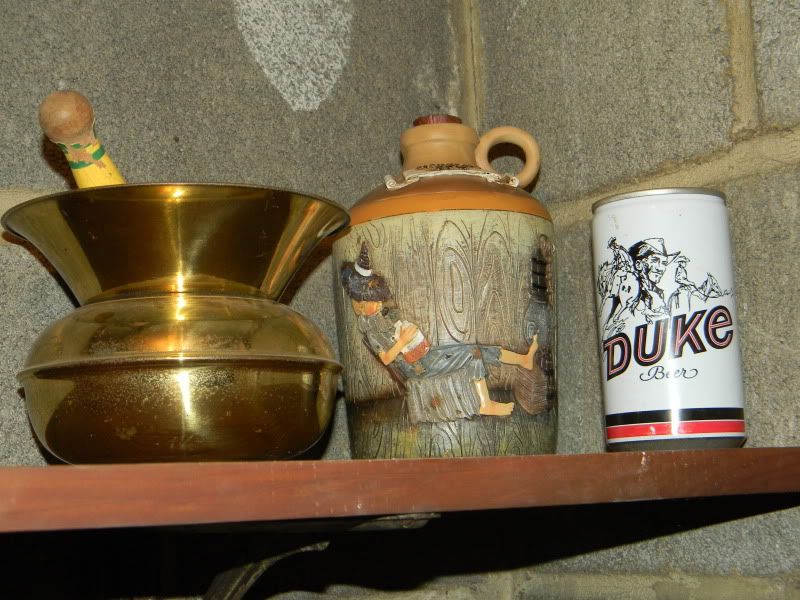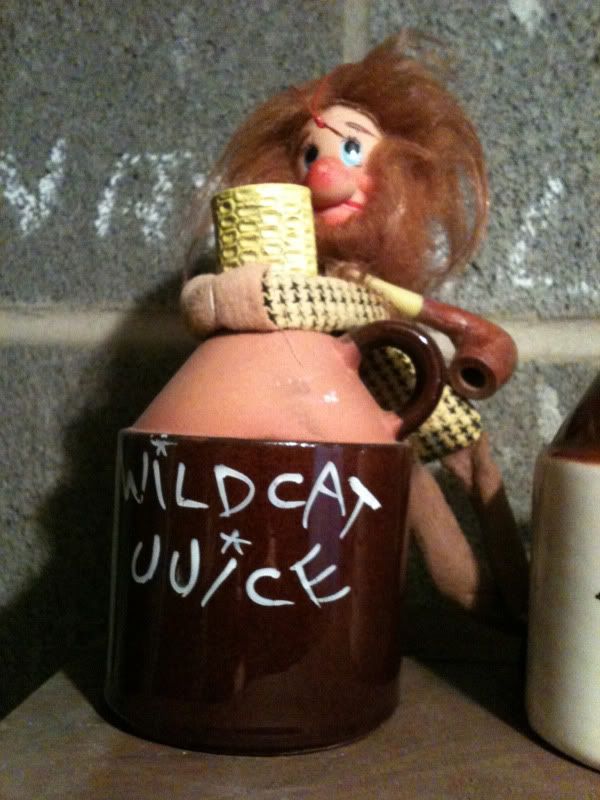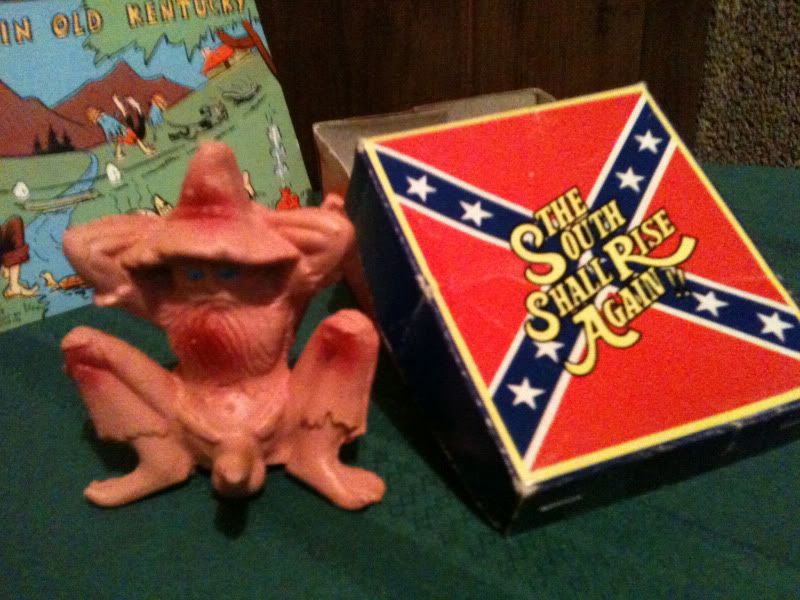 ooooh! that's naughty!
i hung all josh's appropriate belt buckles along the wall. you see that hand sanitizer? that's our version of a hillbilly sink, and it took very little creative effort on our part.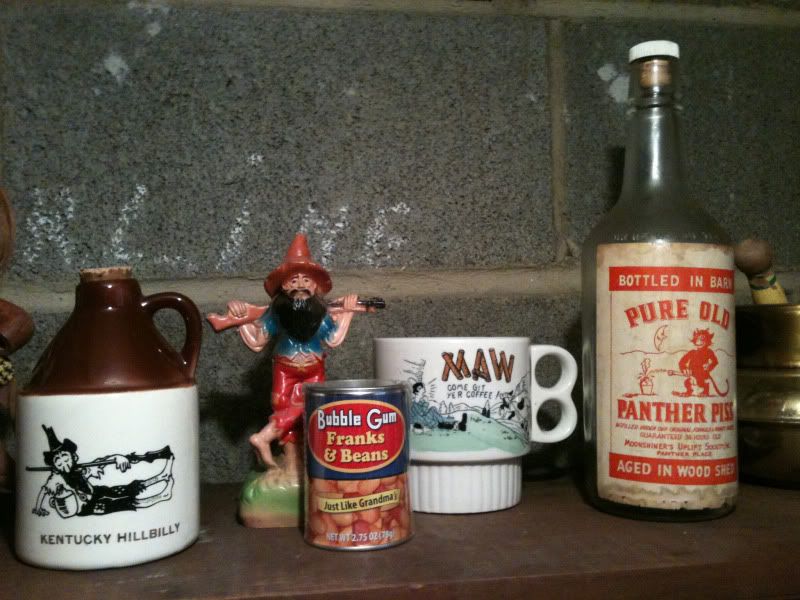 #3 back porch
it was nice having a covered porch on the back of the house to hang out during the summer listening to music and enjoying the quiet neighborhood, but the fact that it was so open (and our house isn't very far from the neighbors) left us wanting a bit more privacy. i think it looks a lot nicer now, too!
before: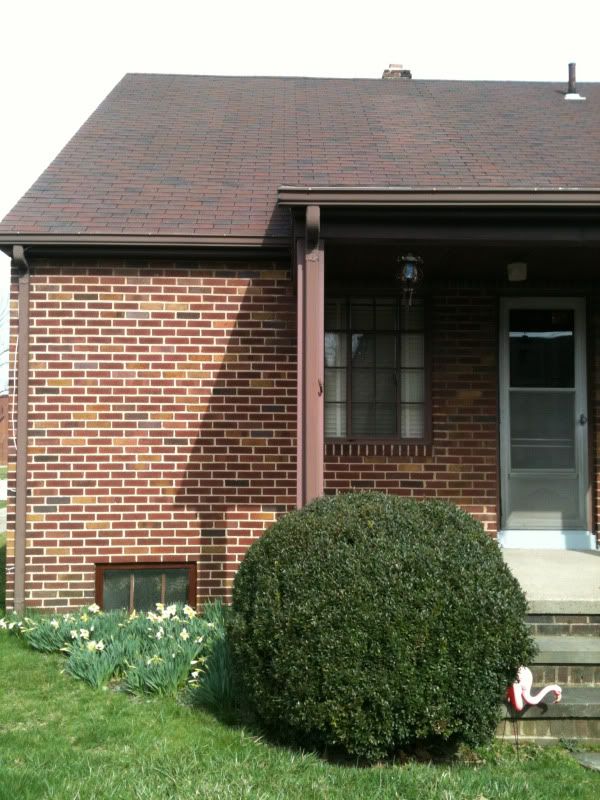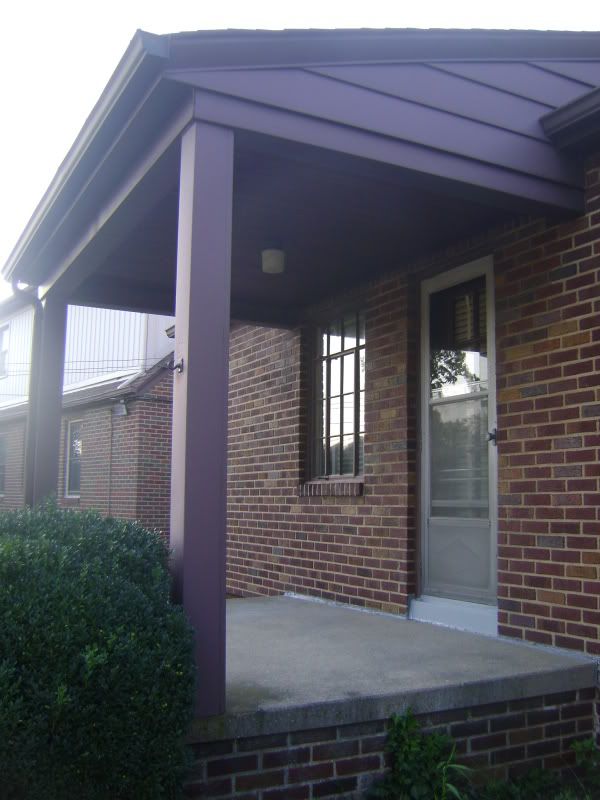 after: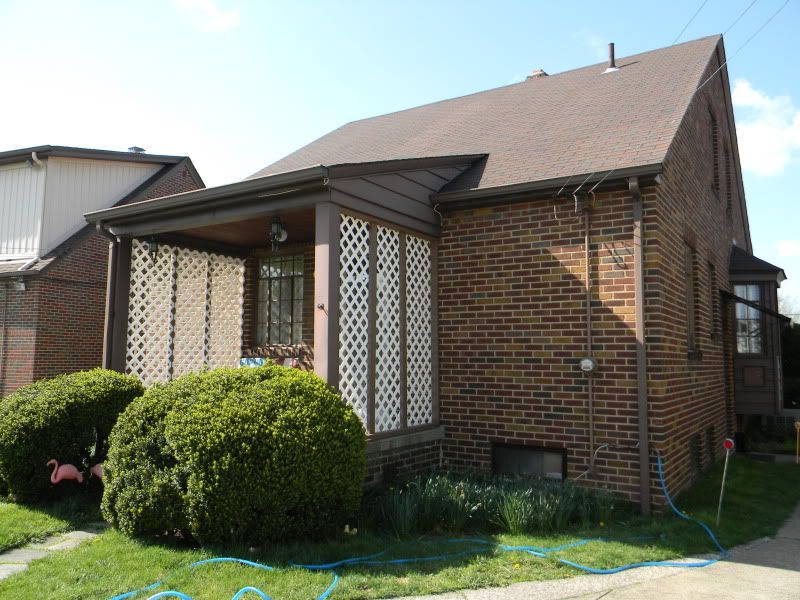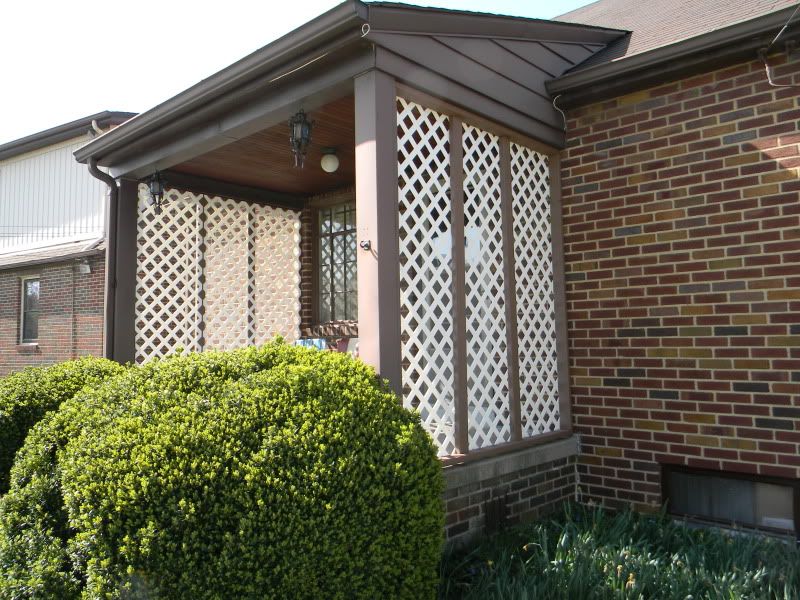 josh has also finished some behind-the-scenes projects, like insulating the attic to keep our upstairs bedroom warmer in the winter, and waterproofing the basement where the wall sometimes leaked in the laundry room. with each project that we cross off our to-do list, i grow more and more in love with this cute old house that we call home :)
still remaining on the to-do list:
-plant garden beside garage
-transplant flowers on side of porch and create patio area
-paint bathroom/hallways
-finish insulating
-turn the unfinished room upstairs into a bedroom