when i was 12 and first started getting heavily into music, the year was 1994. grunge was on its way in, punk was becoming mainstream, and i was right in the middle of it all. i loved to listen to 107.9 the end and 100.7 (back in the day when they still did "the buzzard battle" every nite -- ha!). i stayed up late taping music videos off tv, especially things like 120 minutes on mtv and much music, the canadian version of mtv. of course, i dressed the part: strictly corduroys and checkered old-man pants (i didn't own a single pair of jeans until i was like 16), ironic thrift store tshirts with sayings i didn't understand, ringer t-shirts, cardigans, gas station shirts with names like "bob," and tacky plastic jewelry. i wore a clip-on nose ring and dyed my hair streaked with food coloring (my mom let me because it washed right out, but that also meant it was disastrous getting caught in the rain!). i thought i was a rebel because i had black suede converse one*stars for gym class and i refused to buy REAL athletic shoes.
awesome fashion alert: ironic waste disposal tshirt, checkered grandpa pants, converse one*stars, too much plastic jewelry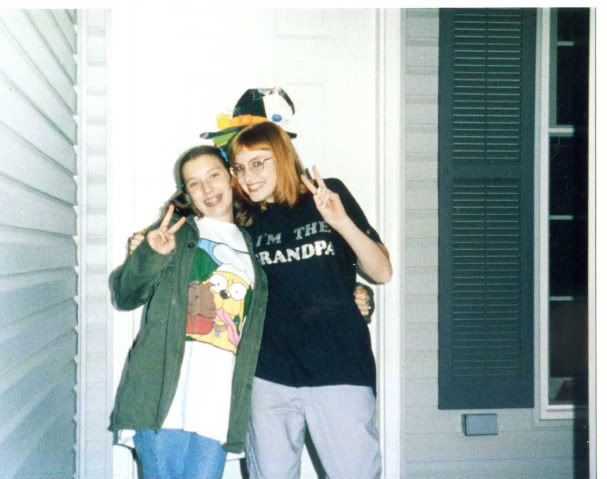 awesome fashion alert: too large green day tshirt, green army jacket, pigtails with plastic hair barrettes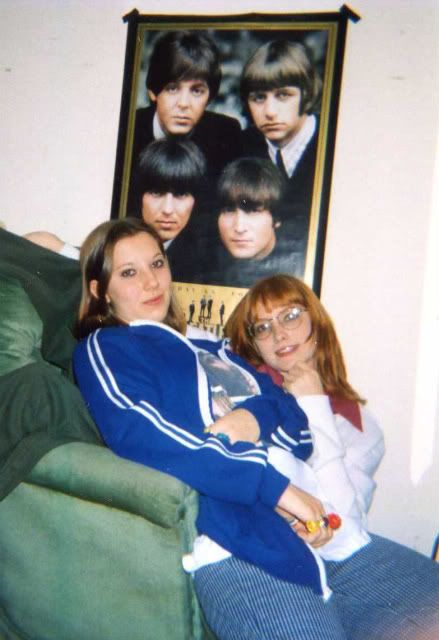 awesome fashion alert: polyester thrift store track jacket, old man checkered pants, too much plastic jewelry
this was back in time when school dances were mainly playing "alternative rock" as opposed to rap and dance. we all knew how to do the dance to "personal jesus" by depeche mode and i can distinctly remember hearing "einstein on the beach" by the counting crows in the gymnasium of st. thomas moore. i remember when weezer was cool. i remember when the guys in green day were zit-faced, snot-nosed 22 year olds. i remember being the weird one out when everyone in the 8th grade was obsessing over bone thugs-n-harmony and i was freaking out that i couldn't catch the song "hobo humpin slobo babe" by whale to tape it every time it came on the radio. my first concert was bush and the toadies. i got the mallrats cassette for my birthday one year. i was a 90s alternative grrl through and through.
eventually, the 90s and i both had to stop being so awesome. but damn it if i wouldn't give anything to go back to that time again! feeling nostalgic for age 12 is one of my favorite things in the world. one of the easiest ways to transport myself is through the music, which luckily hasn't gone anywhere. years ago i made
this webpage
listing all the hits i could remember from the golden years of my 90s alternative childhood. i used this as the basis for a christmas gift my cousin beth (seen above in all her 90s alternative glory) and i created for our bff, andrew (seen above in the sex pistols tshirt). all three of us had similar experiences and memories of a 90s alternative childhood, so we knew it would be the perfect gift to give him. beth and i spent HOURS collecting all the tapes and cds we still had, downloading all the songs we were missing, cutting pictures out of old circus and hit parader magazines, and making mixtapes to put this box set together. we called the finished product "novocaine for the soul: the 90s alternative box set."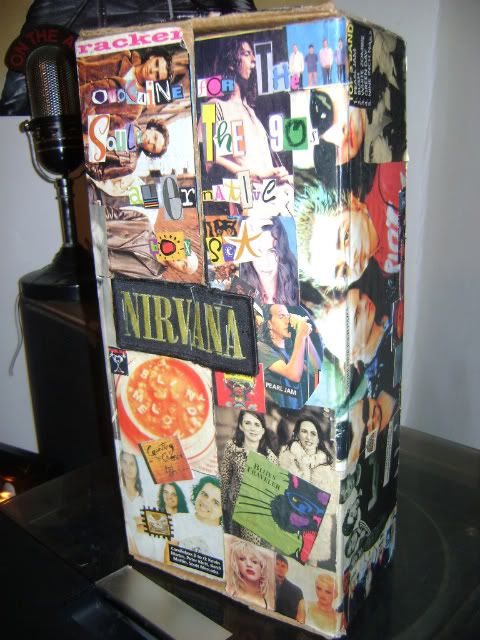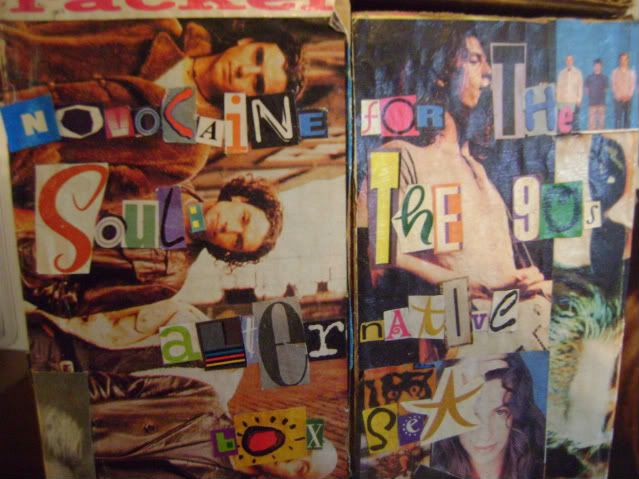 the box opens by pulling this nirvana patch with velcro on the back. ha.
we covered the box inside and out with band photos, logos, album covers, and lyrics.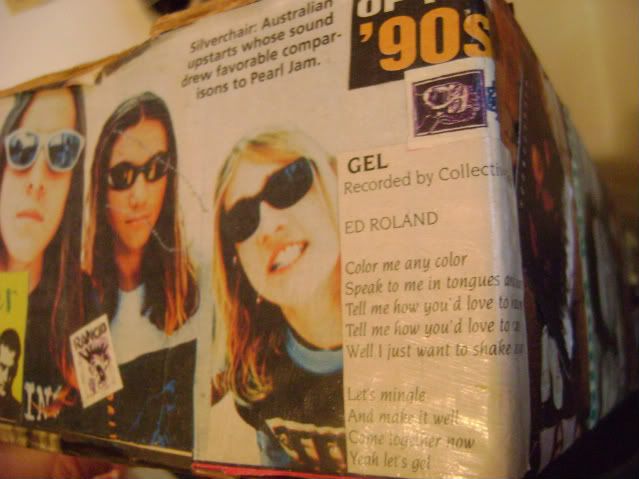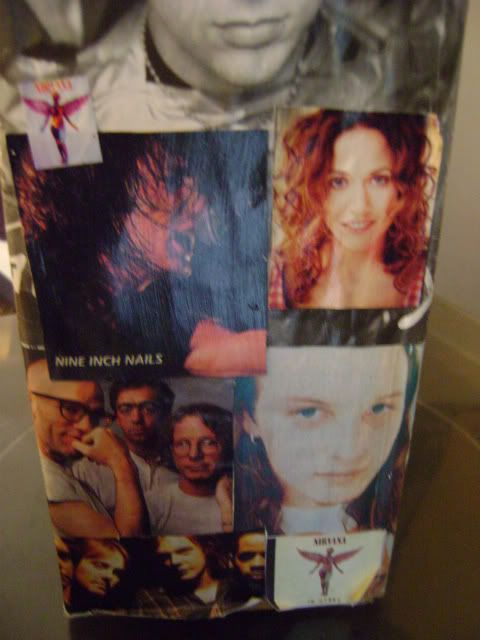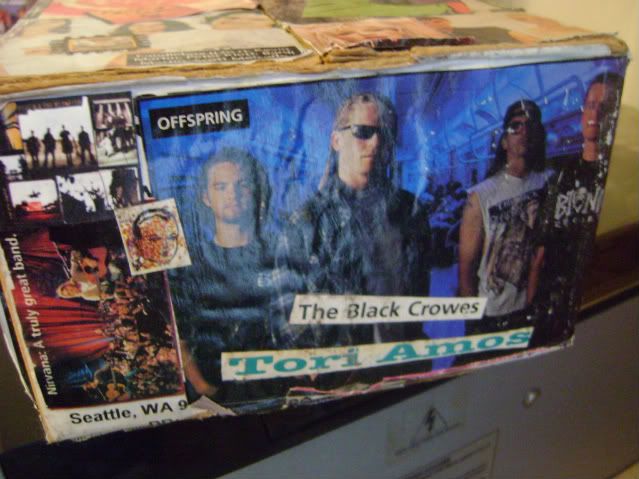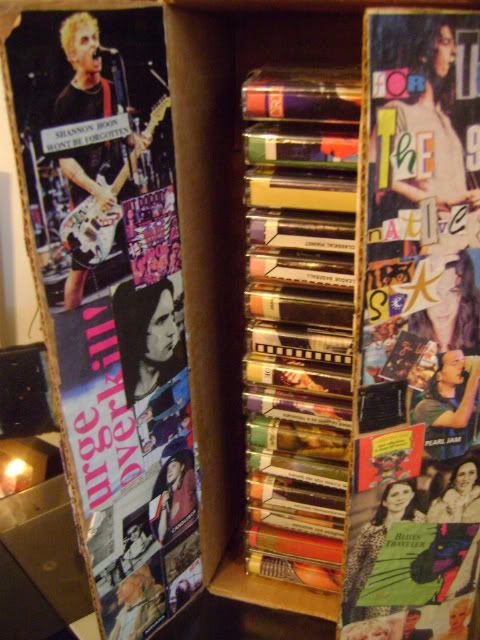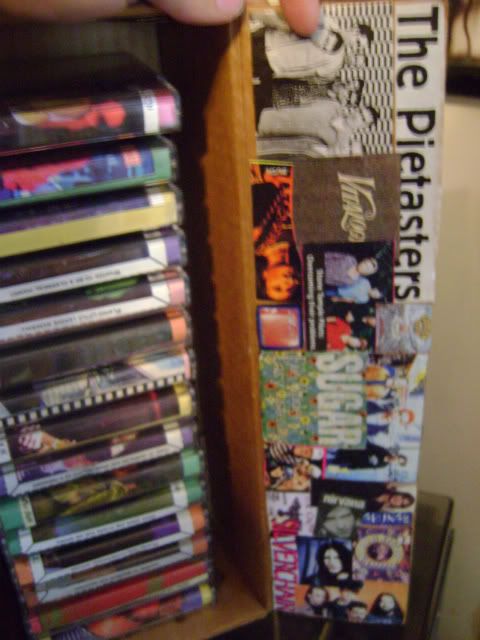 inside there are fifteen 90-minute tapes. each tape has a cover that is made from a "trading card" or band photo. here you see no doubt's gwen stefani, live's ed kowalczyk, and marilyn manson's zim zum!
the tapes fit inside the box because we glued a plastic tape holder inside. on the inside of the tape holder there is a list of band names that fit inside going down the length of it.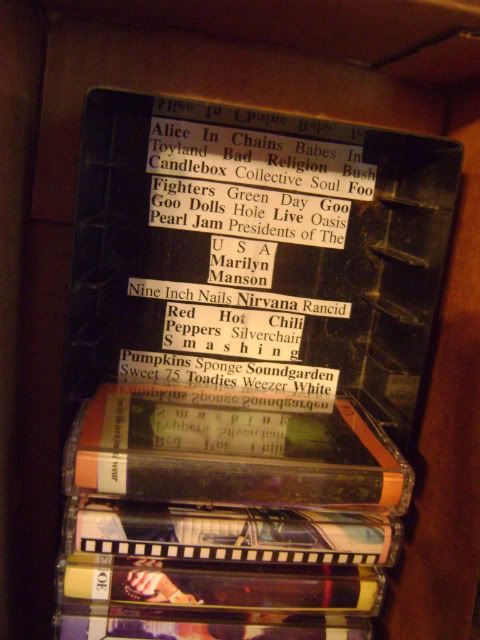 now THAT'S a gift, huh?
obviously, i went on to bigger and (much) better things than getting stone temple pilots tapes out of the library and wearing bracelets made out of pop tabs and paperclips. but that doesn't keep me from turning up the volume and rocking out to some spin doctors if i find it on the dial.
10 songs that make me so nostalgic i want to put on a flannel and play some hacky sack:
1. formaldehyde - sons of elvis
2. good - better than ezra
3. sure shot - beastie boys
4. vasoline - stone temple pilots
5. black hole sun - soundgarden
6. what's the frequency, kenneth? - r.e.m.
7. possum kingdom - toadies
8. mmm mmm mmm mmm - crash test dummies
9. new age girl - deadeye dick
10. she don't use jelly - flaming lips
11. undone (the sweater song) - weezer
12. backwater - meat puppets
10 songs i will still rock the shit out of:
1. thunderkiss '65 - white zombie
2. hey jealousy - gin blossoms
3. banditos - the refreshments
4. uninvited - ruth ruth
5. radiation vibe - fountains of wayne
6. not if you were the last junkie on earth - dandy warhols
7. stutter - elastica
8. everlong - foo fighters
9. flagpole sitta - harvey danger
10. let's do it - paul westerberg and joan jett
11. into your arms - lemonheads
12. big and mean - reacharound