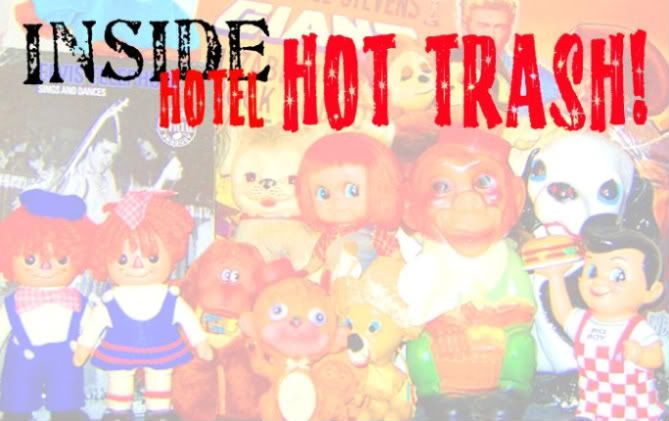 i have a lot of collections that are so excessive they seem silly. who needs a whole suitcase full of vintage sunglasses? when can i possibly wear them all? but this logic sure doesn't stop me when i see a neat pair at a good price. the same goes for me and old record players. how many damn record players do i need in one house?! one in each room ain't bad, but i'm starting to exceed even that. as usual, i can't stop myself!
when i found a neat portable turntable at an estate sale this weekend, i started wondering about all the ones i have at home. josh and i did some detective work and tried to find out when each one was from.
the record player that gets all the wear and tear inside hot trash is this sears model from the seventies. i liberated this exact model from my parents basement back when i first started listening to records (and liberating my dad's records, too). after 10+ years in my possession, the belt finally started to go. somehow, i managed to find the exact same one in the thrift store where i worked right about the same time. what are the odds! this record player also features two tape deck and a working 8-track (which comes in handy for the handful of 8-tracks i actually have, including chuck berry).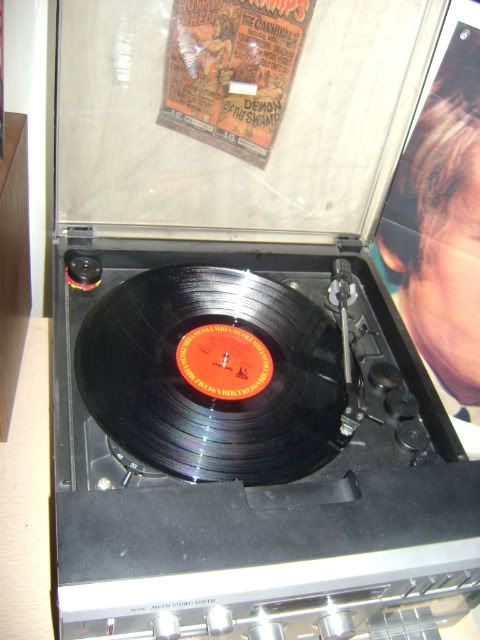 featured in this installment is a record of "the beat" found at a flea market last summer for a measly $1! SUCH a good album! i wrote about paul collins in one of the first blog entries i ever did.
i found this portable children's model at a thrift store. i liked it because of the cute graphics, but also because of its small size. the speaker is built in and the sound comes from the little holes next to the arm. needless to say, it doesn't go very loud. i couldn't find any info about the make/model online, but i would guess it is from the 60s. i have this one sitting by my boxes of 45s so i can preview records when i'm getting ready to pack up for the radio show. just recently, it started sounding funny when i play 33s so now i guess i can only use it for 45s. hmm.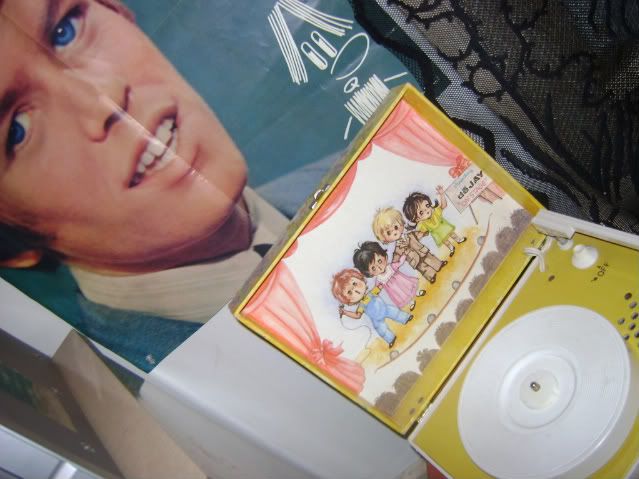 i found this portable newcomb at a thrift store. it has the built-in speaker in the front and works nicely. the only problem is that the volume button is a little finicky and sometimes you have to mess with it to get it to raise the volume. i couldn't find info about this exact model online but i found similar ones saying it is probably from 60s.
i got this rca victor for cheap at the thrift store because it doesn't work. at the time i figured i would just get it to sit out and look neat (forgive the dust -- i never really cleaned it up!), but now i'm actually looking into getting it working again. after some digging, i found out it is from 1954 and i saw online that other working players of the same model were going for $300+ on some websites. not that i want to sell any of these...it's just nice to know what you have sometimes! i also learned that the material used in this player is most likely bakelite...which i learned all about when i worked at the thrift store because the bosses were always looking for bakelite jewelry to make sure it didn't get sold too low. apparently it's very collectible and pretty expensive because they don't make it anymore.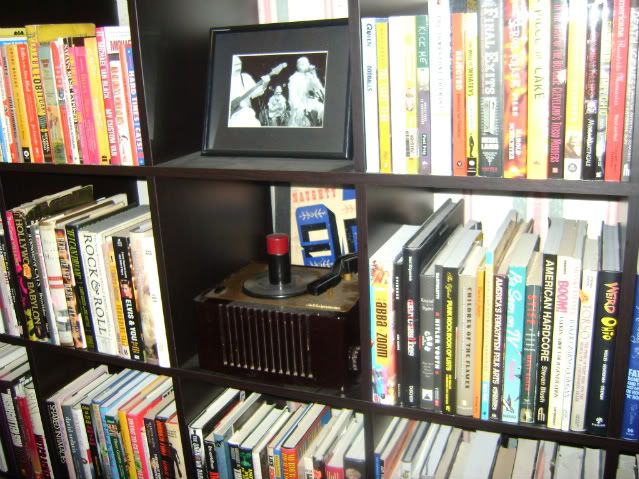 i got this bad boy when i was still working at the thrift store. i thought it would be neat to take and set up outdoors because the speakers are rather large and it goes louder than most portable record players with built-in speakers. i imagined pulling it out at car shows and throwing on doo wop records :)
i don't have anywhere to set this one up in my house, so it's just been sitting next to the couch. i never looked into it until today, but i always sorta figured it looked seventies or maybe even early eighties. imagine my surprise when josh found a listing for it as a 1967 sylvania exponent! i had no idea it was that old. i'm pretty sure everything works fine on it, but i'm gonna have to pull it out again and try it just to make sure. it's neat because the record player folds out from one side and the speakers are stored on the other side. they detach and you can set them out next to the player because they have plug-in cords.
here is the beauty that i picked up from the estate sale this weekend. it is a 1957 zenith. it was marked $35 but it was half-off since we went on the last day of the sale. i plugged it in at the sale and it spun around, and the needle was still intact. what i didn't realize until i got home was that it wasn't spinning around at the right speed. other than that, the player is in great condition for its age. i don't know anything about fixing electronics, but josh took it apart and saw that it had tubes inside (old amps and radios and other electrical equipment used these -- they can be costly to repair/replace today, as they have been phased out). after checking online, he found a place where i can get the exact tubes i need for under $10, so i guess we're going to try that and see if it picks up speed. please keep your fingers crossed for me!