josh was born in west virginia and lived there until he was about 4 years old. he still has some family there and goes every once in a while to visit or just to escape from cleveland and go fishing or whatever. i have never been to west virginia and he has been saying since we met that he wanted to take me. we finally got our chance this past weekend when his mom had to drive down for a baby shower and asked us along.
after dropping josh's mom off, josh and his younger brother took me sightseeing. they showed me where family lived and where they grew up. i drove up my first holler and learned all about the proper terminology (you can drive UP a holler or DOWN a holler but you can't drive ON a holler. and you can drive up A holler, but you can't drive on THE holler. ha!)
here are some pictures i snapped while we drove around.
back when josh's mom was growing up here, she knew the brothers that lived here because they went to her church. one night, one of the brothers took an ax and killed his father in his sleep at this very house. creepy, huh?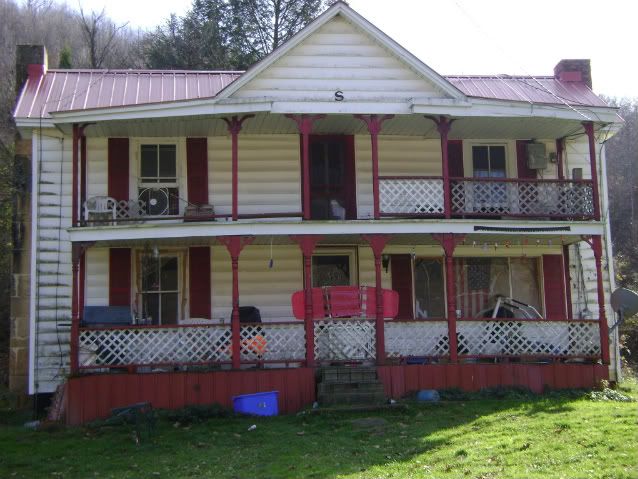 then we went to mudriver mall. more specifically, we drove up to some family's property where they have a permanent yard sale set up. there are piles of junk everywhere: in chicken coops, on top of old cars, in trailers. if you need a bluejean sundress with a rooster on it or a set of mismatched dishes, this is the place to come! josh found a few rolling stones records so that's cool. i did not see anything i needed; however, this is probably just because we didn't have time to look at everything and not because there wasn't some treasure laying there waiting for me to find it. this is not nearly the entire mudriver mall, but i was trying to sneak pictures when the family (sitting outside in lawn chairs) wasn't looking.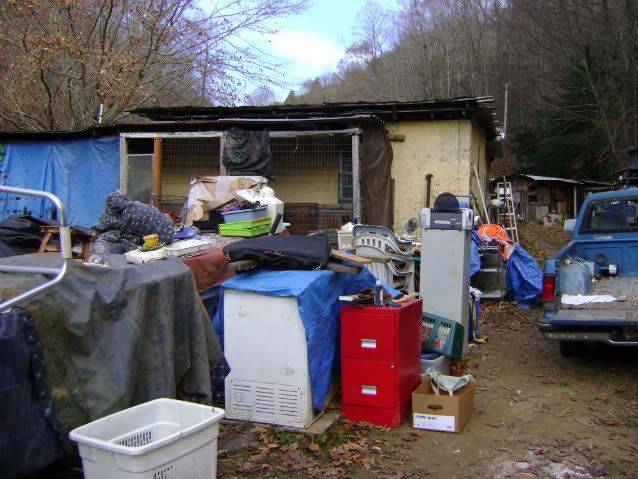 here is another shot from mudriver mall. apparently it's a big thing for people in west virginia to have one (or more) old school buses laying around on their property. this was one of the more extreme cases that i saw. how many old school buses does one family need??? but i digress.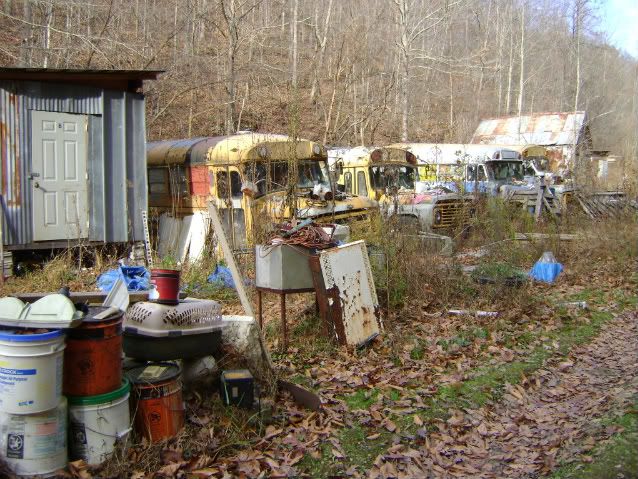 i guess this guy and his property are kinda a local legend. josh said at one point he had a tractor ON HIS ROOF but unfortunately it's no longer there. he did, however, add some old hot rods to his front yard decor. sweet! you can spot all kinds of junk in these pictures if you look close enough. or you can play one of those "i spy" games...can you find the pink scooter? what about the rebel flag?
josh and i were really hoping we would have a run-in with jesco white while we were in west virginia...a.k.a. the dancing outlaw. we didn't, but we did hear plenty of good stories about him from the family friends we were staying with. they said they probably could have went out and rounded him up by looking in the right places if they knew we wanted to meet him, but by that time it was already too late at night. maybe next time!
something you gotta know: we were on a mission. one of the things we planned to do on our trip was find a certain cemetery. while we were out looking, we stumbled upon this old truck cemetery first. cool.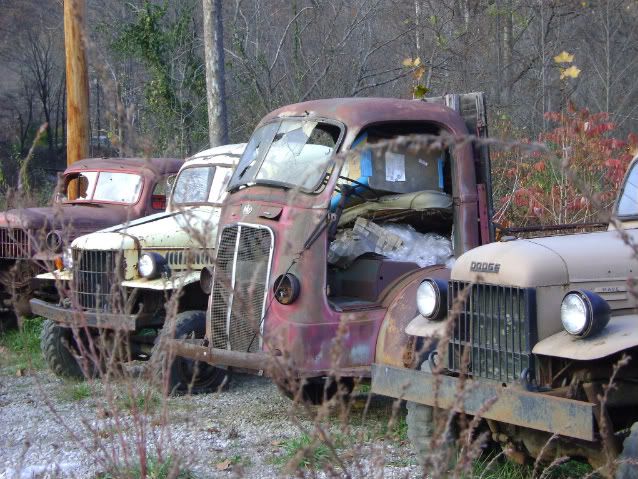 but what we were really looking for was the burial spot of legendary one man band, hasil adkins. things in west virginia aren't always marked, so we spent plenty of time driving around, asking locals, and accidentally passing the place up. the insightful directions we had to work with gave instructions like "look for a low water bridge," "take a dirt road over some railroad tracks," and "go up a hill." great. when we finally got to the spot where it seemed like we should be, we realized the path to drive a car was overgrown and inacessable. what to do?
i forgot to mention that i was standing there holding a bag of hot dogs. you see, hasil adkins is infamous for singing crazy songs about things like fried chicken and hot dogs. in honor of his song "no more hot dogs," we stopped at the local dairy queen and got some hot dogs that we knew we were gonna need later (but i'll get to that in a bit).
so i'm standing there holding this bag of hot dogs and out of nowhere comes this big dog over the railroad tracks. my first instinct was to get my hot dog-toting ass back into the car because i couldn't tell from his manner whether he was friendly or trained to attack interlopers. he didn't bark or attack me for the hot dogs or anything. he just stood around with us while we tried to decide what to do.
then some coal miners (or something) pulled up and josh asked them how to get to the cemetery that we were just GUESSING was at the top of the big hill in front of us. they said the road was closed off, but we could just hike up the hill in the backyards in front of us. so now not only did i have to hike a hill (with my asthma inhaler in my purse) with a wild (?) dog eyeing my hot dogs, but we had to risk going through someone else's property and hope we didn't get shot!
the dog tagged along and actually led the way up the hill. when we lagged behind, he would stop and turn around as if to say, "almost there! c'mon, guys!" here is a shot of josh's brother with the dog when i was almost to the top of the hill: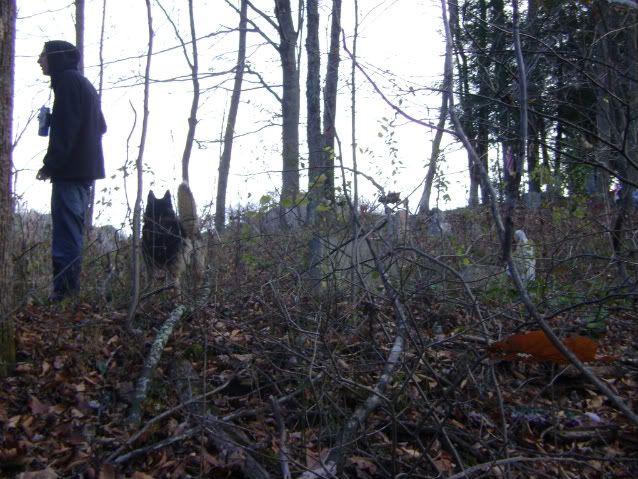 this is looking back down the hill we just climbed. the white line in the background is the back road we took to get there. i also forgot to mention that there was no clear path up the steep hill, so we were dodging tree branches and thorns the whole way. by the time i got to the top, josh had to say, "wait, stop!" and pull all the leaves from my hair.
this is what i saw when i finally climbed to the top: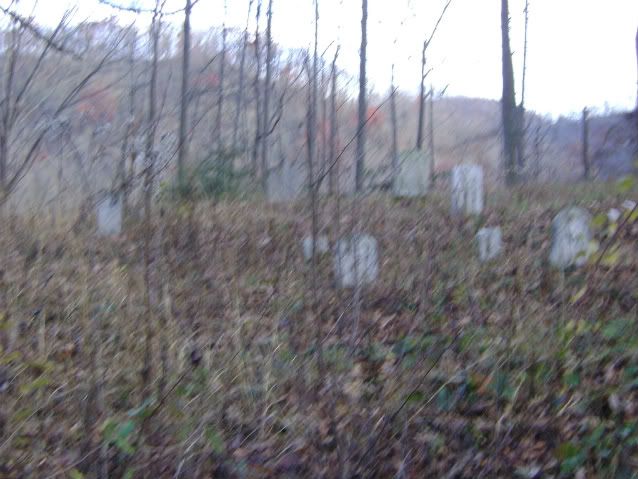 we looked around and saw several plots for the adkins family, but none for hasil. it was overgrown and looked fairly undisturbed. we began to worry that we found the wrong cemetery and might have to keep hiking through the woods for another. yikes.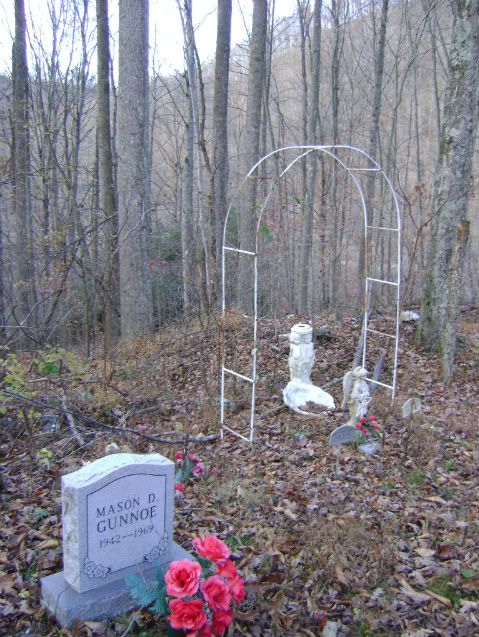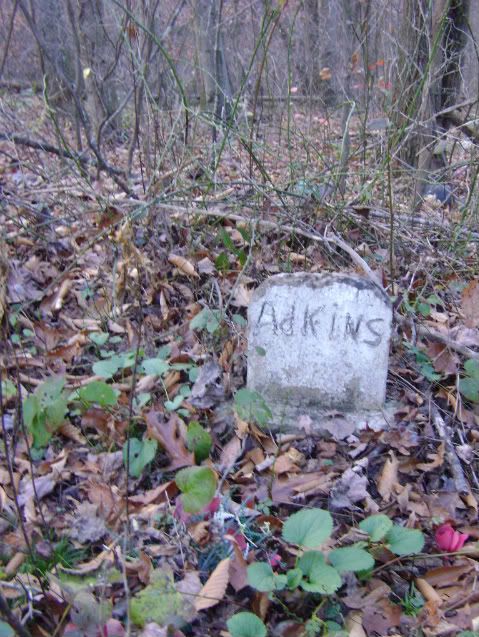 then josh called out.
aaaah! at long last! the world's greatest guitarist and one man band!
we pulled out the hot dogs and gave him our official rock'n'roll salute: by celebrating this wild and wonderful man the only way we knew how!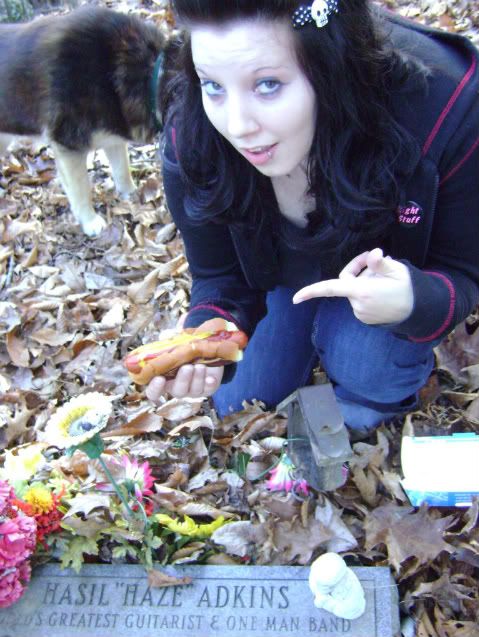 josh and i wanted to leave something on the grave but we didn't think to bring anything. i dug in my wallet and came up with a "crazy 8s" playing card that just said "CRAZY" across it. it seemed very fitting for this ultimate wildman...and i mean that in the most sincere and flattering way possible!
in his younger days he was one wiiiiiild mutha. you gotta get some of his old recordings and listen to them to understand. most of the video that exists is from when he was older, but you can still get a sense of his wild spirit :)
josh found a business card for the cleveland record store my mind's eye. that way, hasil and anyone else visiting his grave would know that his fans come from far and wide just to pay their respects and show their admiration! plus, this is the place josh bought his first hasil record, so it was quite appropriate.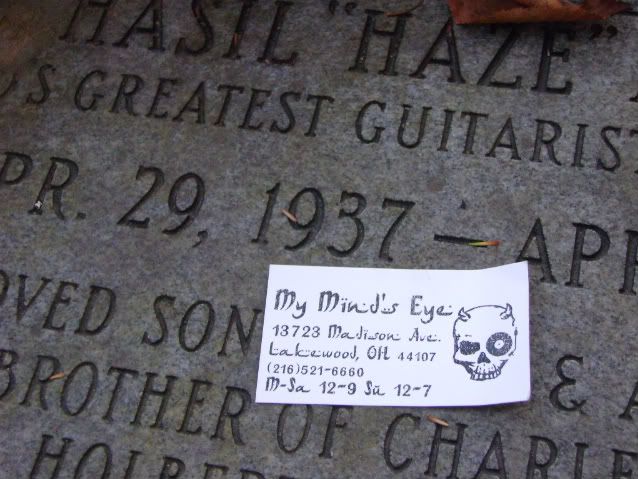 it was a neat little cemetery and i was glad we went through the trouble of finding it. it was very peaceful and a bit touching to be up on the hill in the middle of the woods with one of the most outrageous musicians that ever lived. one man bands are all the rage right now, but once upon a time this wasn't always the case. i think it's safe to say that hasil inspired most of the one man bands that are around today and paved the way for wild and crazy rock'n'roll, one man band style.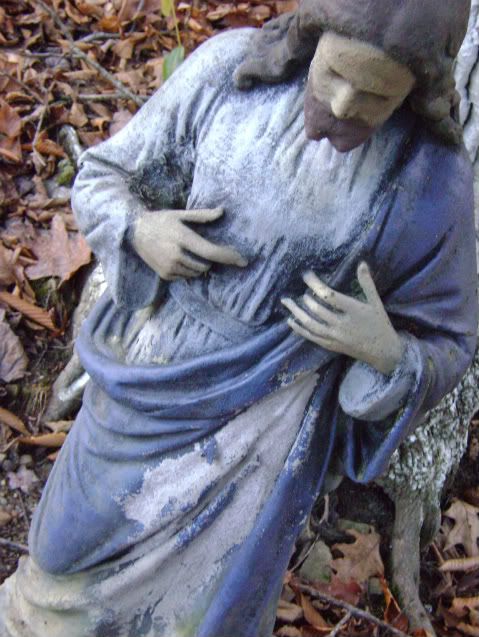 here is a view from the top of the hill, with the main road and west virginia hills in the background:
josh was lucky enough to see hasil perform twice while he was alive. i never got to, and that is something i will always regret. while we were up there, the big dog silently followed us around and waited for us to finish our visit. when it was time to go back down, the dog again took the lead and went first, turning and stopping to wait for us whenever we were too slow. we joked that it was hasil's dog-angel-spirit that appeared to accompany us. i like to think that's true, and i really DID get a chance to hang with him during my lifetime :)
it was a fun weekend and a nice little roadtrip to get out of town for a while. we listened to stories from the guy we stayed with about having an uncle froggy, and how he was originally from a spot in west virginia called "big ugly" (so he could technically say he was a "big ugly man"). i ate authentic biscuits and gravy for breakfast, and even saw a sign in someone's front yard that said "4 sell." ha! stereotypical jokes are the best.
it was also cool to see where josh came from and to meet some of his family (including his 87-year-old great aunt, who insisted we take an apple pie with us). it put things into perspective and made me realize just why my boyfriend is as wild and wonderful as he is :)
here is another video clip of hasil, from a documentary called "the wild and wonderful world of hasil adkins":