FINALLY!
first off, i'll unveil our costumes: we decided to go as sharon tate and charles manson.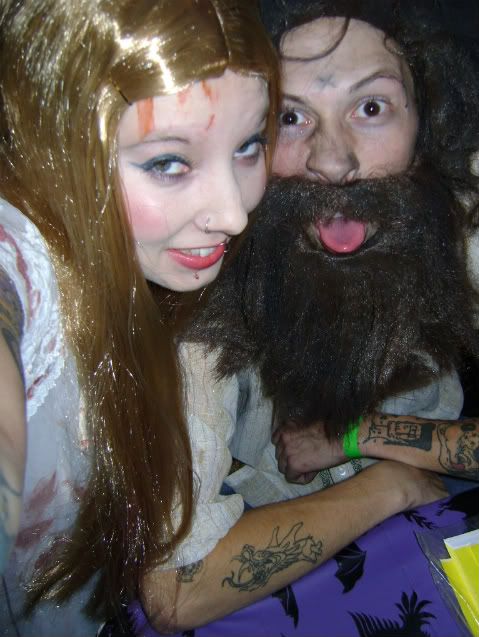 my friend
kate
gave me the suggestion and now she's M.I.A. and can't see the results! needless to say, i was not nearly as glamorous as sharon tate in real life because she was a total hottie. and josh was far too handsome to be manson, haha.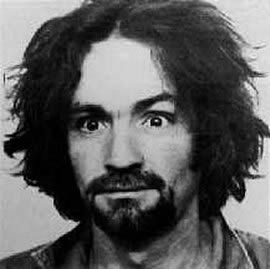 but we pretended and i have to say that by the reactions of other people, our costumes were a hit!
*fyi, for those not familiar with the details of the crime, sharon tate was 8 months pregnant at the time of her murder. she was stabbed to death, but also had a rope tied around her neck and was tied to one of her friends. just so those details don't throw you off. sorry if i'm gorey and morbid and that offends anyone!*
my friend billie and i were in charge of decorations for the radio station party. when we volunteered for the position, we figured we would be in charge of planning things and maybe buying some of the decorations -- NOT SO! it ended up that we didn't have nearly as much volunteer participation as we thought we would have, and it was entirely up to us to do all the planning, shopping and actual decorating for this huge old theater where we were having the party! not to mention that we had a really small (read: lame) budget and we were trying to get as much for our money as we could because the space was seriously massive. billie and i got to the theater the day before halloween and decorated from noon until
4:30am
!!!!! when we left, it STILL wasn't even finished! both of our boyfriends were there helping to build a goddamn stage and take down risers and do all this other garbage, and
they aren't even station members
! you can imagine how frustrated (AND SORE!!) we were. i just kept saying to myself, "if people actually show up tomorrow, and it runs smoothly and ends up being fun, this will all be worth it!" we went home to catch a few zzz's and then were back the next afternoon to finish decorating. i also came an hour early before the party started to tie up any loose ends. combined, it was about 18+ hours of climbing on ladders, spray painting, hanging, cutting, blowing up balloons, etc. PHEW!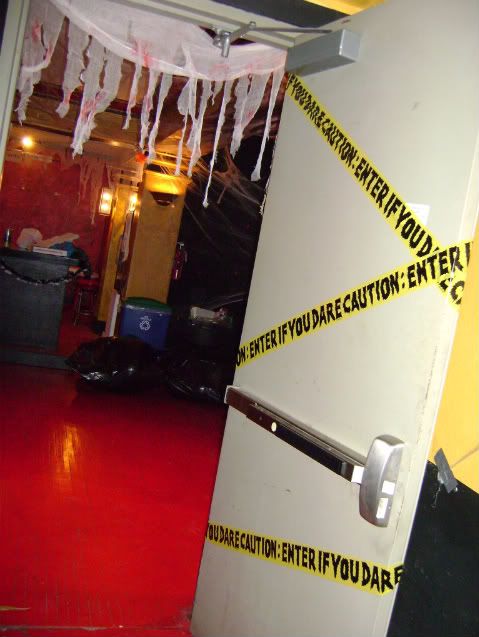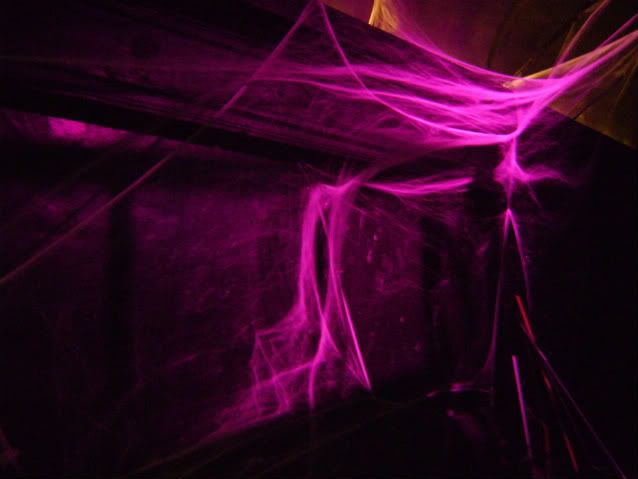 but when i saw the reactions of people walking in the next day, it was indeed totally worth it. there were a lot of little details you really had to see in person to get a sense of the amount of work that went into it. looks like it's ready for a party, no??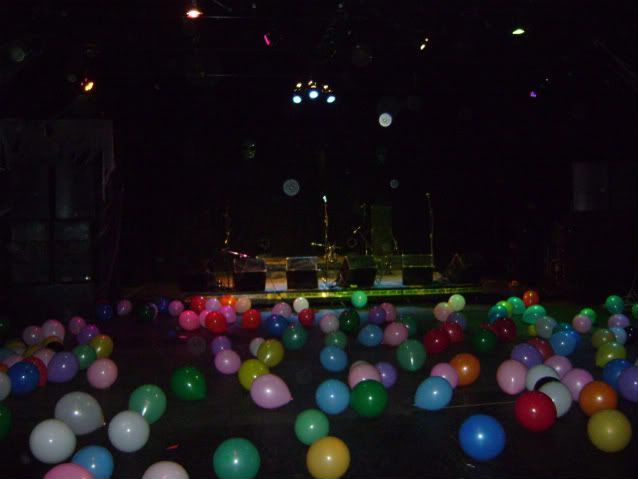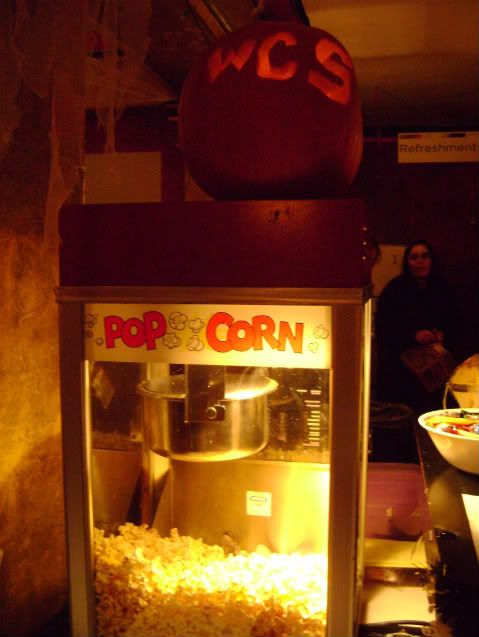 josh and i were set to work the door for the first hour. we first realized this was gonna be BIG when i started getting text messages from friends: "we're waiting in line outside!" a line, you say?!? i guess there was one going down the block! when the doors finally opened and josh and i started putting wristbands on people coming in, i did not have a chance to stop THE ENTIRE HOUR! it was a nonstop line! i was so busy i couldn't even look up to see who i was putting the wristband on, which is how i didn't realize that my own PARENTS were there! my mom had to say, "i'll get you, my pretty!" for me to look up and see they had come to support me after all :)
so yeah. the party ended up being a HUGE success! we ran out of wristbands halfway through! i heard the estimate for how many people were there that nite are between 600-800...and while that is TOTALLY AMAZING for a first-time event that we had no idea how it would go over, it is something we can't really broadcast because if that is true we were probably over the building's legal capacity ; )
here are some of my friends, and other great costumes from the nite! i didn't get to take as many photos as i wanted because i was running around CRAZED, but i did manage to get a few:
josh workin the door, before the flood of people!
fellow dj...named keith! ha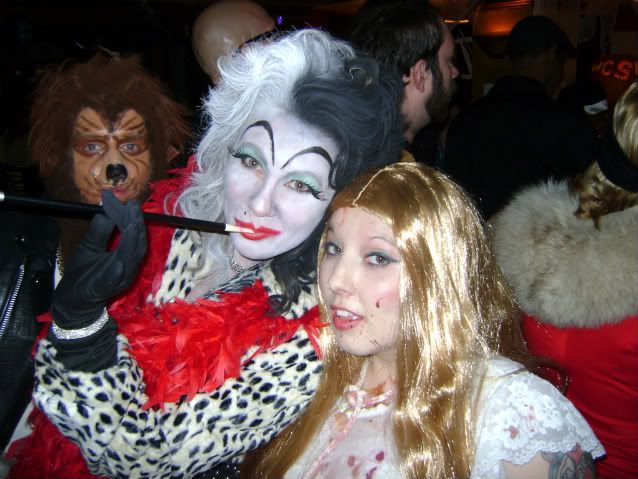 me and my girlfriend billie (as cruella deville!) who helped me make the place look SWEET!
billie and her boyfriend austin (as teen wolf)
my friend greg as
frida kahlo
...HA!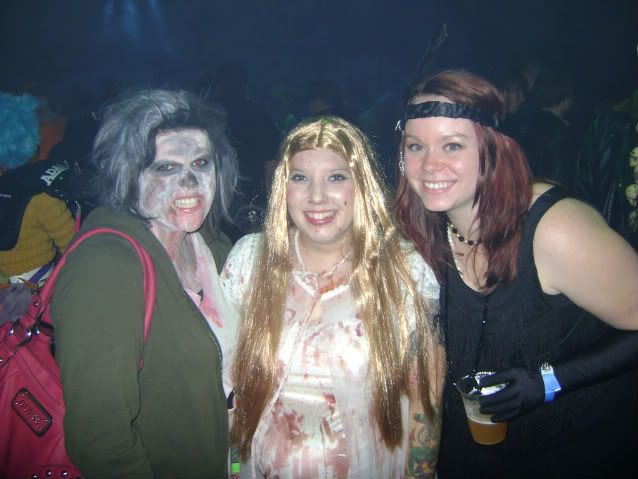 me with angie and dana!
our station manager (who made this all possible!) as the wicked witch, covered in silly string and rocking out to the zero boys :)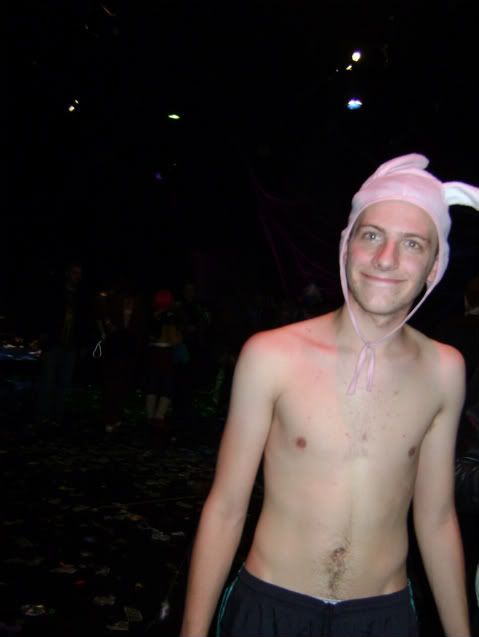 my favorite costume of the nite, bunny boy from the movie "
gummo
"!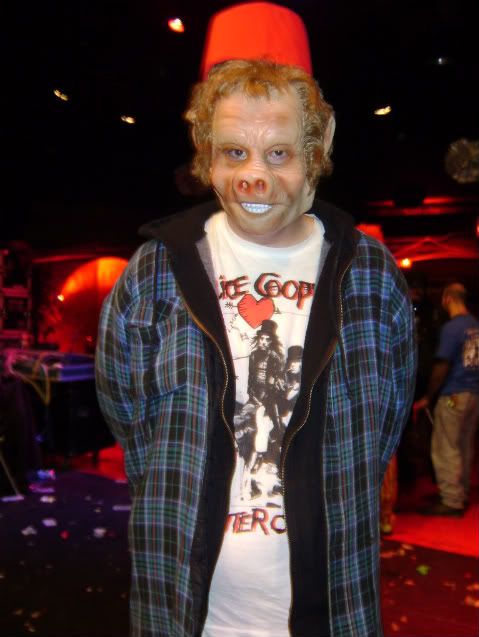 my friend greg in his creepy pig mask!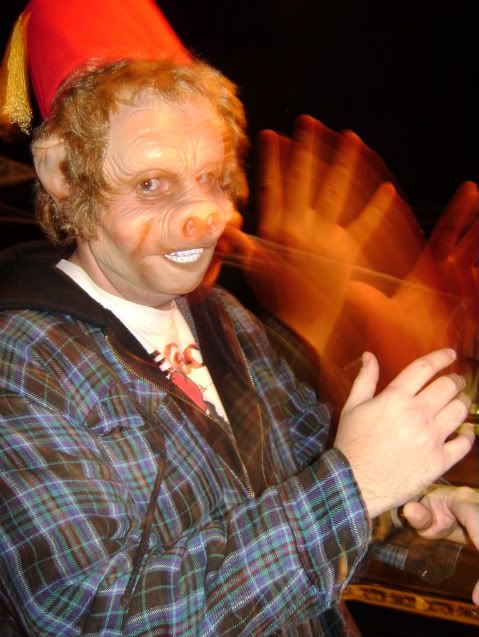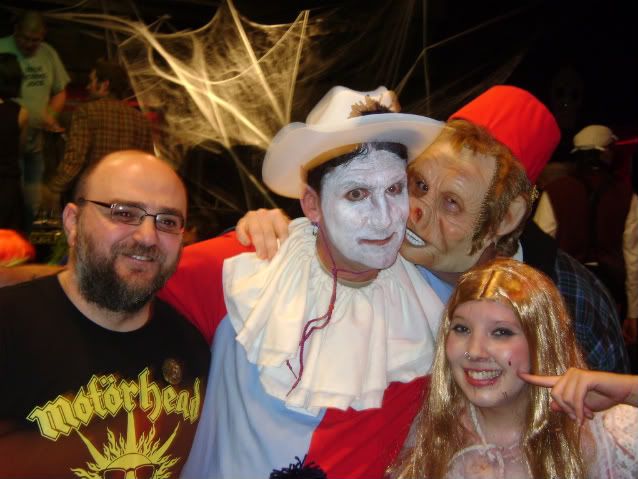 l-r: charles (owner of my minds eye, the best record store in cleveland!), mr. california (who also played that nite!), greg, me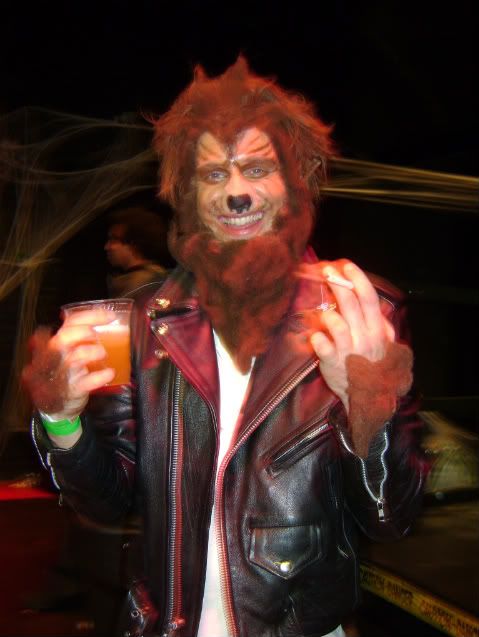 i told austin to give me FIERCE WEREWOLF...instead i got smiling werewolf, haha
besides working door and decorating, i also got to dj in between some of the bands! there were 5 djs chosen from our station to do this and i was lucky enough to be one of them! i got to go on this high tower above the entire party and play some spooky records for people to dance to :) here is a picture my friend lacey took of me while i was up there!
the part that i was most excited about was getting to see the zero boys. this was my third time seeing them and they never disappoint. SO GOOD! they were awesome, and awesome dudes to talk to as well. i can't thank them enough for playing! i heard they had a blast as well, so that rules :D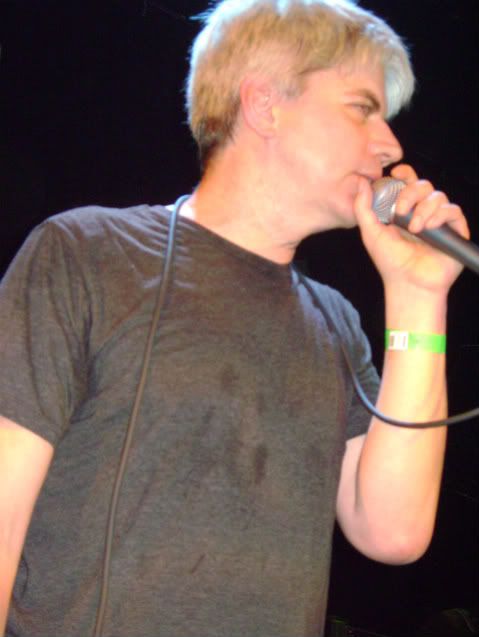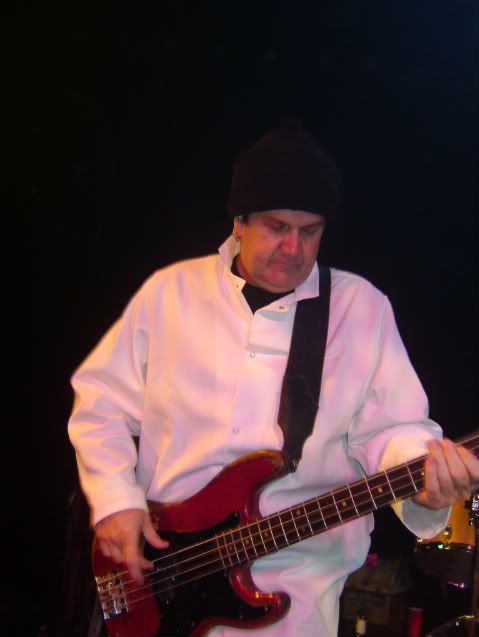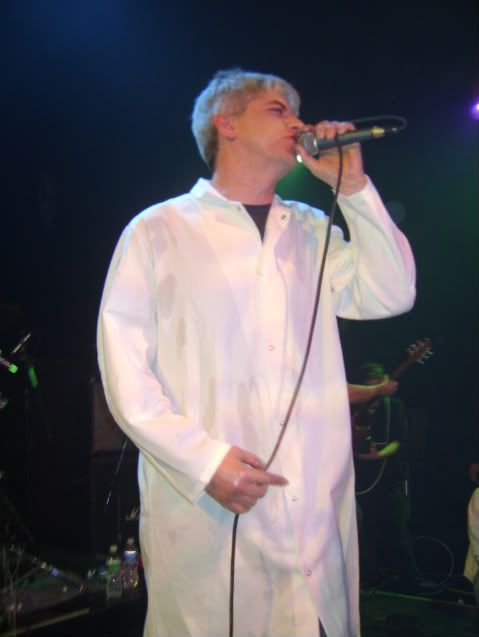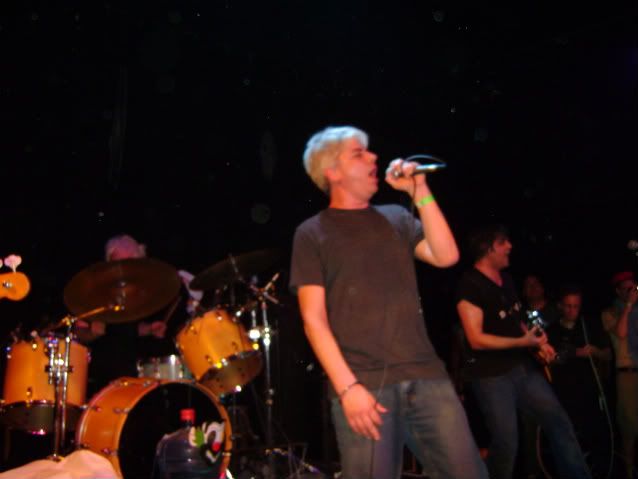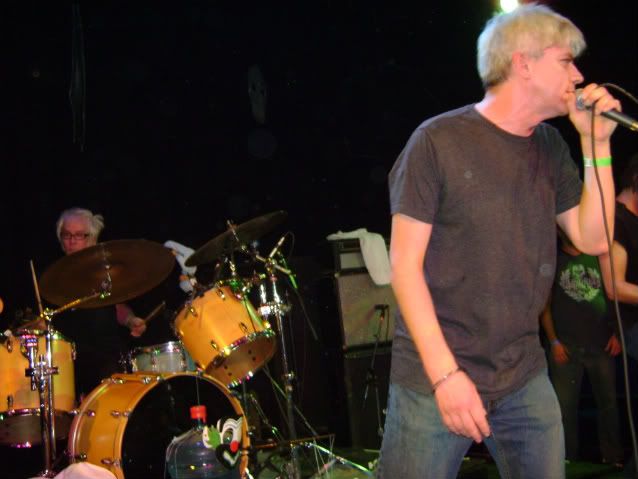 people went nuts! they loved it! it was so so great. i mean, just look at this dude who covered himself in spiderwebs to rock out: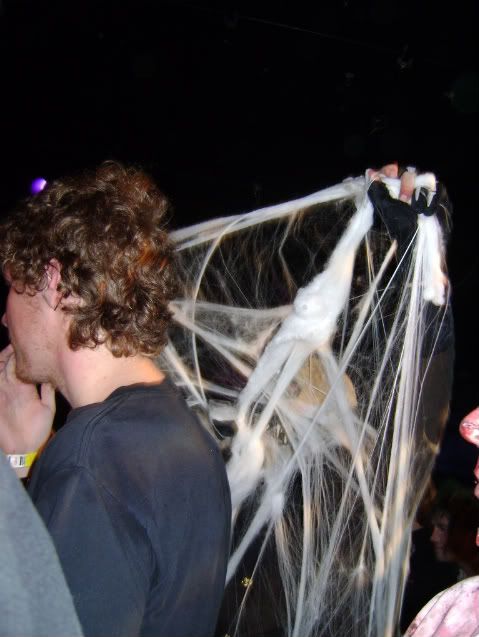 here is a picture of me talking to the zero boys singer, paul. he told me to pose like that "american gothic" painting, but when i looked at the picture he was totally smiling more than that old man does. heh.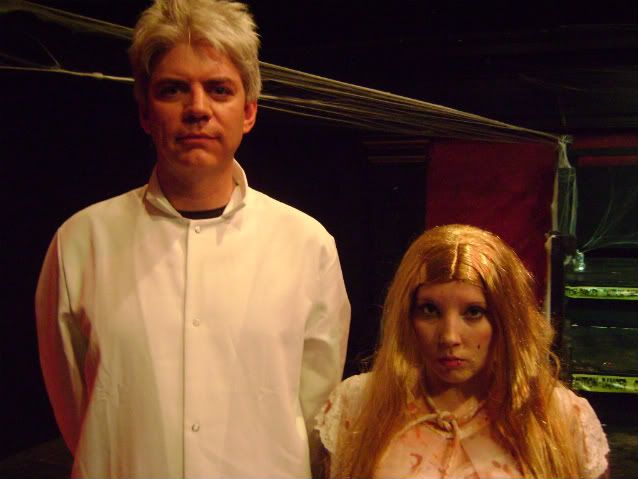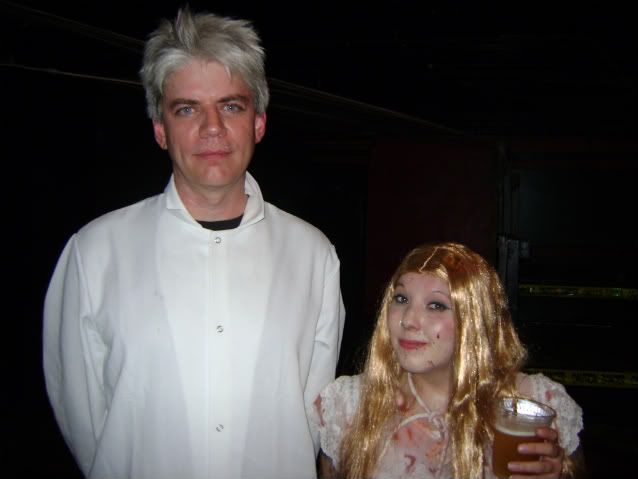 i had a great time and it was totally worth all the sore muscles and hours i spent taping cornstalks to the wall :D
here are a few pictures taken by friends!
by dana:
by lacey and todd:
me with tom and carol (carol was flo from those car insurance commercials, how cute is that?!)
with todd and tom!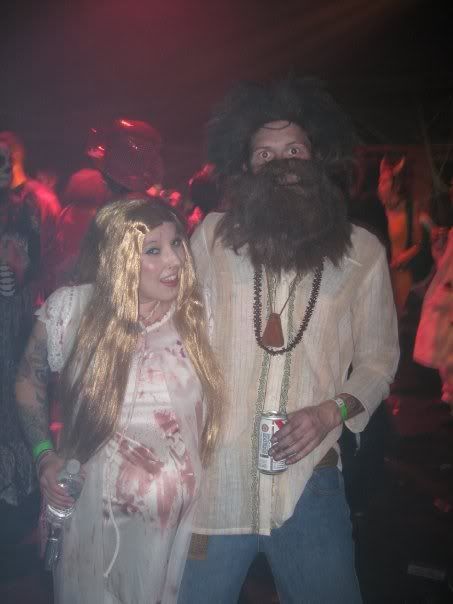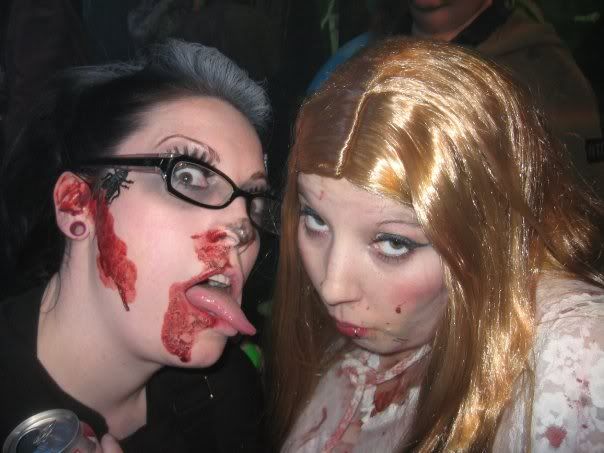 with lacey, who was skunk roadkill! ha! if only you could see her skunky tail!