soo sorry i haven't been around. i've been busy lately fighting off the flu, visiting baby charlotte, hanging out with josh, and taking care of some business that was stressing me out bigtime. i woke up today thinking, "i actually feel pretty decent. i'm in an ok place right now," so that's a plus.
the other nite i went with my cousin amy to see our favorite monkee, peter tork!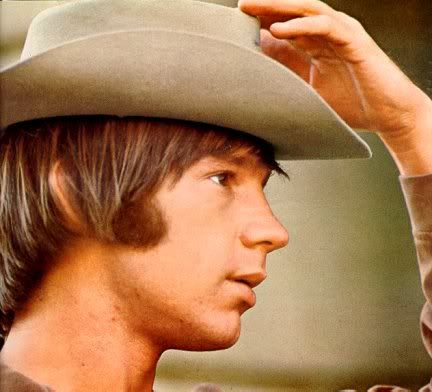 amy, beth and i grew up with the monkees because they were showing reruns of the television show on tv in the eighties. we were a couple of 4 and 5 year olds, running around the room with our mom's old record albums from the sixties and singing along to "tomorrow's gonna be another day."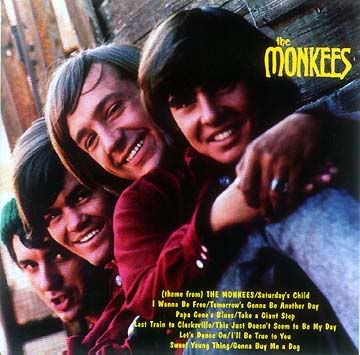 i have a tape recording of myself from the same time where i talked about how "EVERYBODY loves the monkees, dontcha folks? THEY'RE SO FUNNY!!!" i also talked about how when the monkees came to town, then i would go see them. i don't think i really understood what i was talking about, but it's a cute tape and i still have it.
for a couple years afterwards we forgot our love for the monkees, but then it was rekindled when i was 12 years old. beth got some books about the monkees from the library and we remembered how hip and silly and adorable they were :)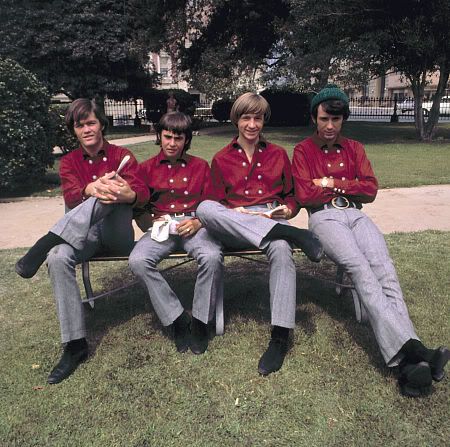 coincidentally, around the time we were rediscovering our love was also around the 30th anniversary of the band's formation. suddenly, the show was back on tv again on nick at nite! and even better, there was talk of a new album with all four members, PLUS a tour! mike ended up dropping off the tour before we got to see them, so my dream of seeing all four original members is still there. but through the years, we have seen the 3 remaining monkees 3 times. we also saw two of them once, micky solo once, and peter solo three times.
peter has always been mine and amy's favorite. i mean, isn't he just adorable??? and he always played "the dummy" on the show, which endeared him to me even more ; )
we met peter once a few years ago, but we decided to try to get better pictures with him. he's still sweet :)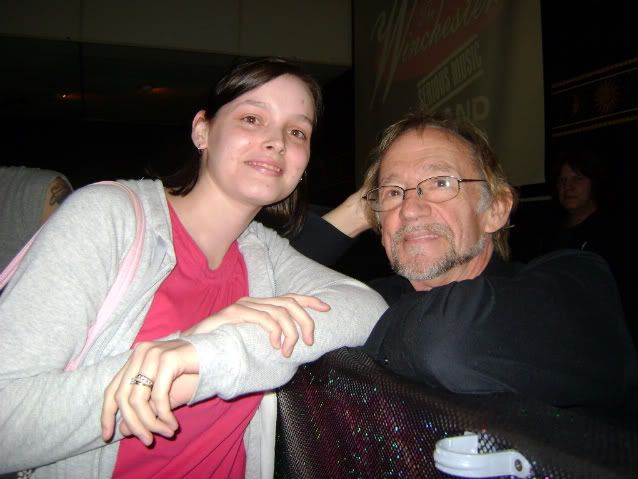 well, that's about all i've got for today. tonite will be the hardest (and most annoying!) episode of hot trash ever; we're doing our week-long radiothon fund drive and i gotta beg for dollars during my show. i hate doing that, i'm not good at it, but if my show doesn't make any money for the station i'll feel like a damn FOOL! it's not a competition between the shows because it all goes to the same place -- but it kinda is, if you know what i mean. anyway, i have some cool stuff available if you donate during hot trash tonite. i have a few old hot trash tshirts left, plus some records, cds and tapes from bands i dig and i play on the show. i also made some special mix cds you can get and i'm really excited about the new ones this year!
for a $15 donation- sloppy slices and greasy greats: songs to stuff your face by FOOD MIX CD! it is a double cd (50 songs!) and contains an unreleased track by mr. california about cheeseburgers!
for a $15 donation- rowdy chug-a-luggers and sloshin' slammers: songs to pound beers by BOOZE MIX CD! it is a double cd (50 songs!) and contains an unreleased track by wolfboy slim and his dirty feets!
for a $5 donation- last years one man band compilation featuring over 25 OMBS from around the world!
for a $5 donation- last years dance craze compilation where you can learn to do the watusi, the bug, and even the mope!
we'll gladly take any donation amount even if you can't afford one with a premium attached! more info for hot trash premiums can be found at the message board
here
.
we also have some really neat wcsb logo items! the new hoodies are AWESOME. there is a new tote bag that is big enough and strong enough to carry records in. and the "sin pack" will get you a wcsb shot glass, beer cozy and ashtray for a donation of only $20! go look, there's some pictures on
our website
!
thanks for supporting college radio :D