"everybody see i got the devil in me..."
that's a line from one of joe buck's songs. and at first glance, or the first time you hear his music, one might be very inclined to believe this to be true.
the first time i ever saw joe buck, he was playing guitar with the band th' legendary shack shakers. even from the back of the room where i was standing, and even though he did not have a microphone in front of him, i could see him screaming the words "FUCK!" and "MOTHERFUCKER!" throughout the entire show. combine that with his skeleton face and i was READY TO PEE MY PANTS.
but don't let that fool you. his lyrics (and stage banter) might be violent and hate-filled. and he might make the angriest faces you have ever seen. and he might say "fuck" and "motherfucker" more times than you have ever heard any human being within one 45-minute period. despite all this, if you actually have a conversation with the man, he is one of the nicest, most humble people you will ever meet. and you will also quickly realize that he throws the word "motherfucker" around like it's his favorite greeting/term of endearment/insult all rolled into one. for example, following every song that he plays live when people are clapping to show their appreciation, he will exclain, "well, thank ya, motherfuckers!" and you can tell he means it. oh yes. he means it...from the bottom of his black, smoldering heart.
joe buck is a one man band, but he has played with other well-known bands such as
th' legendary shack shakers
, assjack, and
hank III
(who, as the name would suggest, is hank williams' grandson). he also just finished a tour with the singer of
throw rag
where captain sean sang and joe buck played all the music. joe buck one man band is a mix of hillbilly country, punk, rockabilly and garage, with a touch of EVIL thrown in for good measure.
my favorite pictures to take of him are with the "night mode" setting on my camera, or just in complete darkness. OOOOOOOH MAAAAAAAN.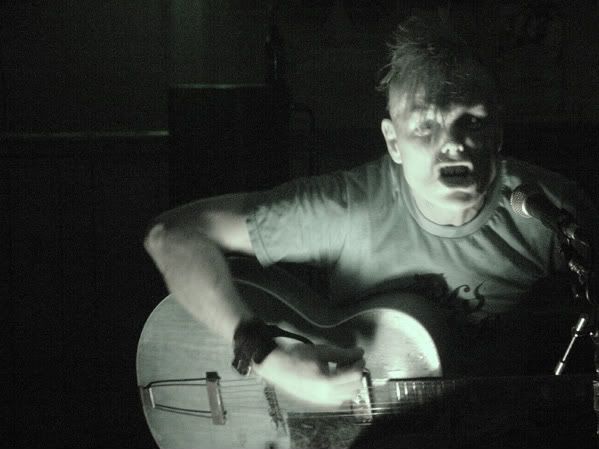 here is my favorite song being performed live. it's called "are you my enemy?" it's very angry and totally not suitable for work, small children, or delicate flowers.
but like i already said, his "thing" is to be your nightmare. don't let his scary stage persona frighten you off! in fact, just so you don't get the wrong idea, here is something beautiful from him. whoa, did i just use the words "beautiful" and "joe buck" in the same entry? i present to you "bitter is the day":
i have seen joe buck several times live, and it never gets boring. i strongly urge you to check him out if he passes through your town! he is starting a new tour today. you can visit him on
myspace
for a list of tour dates and other cool stuff. but if you go see him, just promise me that you won't go up to him and say, "erin told me you aren't really as creepy as you pretend to be!" because that would probably just bum him out.
i hope to have a photo of joe buck available in the
swamp rat photography
store soon, but i'm pretty broke at the moment. i need to sell some art before i can make any new stuff, which sucks.
**i didn't take any of the videos in this entry, i found all those on youtube and they are credited to their youtube usernames. i did, however, take all of the photos that you see here.