in case you were wondering, you will finally get to see what it looks like to get married in a cemetery. the truth is that its absolutely beautiful! but don't take my word for it.
photo by
victoria stanbridge
the longer i wait to do this post, the more overwhelmed i get thinking about what a full day it was and the more i want to just skip writing all this. BUT! it was honestly one of the most amazing days of my life and i don't want to gloss over it just because i was feeling lazy. i also want to apologize in advance if i get someone's photo credit wrong because my brain was absolutely scrambled that day and i started saving photos when it was all over without keeping track of who took what. just send me a message and i will correct anything i get wrong!
i will admit, i always thought it was sorta cheesy and unoriginal when people described their wedding day as "the happiest day of their life." shame on me. now i get it. not only because i was marrying my best friend, but being surrounded by so many people who went out of their way to help us, make sure we were happy, and just spend our special day with us was the most humbling and incredible experiences ever. josh and i are very lucky to have the supportive family and friends that we do. it was important to us to hire our friends to help us accomplish all the personal touches we wanted for our day, rather than hiring a bunch of strangers who didn't really know or understand us. plus, as you will see, our motley crew really helped us achieve the rock'n'roll wedding we always hoped we could pull off!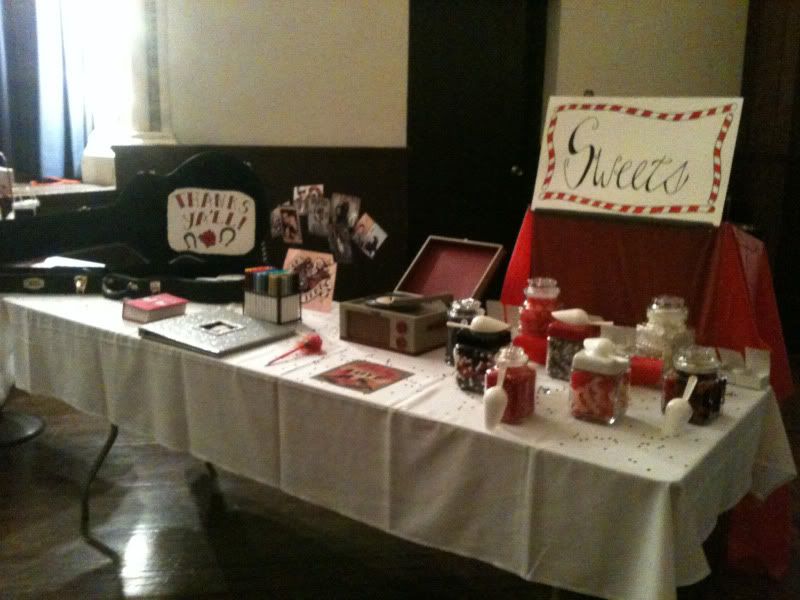 this was the table we used for our guestboook, candy bar and display table (i apologize for my terrible phone pictures -- did anyone get any better ones of the table?)
we used josh's guitar case as an alternate to a boring old card drop box.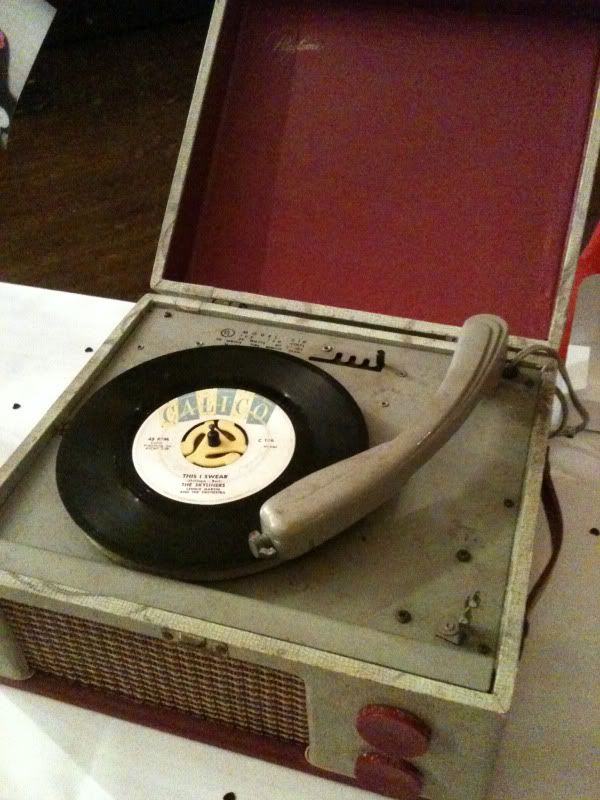 we set out a vintage record player with the 45 of our "first dance" song sitting on it (more about that later, i want to do a whole post just about music)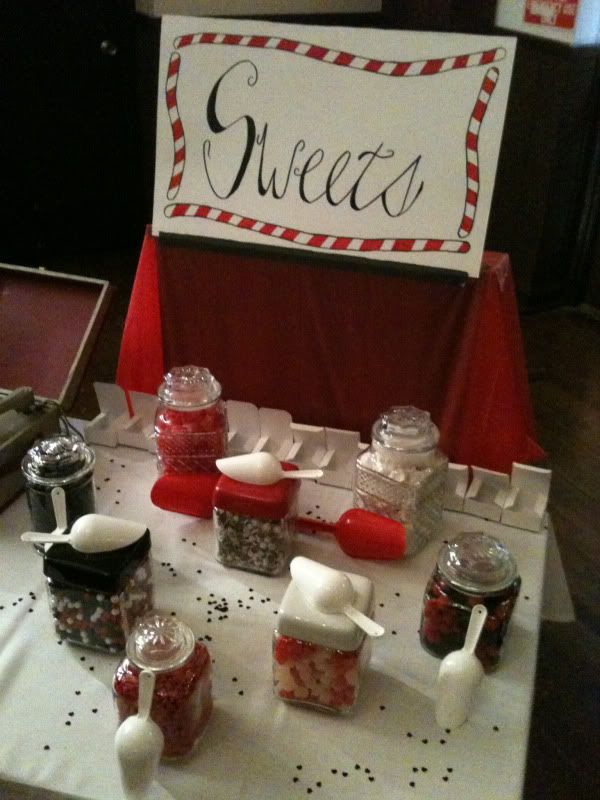 part of our wedding favor was to have a candy bar. we collected old-fashioned candy jars and filled them with candies that matched our colors of red, black and white. the boxes were all hand stamped "love is sweet."
josh and i used 45 records to make the table place cards with people's names on them. they were a big hit!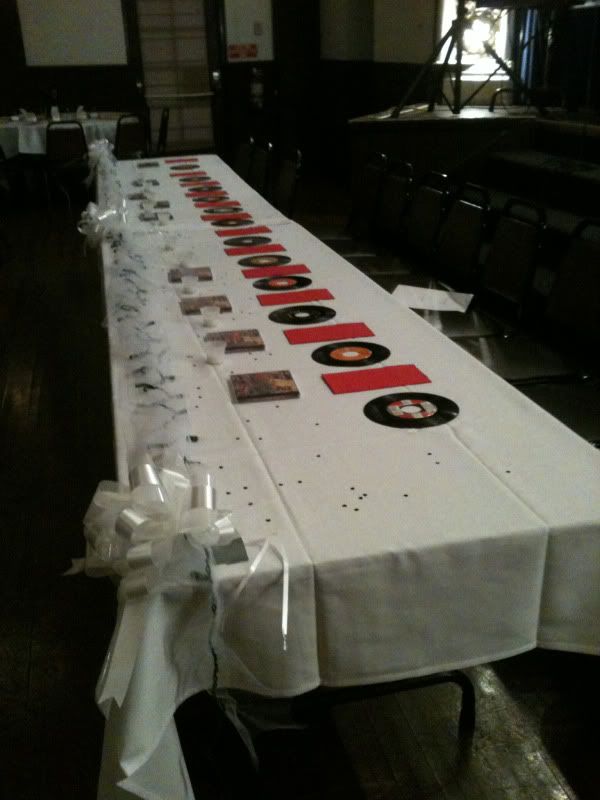 the head table!
my 5 bridesmaids were indispensable. amy and beth are my cousins, and are basically the sisters i never had. amy was my matron of honor and went so far above and beyond what i could have expected of her that i still can't find the words to thank her. i have known dana since high school and met angie and billie through her shortly after, and i can't imagine the day without them. especially poor billie, who at one point during the morning was doing my hair, angie's makeup, and about to sew dana's dress all at the same time!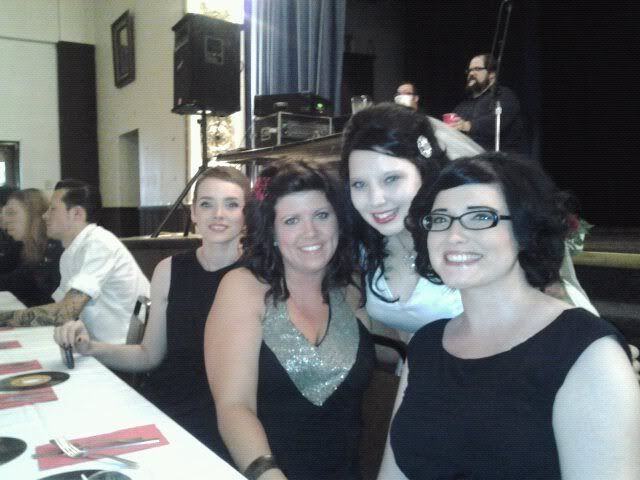 with amy, angie and beth
my little flower girl! photo by elysse.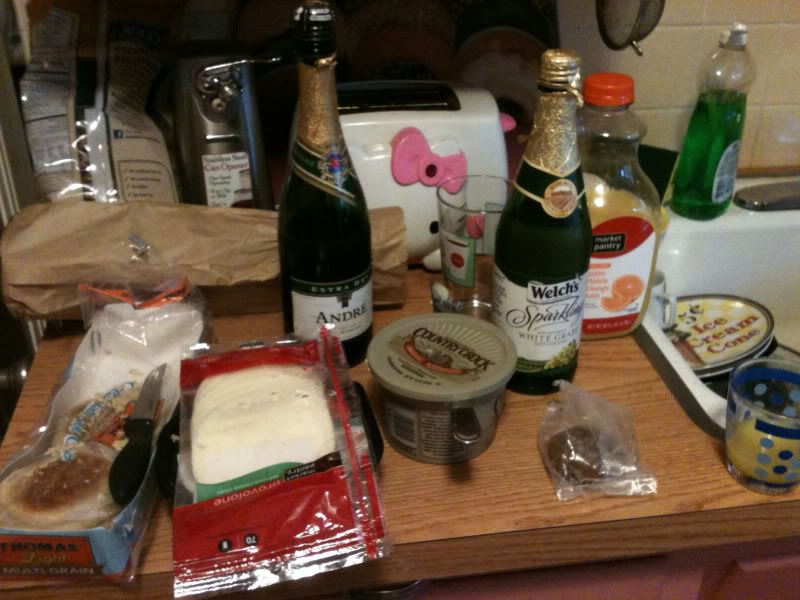 wedding day breakfast, thanks to beth! including sparkling grape juice for my mimosas ; )
josh had an issue with a deadbeat best man just 3 weeks before the wedding, which really threw us for a loop for a minute. in the end, things worked out even better than they were going to, because we were able to bring in both my brothers as groomsmen, as well as josh's good friend travis as best man and our mutual friend greg as a fellow groomsman. our friend scott from buffalo, ny (former drummer of the band the blowtops) jokingly volunteered to drive here and be the 5th groomsmen, and when i told him how much we would love having him as a part of the day he admitted that he practically had his bags already packed. so cool of him.
we also lucked out in that we have some amazingly talented friends that helped us with nearly every aspect of our wedding. our good friend ben (creator of the record label/zine "rock'n'roll purgatory") acted as officiant. adam and andy, hosts of the college radio show "
music to break things by
" (and brother show to my own hot trash) were our official wedding djs. i danced to the sonics, the monkees, the devil dogs and gentleman jesse and his men all in one night. it was SO FUN! i can't say enough good things about our photographers, sean and
victoria
. as you will see from the photos in this post, victoria is definitely in the right business and i would recommend her to my fellow clevelanders all day every day. is it possible to be in love with a photograph??? victoria is making me question everything i ever knew about life. i'm hoping that once i order some of the wedding photographs, she will allow me to share more here in my personal blog because some of my favorite shots from the day aren't available to be shared online. i love that she was able to capture our big day in a way that was totally us: dirty cowboy boots, tattoos, silly faces and all. and finally, our friend jen made the cupcakes and our cute little wedding cake that josh wouldn't let me smash in his face. can you say chocolate covered cherry cupcakes??? they were wildly popular.
my amazing mom made my wedding dress from a 1957 dress pattern i picked out. i also took some inspiration from a vintage dress i saw for sale on etsy that i didn't stand a chance of fitting into. she did a beautiful job. i'm not used to wearing a lot of white clothing, so it was a little strange to see myself any time i looked in the mirror...but the style of the dress, as well as the pop of red, is exactly my thing. i love the secret touch she added when she revealed to me that she cut a piece of fabric off her own vintage wedding dress and added it as an embellishment on the back of my dress. soo cute.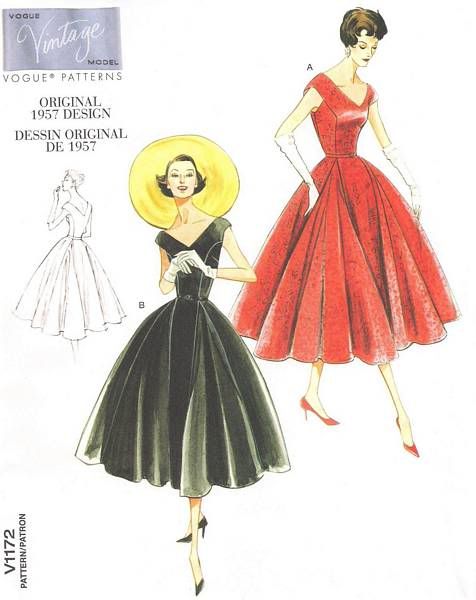 the 1957 dress pattern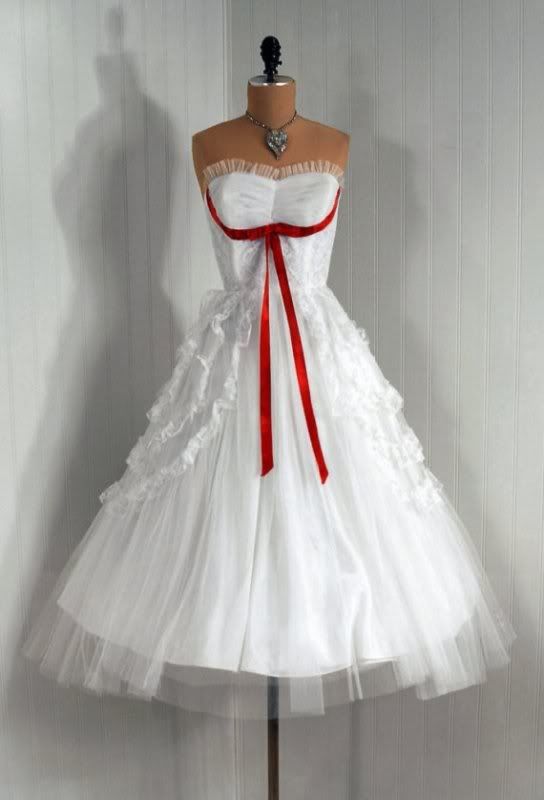 vintage dress i used as inspiration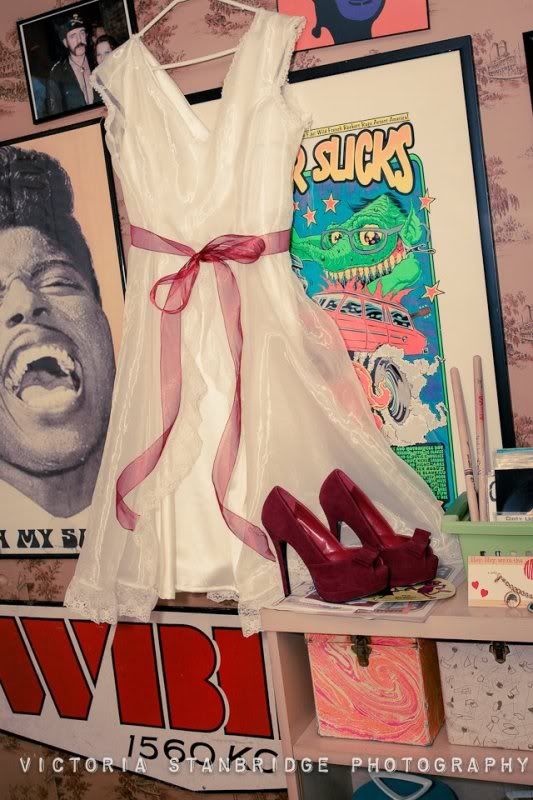 the finished product. photo by
victoria stanbridge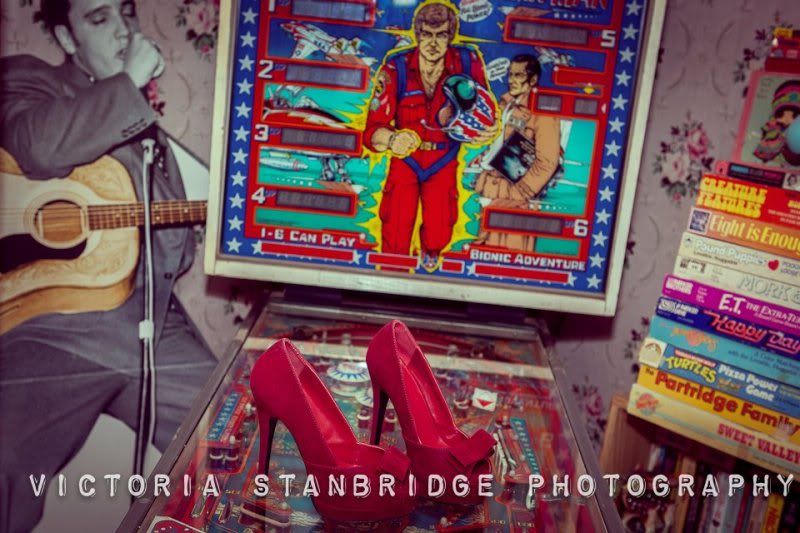 photo by
victoria stanbridge
in the 11th hour, a complete stranger to me walked into the store where i work and my coworker introduced us. this is how shawn came to be our chauffeur in his 1952 ford customline. talk about arriving in style! what an awesome thing to do for a couple of kids you've never even met. it was
exactly
what i was envisioning when i decided i wanted to find a classic car to use. and he even let us tie an old-fashioned "just married" sign to the back that me and amy made the night before :)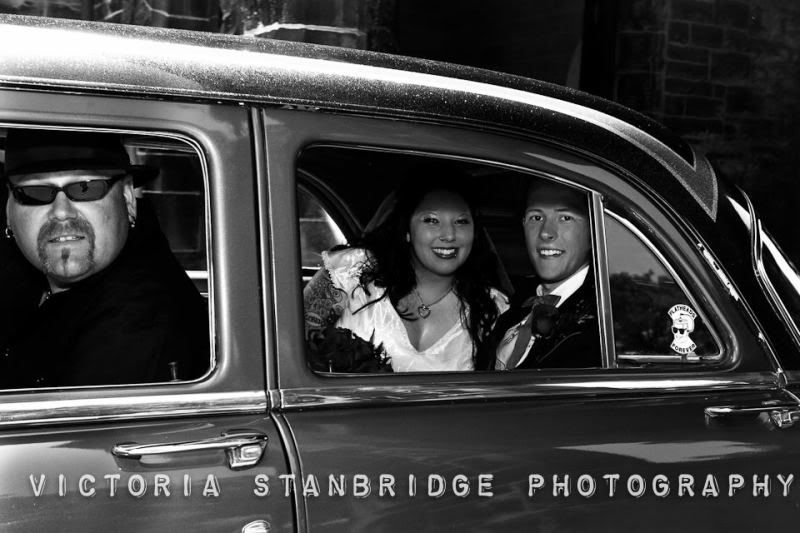 photo by
victoria stanbridge
photo by
victoria stanbridge
photo by
victoria stanbridge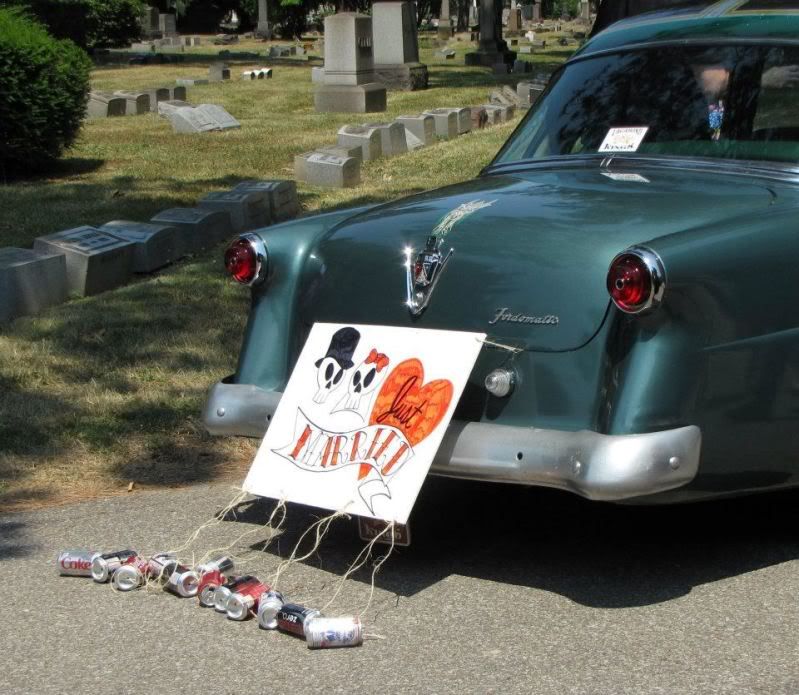 photo by elizabeth
somehow i managed to make it through the day without crying, although i had my great-grandma's handmade red and white handkerchief tucked into my dress just in case. josh and i wrote our own vows, and in the course of my 1 page i referenced beer, eddie cochran records, and the time that we rode an elephant together. i told josh he was "the dan to my roseanne, the gomez to my morticia, and the elvis to my priscilla" (and then promised not to leave him for any karate instructors). i knew he would get it. the best part was how i told him i loved him for a list of reasons, including the fact that he always lets me have the best records first. in his vows, he pointed out that he still loves me, even when i take all the best records first. HA! we
mostly
see eye to eye.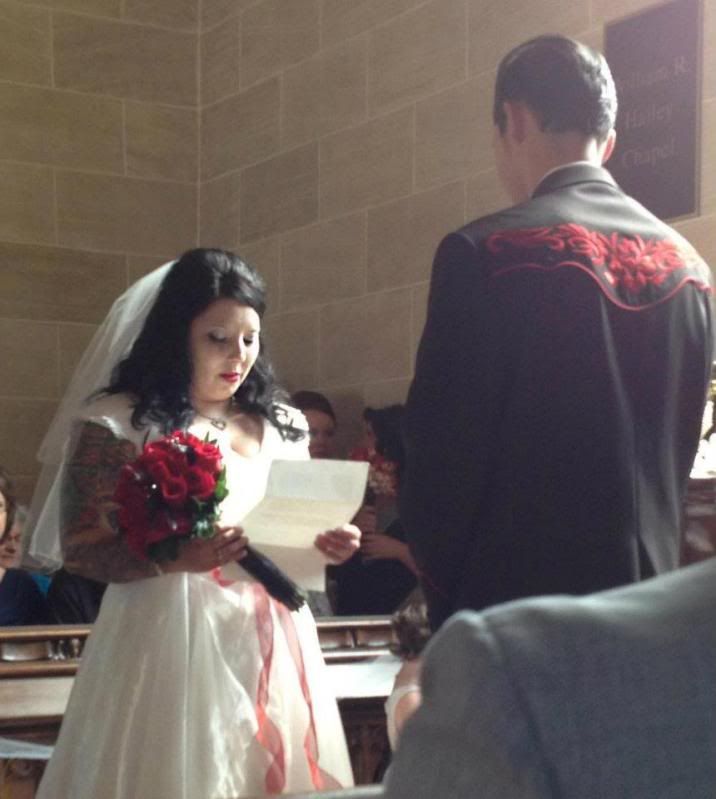 me reading my vows. photo by elizabeth.
the taco bar we chose for the reception was AWESOME. we overheard several guests talking about how they already planned to come back the following tuesday for taco tuesday nite. haha! we had a cross-country guestlist that included people from wyoming, new york, west virginia, iowa and michigan. we had a dead boy, a member of the alarm clocks, the owner of our favorite music venue and lots of fellow college radio djs. even mr. california was there!
it was a long, nerve-wracking, exciting day that was more fun then i even imagined possible. a HUGE thanks to all our family and friends who made it possible and shared it with us! special thanks to our parents, who supported us even when our ideas were less than "traditional" and who welcomed us into our new roles as son and daughter with open arms :)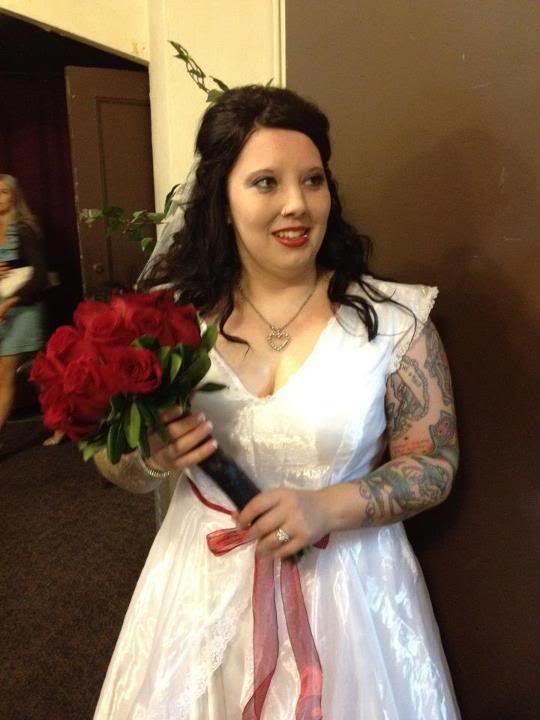 nervous and about to go in at the reception. photo by lacey.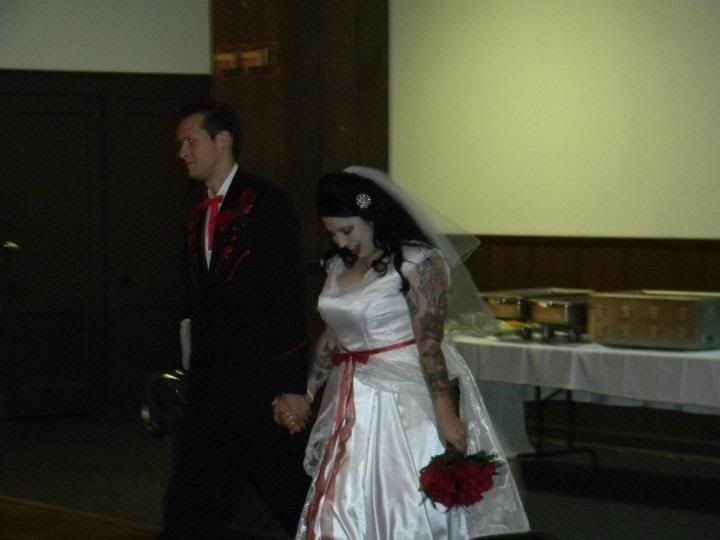 overwhelmed and nervous, being announced as mr. and mrs. for the first time while entering the reception :) photo by lucky.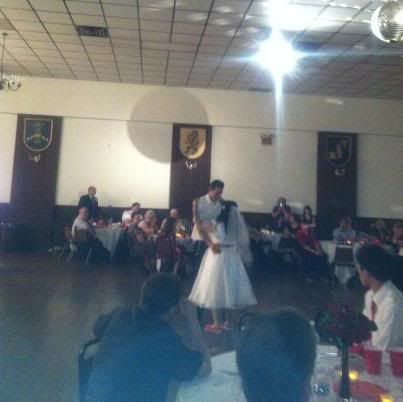 first dance! photo by elysse.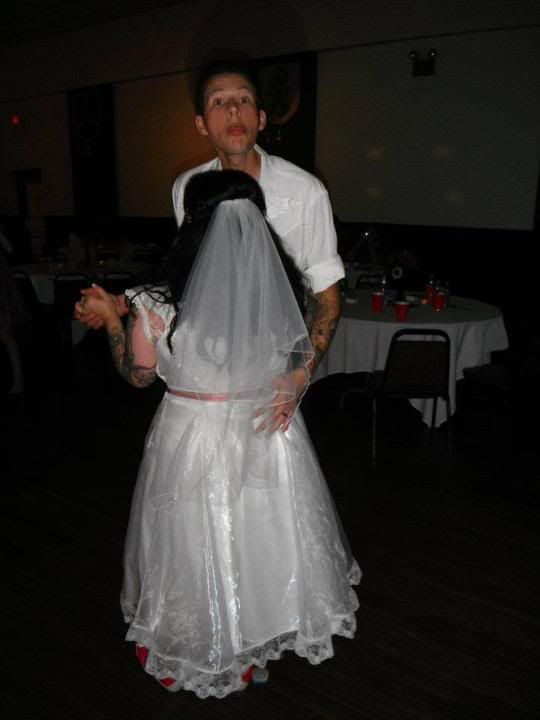 ha! photo by johnny.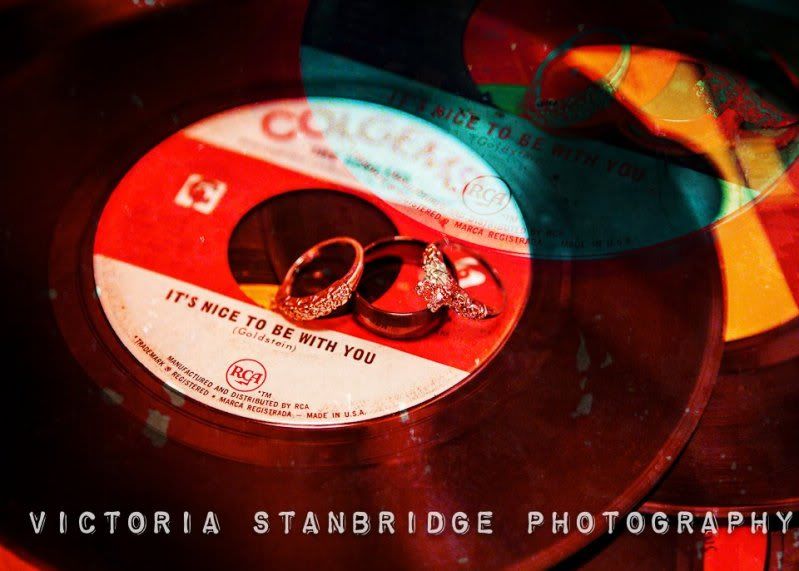 our rings. photo by
victoria stanbridge
cemetery photography. by
victoria stanbridge
by angie.
more cemetery photos. by dana.
my beautiful boquet, still going strong a week later.