(source: unknown)
record store day was started in 2007 and has grown to be recognized internationally as an observed celebration of music. it is especially important for independent and underground bands/labels/stores that heavily rely on fan support.
go out and hug your favorite record store today!!!
i'll be celebrating by dj'ing at my favorite local record shop (my mind's eye in cleveland) with a handful of other friends and djs, and then stopping by most of the local record shops to see what i can dig up.
viva la vinyl!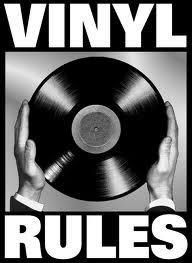 (source: unknown)