knowing my love for all things old-timey, risque and on the fringe of society, it should come as no surprise that i have a sincere appreciation for vintage pinup and burlesque. i love the fact that they were doing such a controversial thing at a time when mainstream culture was ambivalent to such casual attitudes about sexuality. to me, that's what made it so exciting then and not so much now. i will never claim to be an expert on the subject, OR even very knowledgeable, but i do love to learn about it and enjoy it a great deal. just like discovering great old music i never knew existed, i feel like the history of burlesque is an untapped resource that i have yet to fully explore.
this isn't a subject i broach very often, lest i be lumped in with the "burlesque revival" crowd that often seems silly to me. i'm sure i'm going to catch some flak for this, but i would like to warn anyone who might be offended right now that there is no need for that because i am not pointing fingers at anyone in particular. no offense if this is your thing, because it certainly isn't everyone i'm referring to, but a majority of what is now being presented in the name of "burlesque" seems trite and trashy to me -- which is a shame, because it could be so well done when done right. i hate that it has now become an avenue for insecure girls to say, "i have so much more confidence now thanks to burlesque!" when really they are mixing up "self-esteem" with "attention from sleazy guys because you took your clothes off." but i digress.
perhaps you remember a blog entry i did a few years ago about
the older woman i worked with who had a secret past as a burlesque star
. i haven't talked to her much since leaving that job, but i still think about her often and am dying to see the scrapbooks she kept from her days in the circuit.
the reason i brought up this subject was because i got something cool in the mail today. it's an original vintage photo of burlesque star/model/performer lynne o'neill. she was known as "the original garter girl" because of the way she incorporated throwing her garters out to the audience during her stage shows. the photo is censored because i may be in mixed company here on blogland, but the real deal is the real deal!
i found it to be a pretty neat piece of history (plus i'm obsessed with old photographs) and it was even better because it was very fairly priced for an item that isn't all that common in the marketplace (that being authentic artifacts from big names in burlesque's heyday). i can't wait to frame it and hang it up.
wanting to know just how i came across such a good deal, i began searching around to find out what i could about the sale where this particular photo came from and i learned that lynne o'neill died in 2010 and there was a huge estate sale to liquidate all her possessions. what a dream to have been able to attend that estate sale!
here
is one of the articles i found online talking about the estate sale and some of the items that were for sale.
i recently had a conversation about burlesque with my friend bryan where he shared one of his favorites, an often overlooked performer from right here in youngstown, ohio that went by the name zorita. her signature act was a snake dance she did with her two boas, "oscar" and "elmer." personally i think the best part about her was the hot lily munster 'do she had going on (waaay before it was cool!)
as for pinup art, my favorite artist has always been gil elvgren. here are a few of my ultimate faves.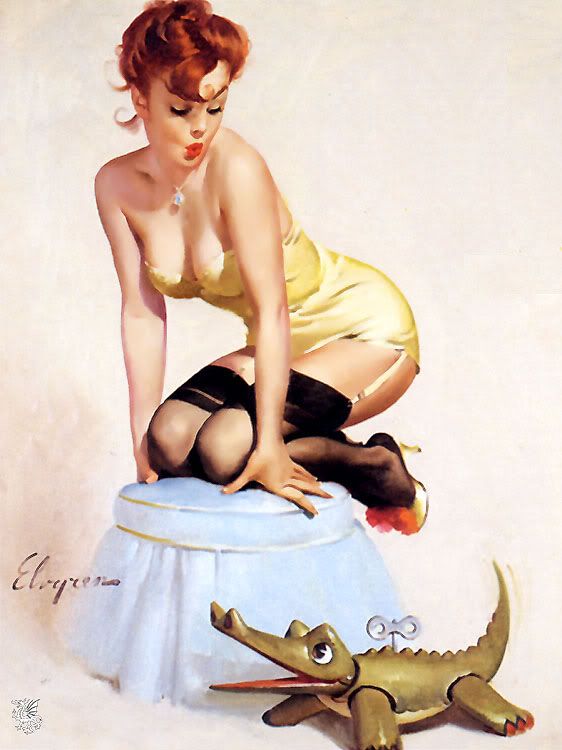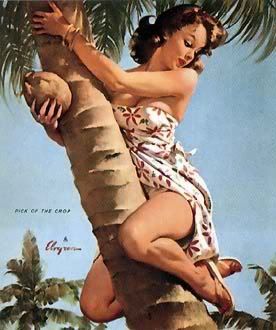 feel free to share your opinions on the subjects discussed here, because it seems everyone has one!