phew! things have been busy around ol' hotel hot trash. and today had some milestones as far as
swamp rat photography
is concerned. first off, i was lucky enough to be included as a vendor in the brand new local handmade arts/craft store,
crafty goodness
. its filled with awesome stuff made by fellow clevelanders with their own two hands and i'm in GREAT company! today was the grand opening and i found out that i already sold my first photo at the pre-party last nite! so cool. the store looks amazing and it seems like its going to be tons of fun to visit and see what new things are brewing. and wait til you see what i came home with!!! this ordinary glass beer bottle was altered using a process called "bottle slumping." once the bottle had the shit slumped out of it, it magically turned flat into the most badass spoon rest on earth! isn't this crazy fantastic?!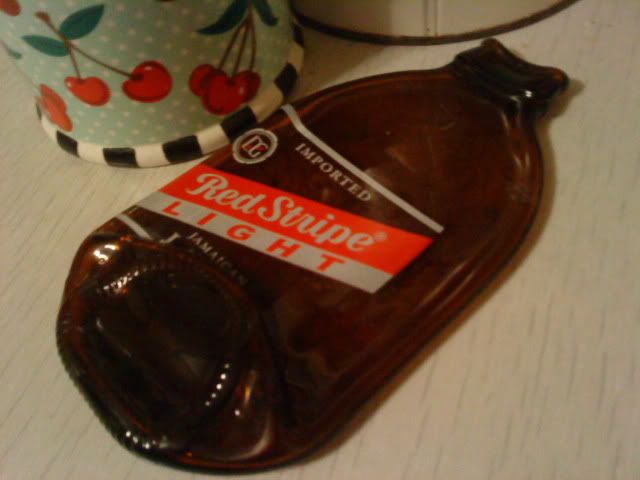 it was made by one of the co-owners of the shop, who also happens to be a cousin of mine. we're a crafty bunch, what can i say?? if you're in the area, definitely look them up (they're also on
facebook
!) and stop in sometime!
then i came home from work today to find that swamp rat was featured on the front page of etsy for the first time ever. WHEE! it even got me a sale and some new friends, so that's amazing news as well.
in addition to all the craftiness going on, josh and i have been preparing for the debut night of SHAKE IT UP AND MOVE! we got together with a couple of friends who have similar interests in music and a love for the teen dance cultures of the past to bring a night of free music and fun times. again, if you're in the area, stop by and say hi!!! i'm dj'ing and josh is playing, along with our friends shouting thomas torment, miss firecracker and kitty b shake (all the way from france!!!) its next friday, march 11th and its FREEE!