things have been pretty good over at hotel hot trash. last friday josh and i hit up one of the best vintage stores in town,
flower child
. i just know some of my blog buddies would DIE if they got to see this place! (
ben
and
valerie
, i'm lookin at you!)
i bought some record totes, including my first 33 rpm box. I AM SO OBSESSED WITH VINTAGE RECORD TOTES! look for an "inside hotel hot trash" post coming soon with photos of my platter pak collection.
saturday josh and i did what we do best: went junkin. this time we scored so big i'm STILL on a junkin high. feast your eyes on THIS:
first up is this cute little piggy ketchup bottle (.50). it says "ketchup..squeeze me!" how could i resist?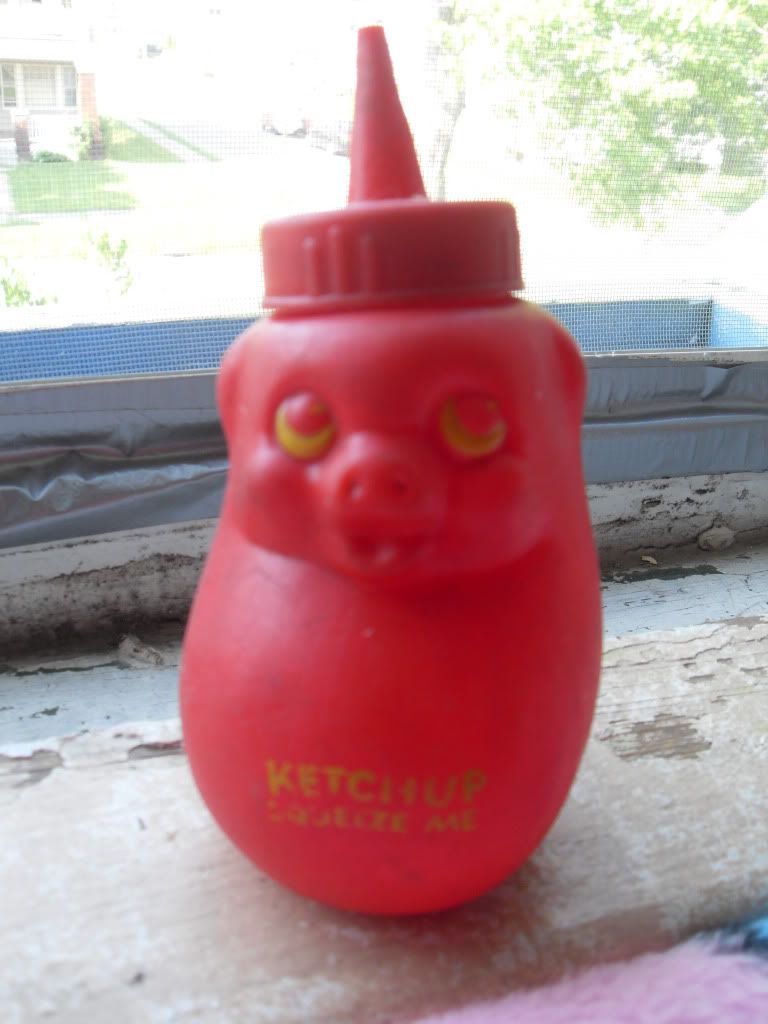 next up, hands down the coolest back scratcher in all the world. you might recall that i posted not that long ago how josh and i had been looking for one and then we found the naked lady scratcher at a flea market. now we've gone from zero scratchers to TWO awesome ones in no time. who wouldn't want a back scratcher made from an alligator foot?!? it's horrifying! it's awesome! at first i thought this might be a turtle foot but i'm gonna have to agree with josh on this one that it's more like an alligator or crocodile. this cost $5, which i GLADLY would have paid, but josh insisted on splitting it because he didn't want me to have sole bragging rights and now he can say it's half his.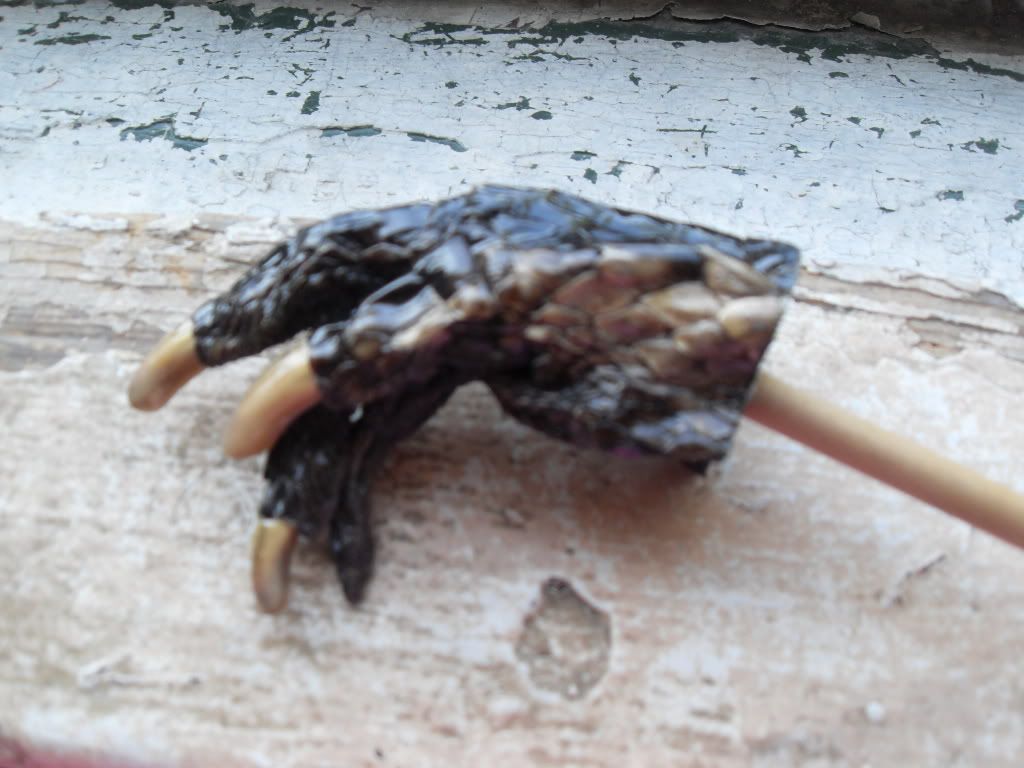 i've always wanted one of these guys, and this time it was my lucky day. usually they aren't cheap and don't even have all their clothes, so i got a real deal ($6). i decided to name him brian because he looks like he should be in the beach boys. i also like to tease josh because this guy has better sideburns than him (poor josh has been trying to grow them FOREVER and his babyface just won't allow it!)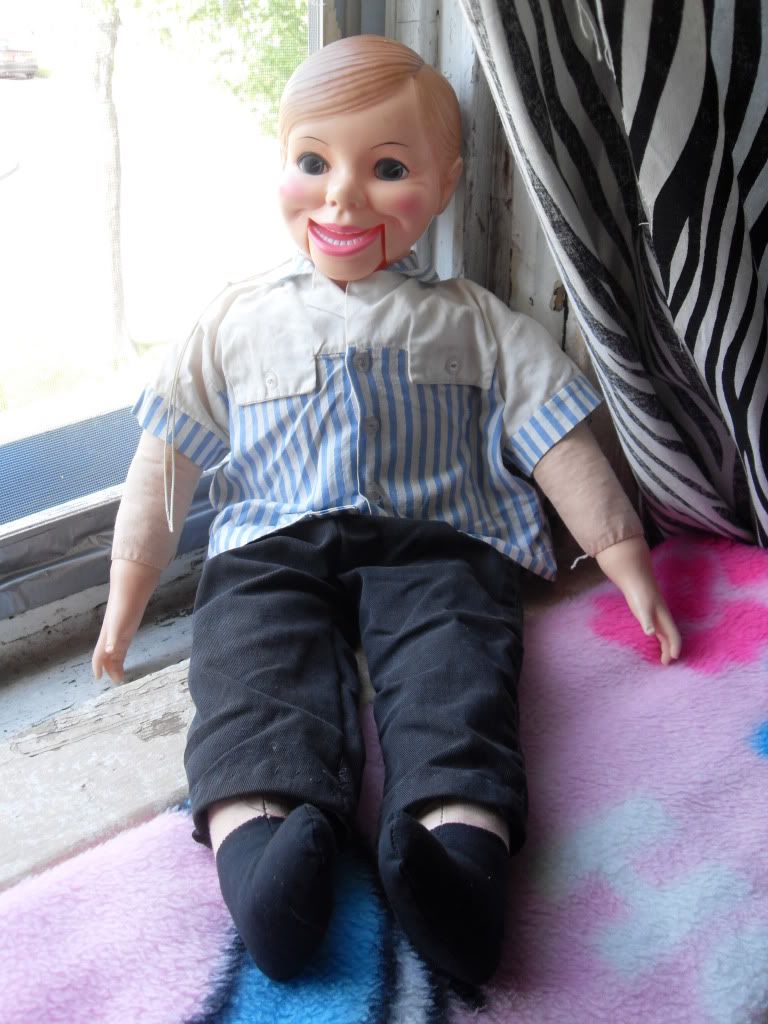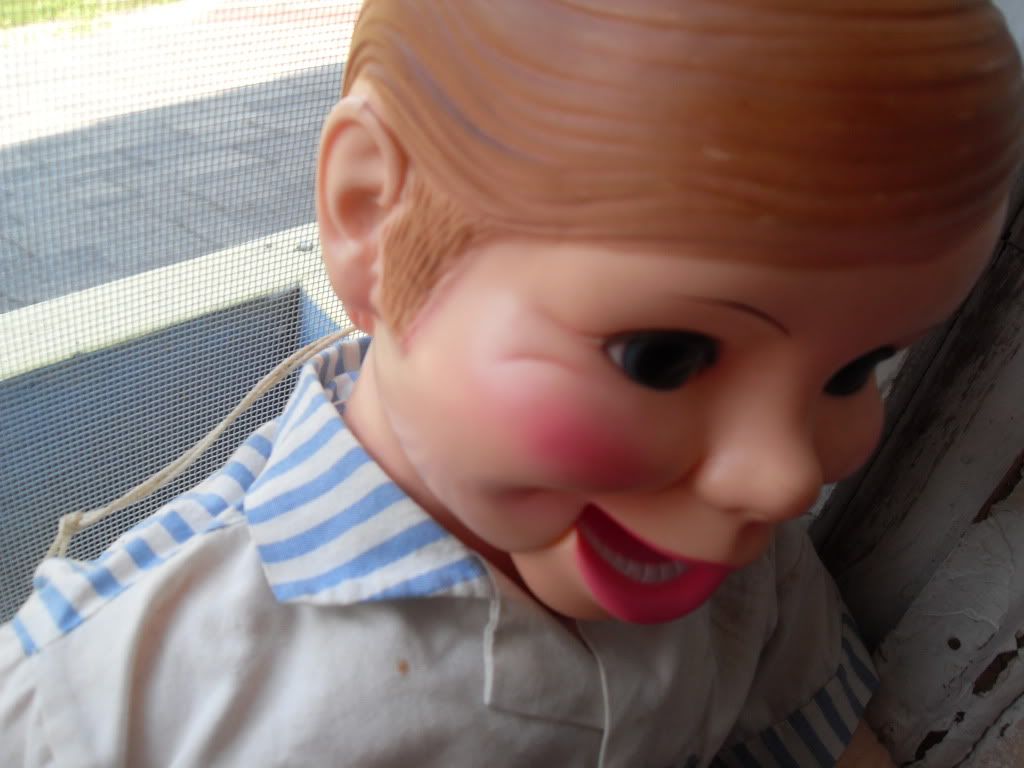 this lonely guy needed a home. he is filthy and dirty and not in the best of shape. the price tag said five dollars and i was debating on whether or not i should do it. just then the junkin gods smiled down on me for being nice enough to take him out of this miserable existence and put him high on a shelf with other old and furry friends -- who was i to refuse when the lady offered him up for $1? oh goodness! you bet!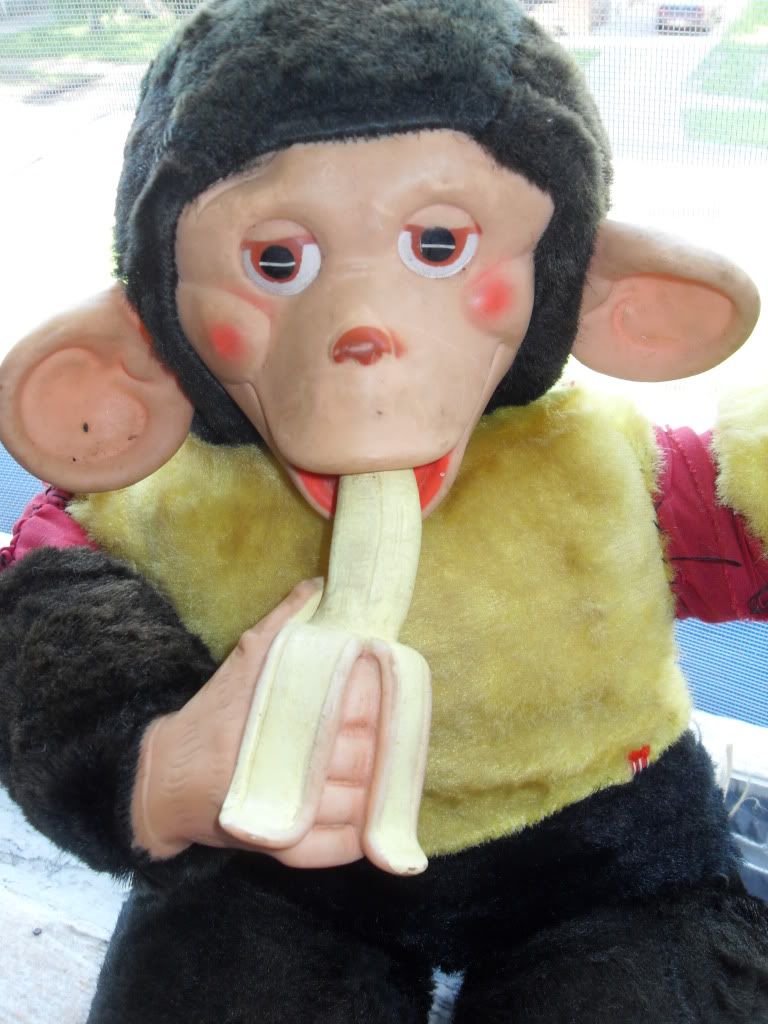 when josh saw me posing him in the window like this, he told me, "you're gay!"
but what's gay is what this monkey looks like if i DON'T pose him holding on to something: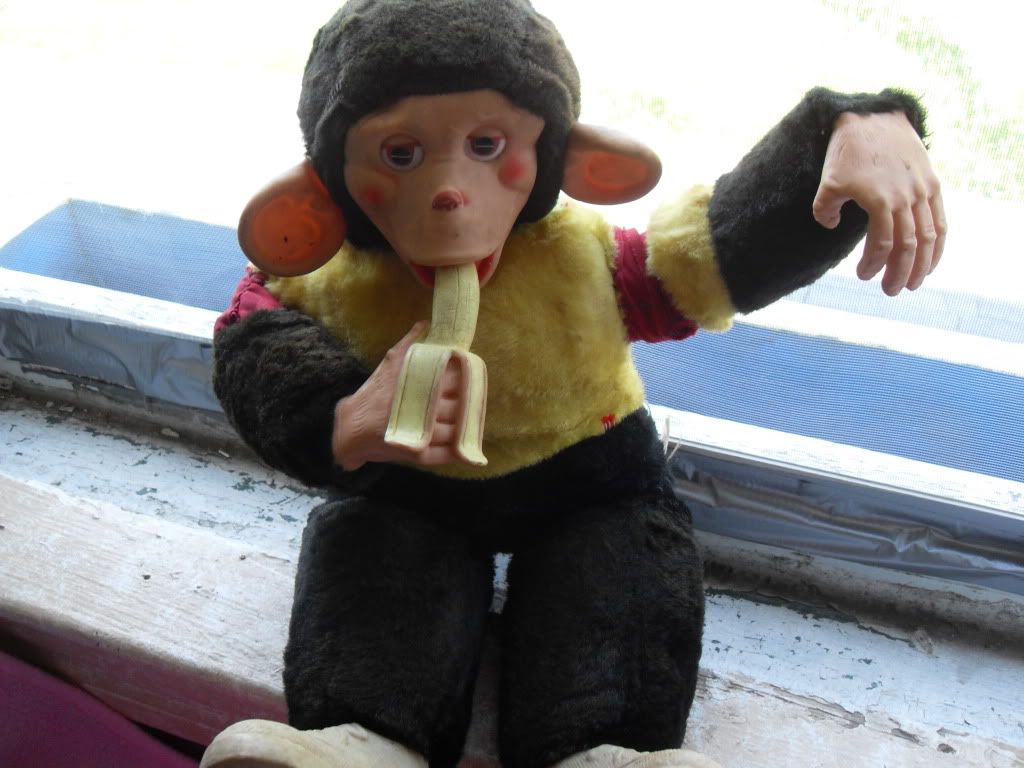 i got this church sermon record, which anyone in their right mind would buy for $1.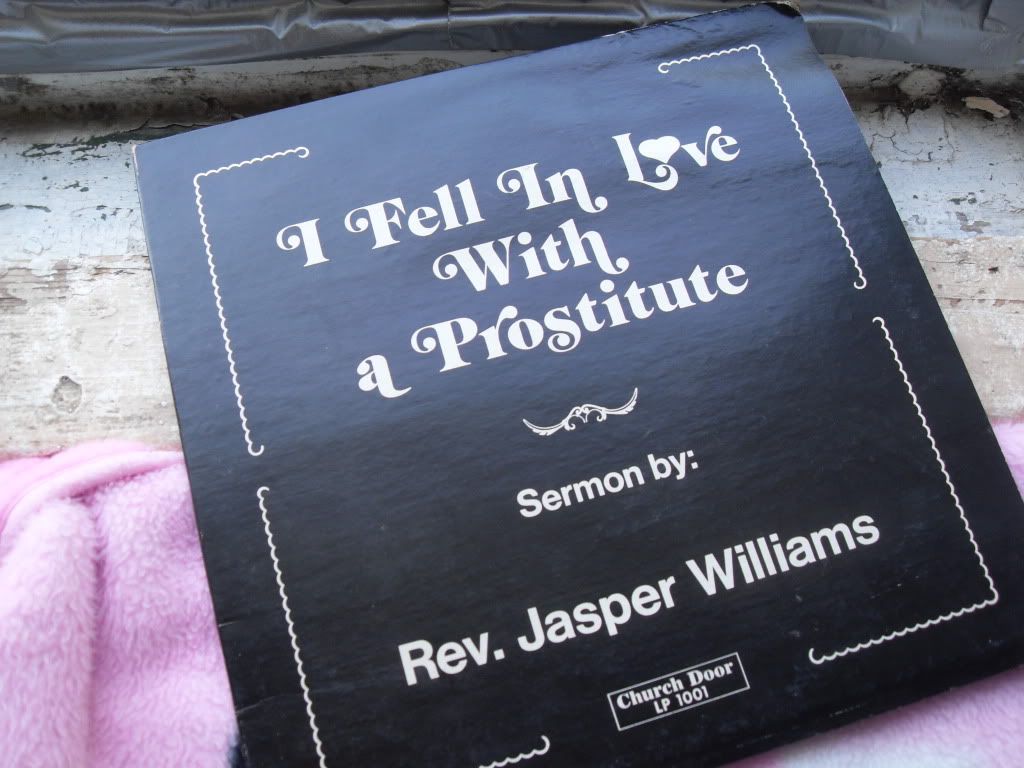 the guy who sold it to me laughed and exclaimed, "ain't nuthin wrong with that! EVERYBODY need a little love sometimes!"
i also bought a bunch of 45s off the same guy and his buddy, who were two awesome old black guys that reminded me of sanford and son. they were cool enough to let me and josh dig through their van which was full of crates and crates of records. got some amazing old blues/r&b/soul, one of which is THIS gem!
on sunday nite i dj'ed a show with COREY FELDMAN. i'm waiting for my friend to email me a picture we took with him, so i'll just wait and post all the pictures i have together. all in all, an amazing weekend!
here are a couple random things to end this post that i forgot to post earlier.
josh and i went to see wanda jackson last week. i couldn't get any pictures of her playing because the club was dark and there were chairs set up, so i couldn't go stand in front of the stage. i did take a photo with her, and get a signed promo photo from her (she signed it, "love ya! wanda jackson" -- how cute!). she still sounds exactly the same...plus, she's a total babe! i mean, she dated elvis, after all ; )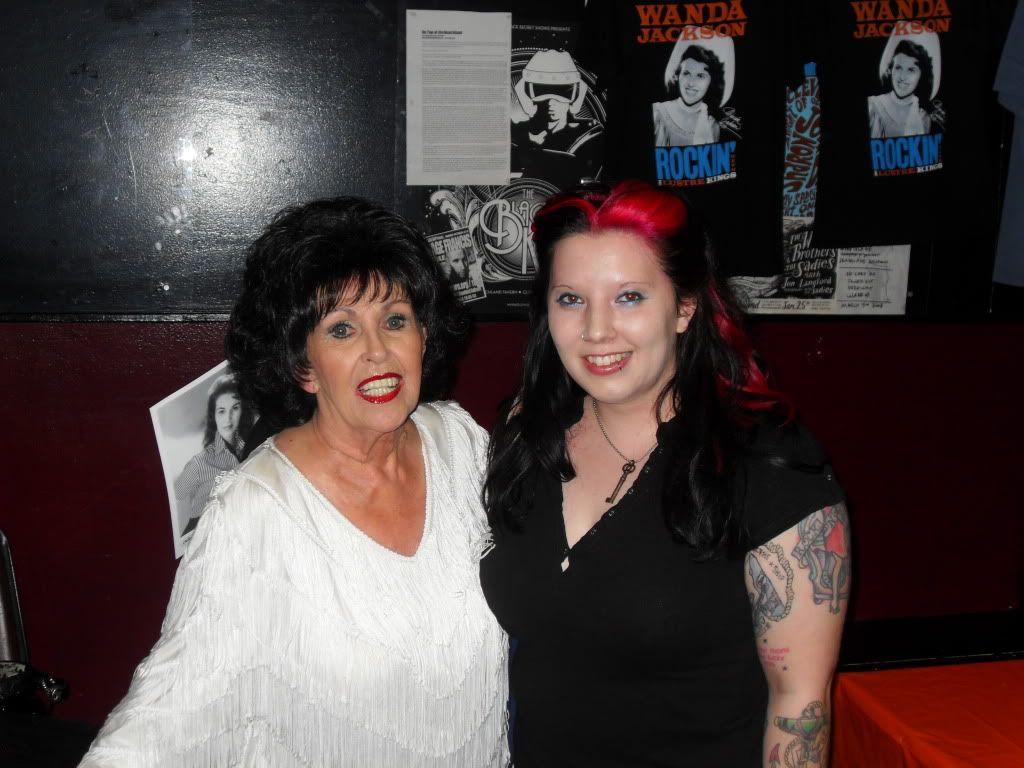 my aunt posted this photo on facebook the other day. i had never seen it before. that's my cousin beth on the left, my mom in the middle, and me on the right.