i just looooove old photos. i have a large collection of them, and most are of people i don't even know that i collected when i worked at a thrift store. there's just something about that glimpse into the past that engulfs me and completely draws me in. recently, my uncle asked, "what is it about old photos that you like so much? i'm not nostolgic, so i don't get it." i didn't know how to respond, but i told him, "somebody has to be!" i'm perfectly content being that person.
i went through a box of old family photos and scanned some favorites. i hope you enjoy them as much as i do!
john adams, 1947
love all the cars lined up in front of the school!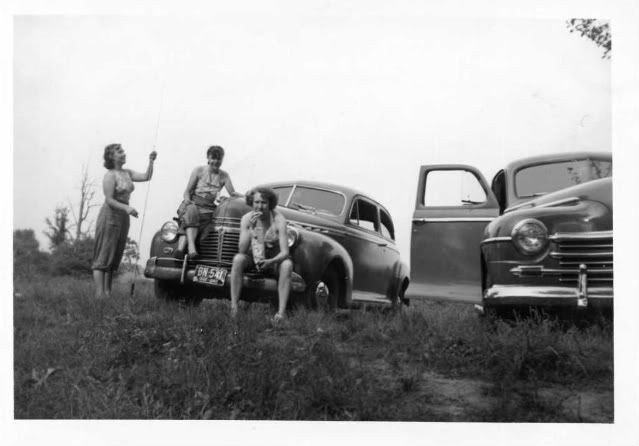 (l-r) grandma rahel, aunt millie, great aunt gala
picnic and fishing at welshfield, 1949
again, i love the old cars being in the shot. looks like grandma's getting her fishing pole ready!
grandma's prom, 1949
this is a picture of my grandma (on the right) and her friend before prom. i included it because she was posing with this shirley temple doll shown in the foreground. when i was little, i would always ask my grandma to show it to me because she still had it and kept it safe in a cedar chest in her room. i never played with it because i was afraid i would break it, but i remember going to her house and asking to see it again and again. no matter how much stuff my grandma had piled on top the cedar chest, she always let me peek inside to see little shirley temple, dressed in her delicate bridal gown. my grandma died about ten years ago and now
I'M
the one with the fragile doll laying carefully in a box. finding this photo (and several others, as there was a whole series posed with the doll) made me realize how special it was to my grandma and how neat it is to share that all these years later.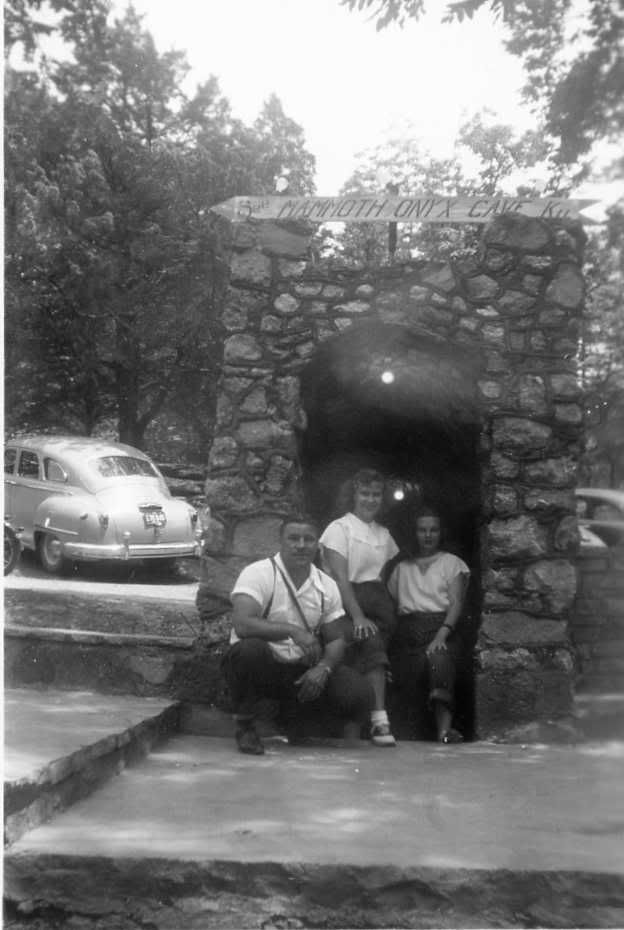 (l-r) unknown, grandma, aunt millie
kentucky trip, 1948
i'm pretty sure the unknown man is an uncle of theirs that took them on the trip. i like that my grandma is wearing saddle shoes in this picture :)
kentucky trip, 1948
what a grand hotel!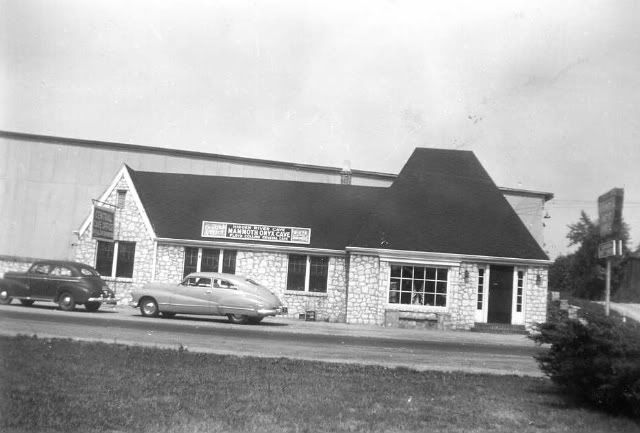 kentucky trip, 1948
more old cars, yay :)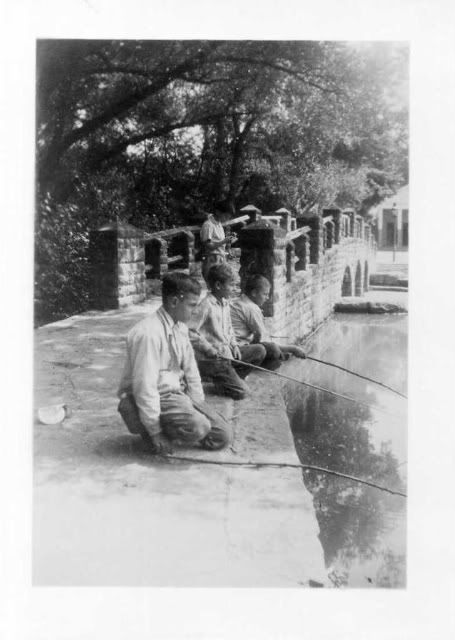 garfield park
i'm not sure who any of these boys are fishing in the photo, but i thought it was a neat old picture of garfield park. those who recognize the area in the picture would probably agree!
(l-r) uncle bob, dad, uncle frank
june 1959
cute wave, dad!
this is my grandpa (on the right) and a friend while he was in the service
grandma and grandpa all dressed up to be in their aunt's wedding party
grandma's prom, 1949
my grandma is the second from left. i love that the entertainment at prom is an accordian player in the background! how awesome is that!?
grandma, circa 1950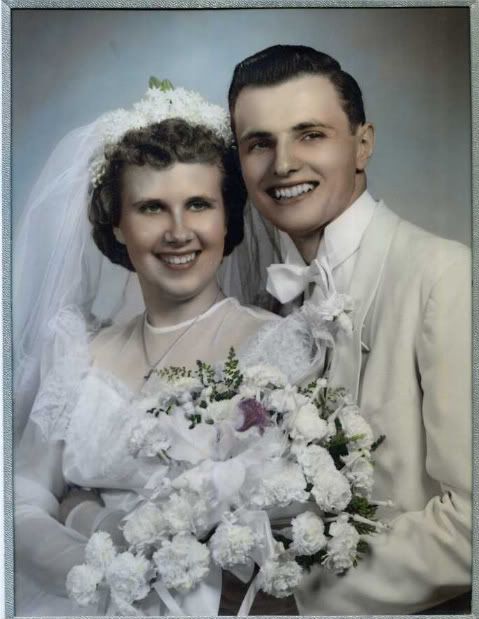 grandma and grandpa's wedding photo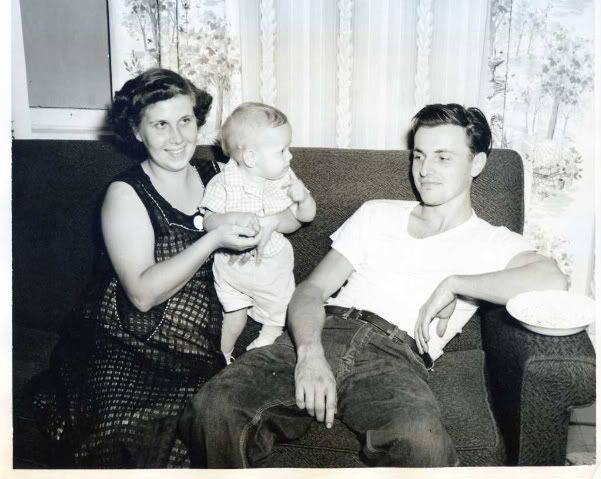 grandma, grandpa, and (baby) uncle frank!
here are a couple more recent ones that my grandma had in one of her albums :)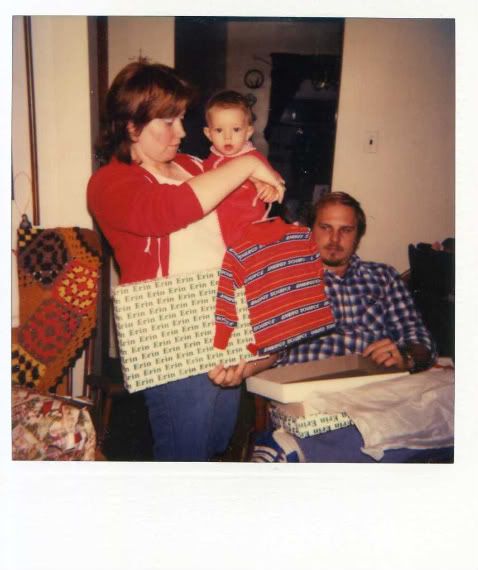 mom, dad, and my 1st christmas
1983
i don't know what's more impressive about this photo...my "erin" wrapping paper or my dad's sweet soulpatch
my 1st birthday
1983
what a mess!