lately i've really been missing my old job at the thrift store. i would find cool stuff all the time and literally come home with bags of stuff daily. this hole in my soul, combined with things like sitting around on monday nites with josh watching "american pickers" has been enough to drive me over the edge! i can't stop myself. i'm so obsessed. SEND HELP!
a couple weekends ago josh and i hit up some local antique/vintage stores in the neighborhood. got some records. ok, got LOTS of records. i loooooove me some old 45s. i find them very appealing. for whatever reason, i think they are more fun to collect than regular 33s. maybe it's because i dig the cool label art and i can store them in all the wonderful 45 totes that i
also
adore.
one of the antique stores we visited had a lot of taxidermy throughout the store that was unfortunately not for sale. i would have loved to buy these guys and put them in my foyer.
here are a few pictures of one of the best vintage stores in the area, suite lorain. it only took me about 15 years to finally get here...what was i thinking waiting so long?! i meant to take more photos when i was inside, but i was too busy being distracted by all the awesomeness around me.
then one day i had a particularly lucky haul from the thrift store.
cute glasses holder to put one of my many cat-eye pairs in: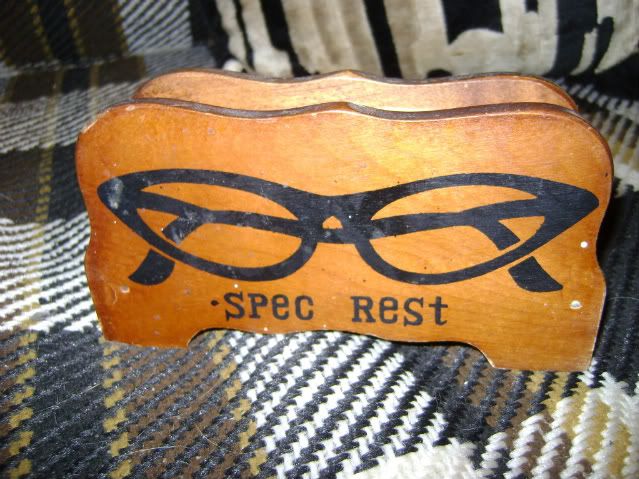 weiner dog planter...i kind of love weiner dogs:
vintage easter decoration:
fancy vintage beaded/sequined clutch (for $1!):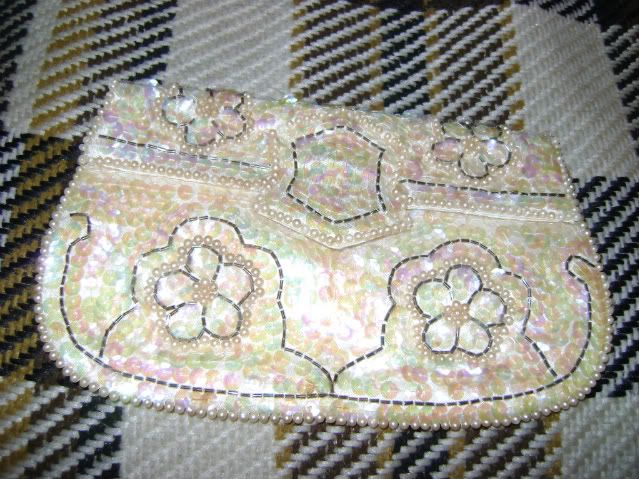 and finally, this beautiful vintage picture of virgin mary. i'm not into the concept of religion, but i like the art. old artwork like this can be collectible and is sometimes costly, so i totally scored for $2.
last weekend josh and i declared a "medina day." we gathered a carload of our friends and headed to medina, the city where josh spent his high school years. we hit up antique shops and the antique mall, as well as some thrift stores. it was such a success we even headed back the next morning for an antique show flea market! BANANAS!
this was one of my favorite finds. i love circus and carnival art! i got this framed poster at the antique mall but i'm not sure when it's from. the frame is too annoying to take apart so it will just have to be a mystery. i would love to start a carnival room in the house, which is why i would be delighted if anyone on etsy wanted to work out a trade for some of your circus/carnival photography!!!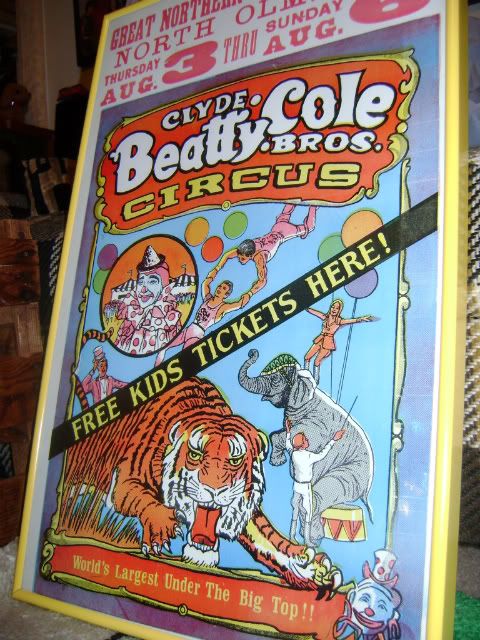 josh and i found these containers of old monster movie pins. i don't think the pins themselves are old, but there were still plenty of neat ones!
i picked up this little viking at the antique mall. cute, huh?
josh found this for me at the thrift store. it had no price tag on it and i almost panicked. luckily he asked if someone would price it and they did. the filthy and worn condition combined with the fact that the kid pricing it probably had no idea what it was resulted in me getting this record tote for a buck. score! cleaned it off when i got home and added another one to the collection.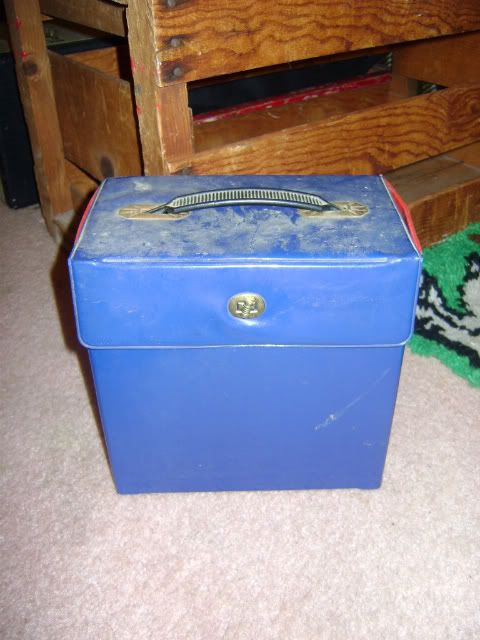 i also found tons of cute figurines!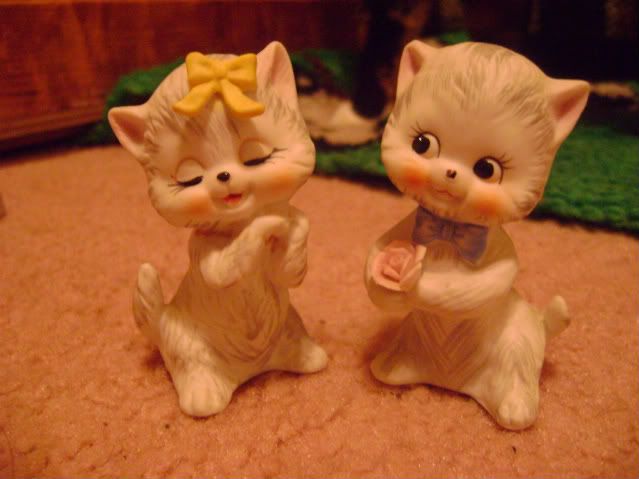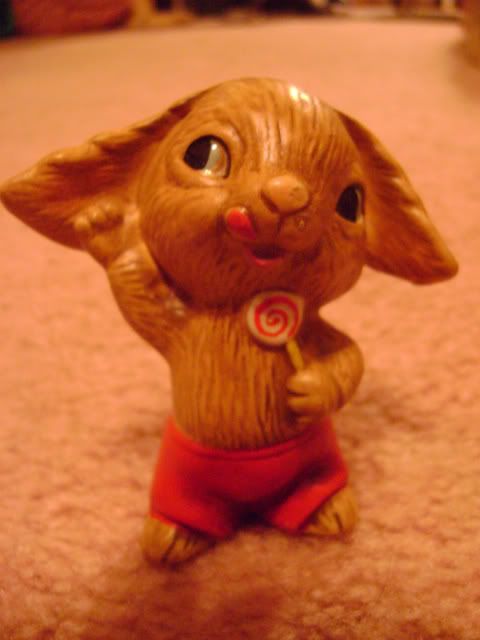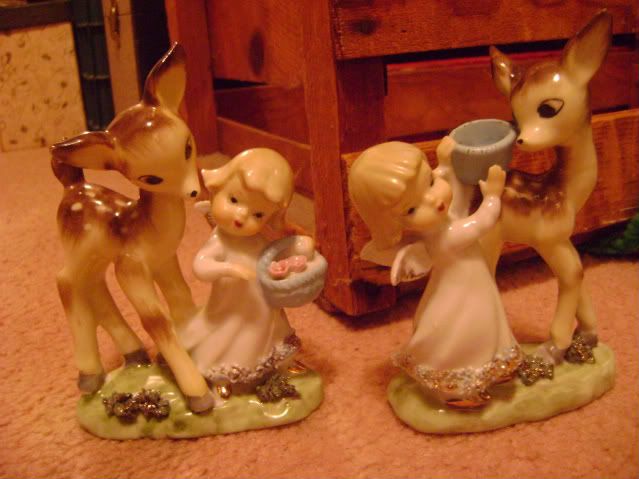 got these great cat-eye sunglasses at the flea market. the lady who sold them to me not only knocked $7 off the asking price, but she also told me about how she used to wear them around and think she was a badass. that made them even more endearing. old glasses are another thing i have a problem with. what will i possibly do with a whole suitcase full of them? that never stops me, though.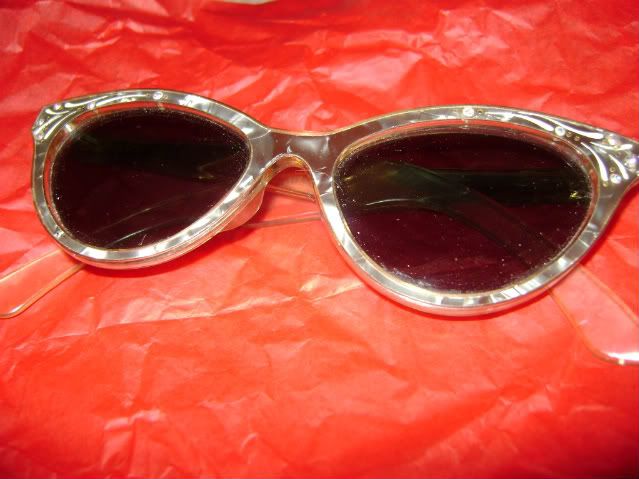 josh and i are always saying, "you know what we need to get? a back scratcher!" so when i saw this i knew not only was it awesome, it was a much-needed practical buy. when i took it up to the lady and handed her my $1, she immediately started laughing at me. i wanted to say, "what are you laughing at? you're the one that owned a naked lady back scratcher in the first place!" but i didn't. it WAS pretty funny and i had to laugh, too.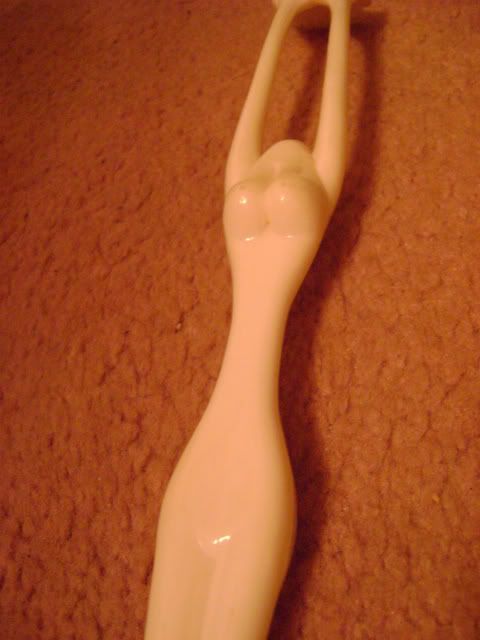 i also had to get these little skunks, because i am a madman and i can't stop buying cute woodland creature figurines.
as usual, i've also been getting lots of records and books!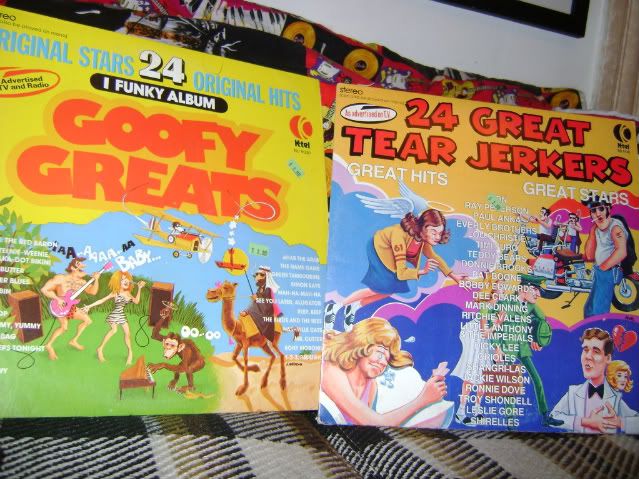 (this "metal" one is pretty cheesy, but it had the mc5 on it so i couldn't pass it up)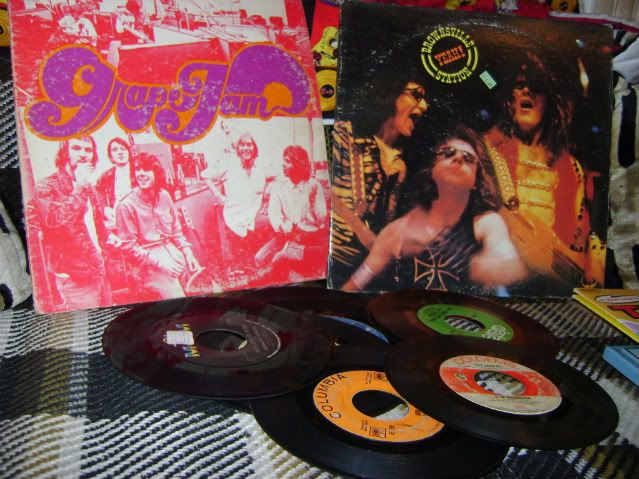 (the grape jam record isn't any good but i like the album cover so i kept it. that's when you know you're a total record nerd, when you buy records just for the cover!)
(when we got to the flea market, one of our friends who had a table set up told me and my friend billie that there was a guy selling really cheap records, including original pressings of punk stuff like the ramones and the dictators. unfortunately by the time he told us this, someone had already pillaged the lot and most of the good stuff was gone. GUH! ACK! UGH! billie and i were about ready to smack our friend for not buying them up the minute he saw them and letting us buy them from him! still, i managed to get a motors and a generation x album for cheap...some of you might know generation x as billy idol's early punk band. we also made a stop at our local record store, where i found the hasil adkins cd, mistreaters 7" and the compilation called "frolic diner vol. 3")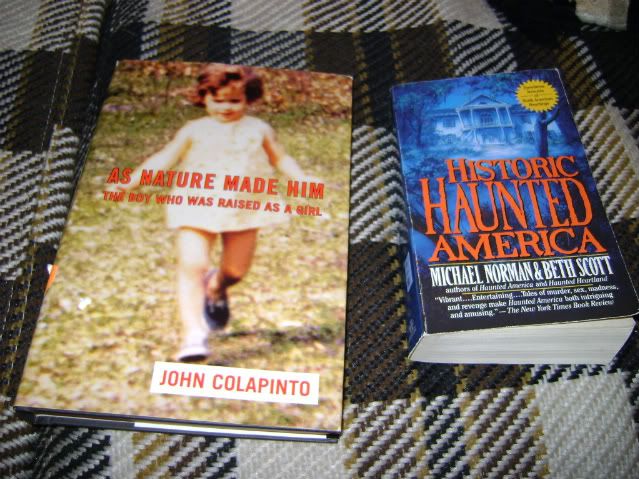 (books about serial killers, rock'n'roll, ghosts, and a boy who was raised as a girl...now i'm all SET!)
FINALLY, i had a really awesome find yesterday at the thrift store. usually i miss out on all the cool furniture around here so i was majorly stoked to be at the right place at the right time. i got this cool vintage diner-style table and stool and had to call my dad to pick it up for me because it wouldn't fit in my car. it matches my red kitchen (and the red/chrome vintage table i already had from my grandma!) a big thumbs up goes out to lacey, who hooked me up with the old skool sugar dispenser and mini glass pastry display! sure the kitchen is a little tight, but i can never say no to a good find :)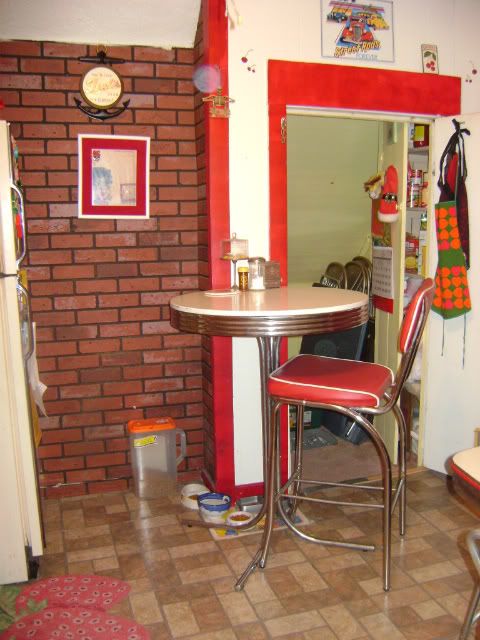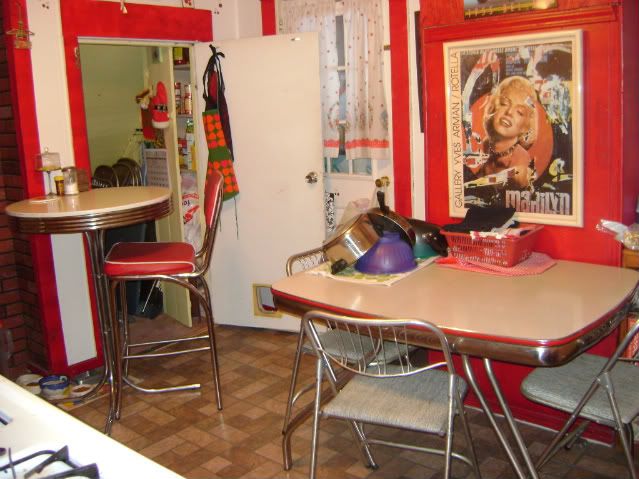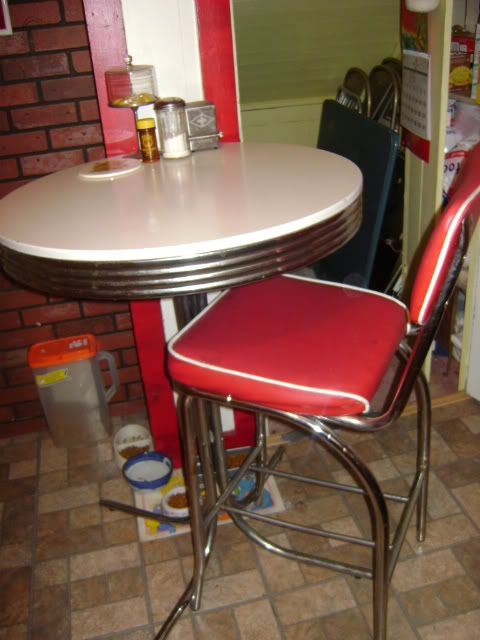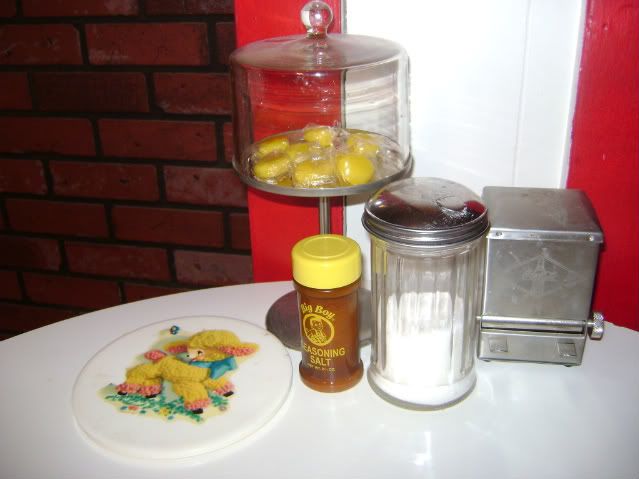 josh also recently did a blog post about the kitchen (or "kitsch-en" as he called it...clever one, ain't he?) so you can visit his newish blog
here
!
i know you might read this post and be thinking, "gee erin, aren't you unemployed? what the hell are you doing spending all this money?!" but the truth is, i lucked out in almost all instances and that is part of the reason why it's so addicting to go out hunting and digging around for treasures. altogether, with everything you see in this post, i would estimate that i only spent around $100.
JUNKIN! YEAH! this is how i get my kicks. it's such a bad habit and a rough thing to be addicted to, but DAMN is it fun!