recently i've been inspired by the cool blogs and ABSOLUTELY AMAZING homes of some friends.
first is my friend valery, who runs the blog
gonked, glooked and slurped
with her boyfriend. they have an amazing collection of vintage and collectibles, and valery's house is one of the most fantastic things i've ever laid eyes on! i can only dream of having such an incredible place some day. i drool over things like her
vintage nauga monsters
, and the recent entry featuring
dozens of framed concert posters and band photos
just blew me away. and those awesome fishbowls?!? visit that blog and tell me you aren't green with envy, but in a delightfully giddy way.
then there is my friend ben, who started the blog
hoarder of awesome
to showcase some of his neat-o thrift store finds and incredible treasures that people kicked to the curb -- literally! when i saw the big-eyed cat figures that his mom found for him at an estate sale, i almost peed my pants. I WANT! ben's blog just started and i can't wait to see more of his great stuff.
FUN FACT: ben is also the artist who painted
this little badass
that you may remember me posting about when i first got him in the mail. recently i found a cute vintage frame from the thrift store to put him in, so now he looks even better hanging on my wall. thanks again, ben!!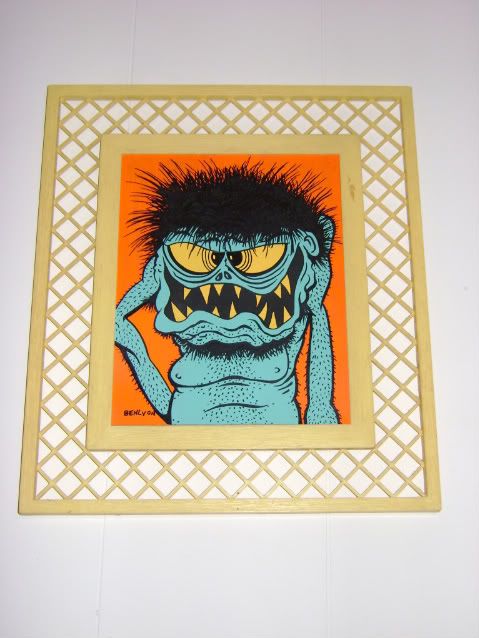 i toyed with the idea of starting a whole new blog to feature some of the great junk i've accumulated over the years. but then i was afraid of getting in over my head, what with two etsy shops and this blog and all the radio show stuff i maintain on the internet. i settled for a happy medium, and decided to start a new blog feature that i can bust out whenever i'm feeling inspired.
so that brings me to my first installment...
because of the number of bands i put up at my place, friends in town began referring to my house as "hotel hot trash." when people stay over they usually have fun looking at all the junk i collect (books, records, tiki, big-eyed art, kitschy toys, vintage 45 cases, and so on). i've heard this place called "the rock'n'roll hall of shame" (eric from the jetty boys) and "erin's very cool rock'n'roll house" (paul collins) among other things. hey, i'll take it. so i'll be doing little installments where you get a look inside hotel hot trash and i'll show you some of the vintage/retro/rock'n'roll/downright ridiculous things contained within these walls. come on in!!!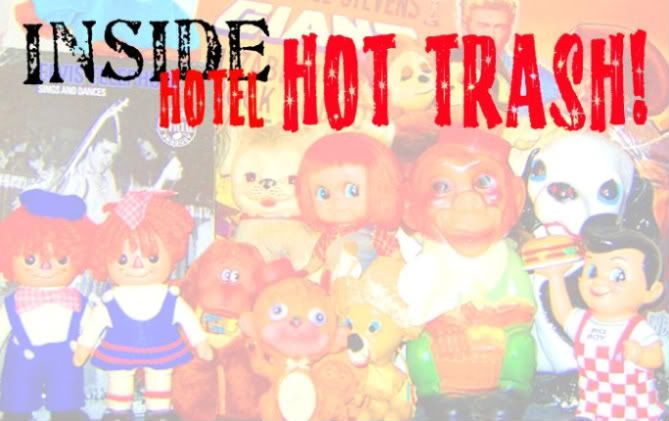 i'll start off my first entry with one of the neatest things inside hotel hot trash: the six million dollar man pinball machine.
i didn't find this score in a thrift store, although that would make for a better story. we had it at my house when i was growing up, and i finally talked my dad into letting me put it in my house once i moved out. it still works and is in pretty good condition, although the numbers on the board sometimes change and it could use a little tune-up.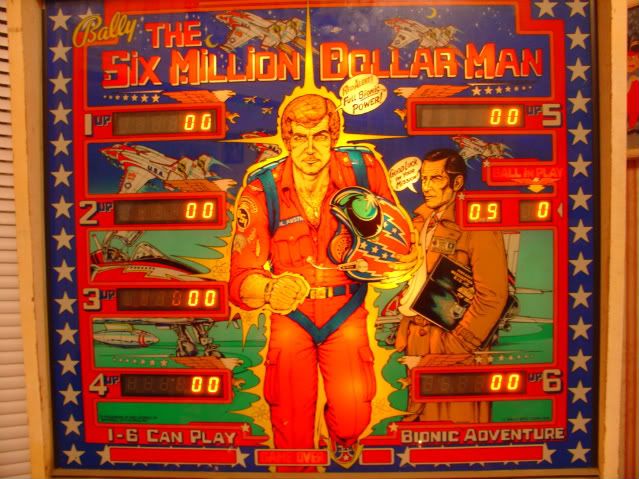 as soon as anyone turns on the switch, pogo will come running from anywhere in the house so that she can play, too. she will run all over the glass and chase the ball, and no matter how long she has been playing this game (a year and a half) she will never realize that she is NOT going to get it. it tires her out.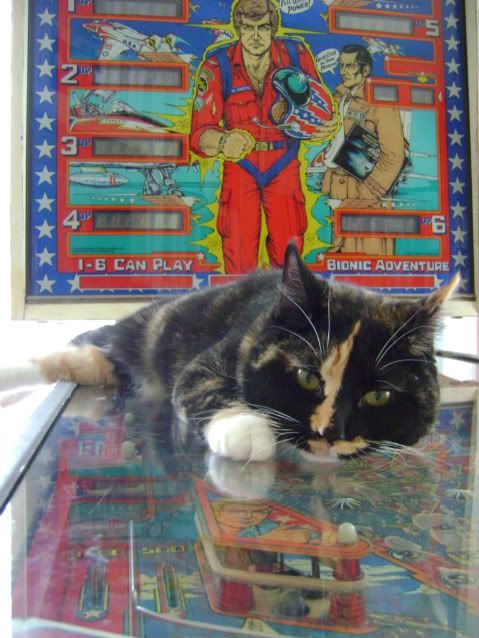 this is a fun thing to have when there's a party at hotel hot trash or we have people over. although i have to admit, it's still no captain fantastic. we had that gem when i was little before we traded it in for the 6 million dollar man.
look for more goodies next time inside hotel hot trash!!