growing up, my family didn't have many holiday traditions. what i mean is that we did a lot of the same things year after year, but not in any specific manner. for example, we would always have something special for breakfast on christmas morning that my mom made, but it wasn't necessarily the same thing ever year. or we always opened presents with the immediate family together, but it went from being christmas morning when my brothers and i were little to the evening of christmas eve once we got a bit older and realized we would rather sleep in on christmas morning. :) so we had traditions, just not many that were strictly the same year after year.
we did have a few, though. one was the way we decorated the christmas tree. we always had a tree (traditional), but not always the same kind (not so traditional). sometimes it was a real one, sometimes it was fake. sometimes it had only white lights, and sometimes we went with colored lights. you get the idea. but when it came to the actual decorating of the tree, it was always the same. my mom would set out all of the ornaments she had carefully stored away all year, and my brothers and i would take turns picking one ornament at a time to put on the tree. we each had our favorite (my brother mike always picked the cowboy boot), but sometimes we fought over who could get to something first (everyone wanted the pickle!)
another family tradition started by accident. one year when my parents were busy doing some last minute wrapping and things on christmas eve, they decided to order chinese takeout for dinner instead of cooking. the next year when they tried to cook dinner, us kids cried, "what about chinese?! it's tradition!" any year since when there was talk of doing something different, someone would inevitably pull out the "tradition" card...not that i'm complaining. :)
now that i've moved out on my own, i try to think of what kinds of traditions i would like to have for my own family some day. i want my kids to grow up with things they look forward to every year and enjoy sharing with their family.
josh and i got out the christmas decorations last weekend. i made sure to have a special little snack on hand for the occasion (a tradition i picked up from my mom in recent years). it's sorta hard since josh isn't big on sweets...but i know he can never say no to an oreo!
then i put on some appropriate jams. i don't normally like christmas music UNLESS its done hot trash-style! if anyone is interested in some punk/rock'n'roll holiday music, i'll be sure to post some setlist suggestions soon.
next we put up our tree. or should i say...trees! i mentioned a few entries back that my friend was giving me a vintage silver tree -- the kind with the color wheel underneath that were popular in the fifties. we put it up and it's LOVELY! plus, i'm a total sucker for anything old with a history to it!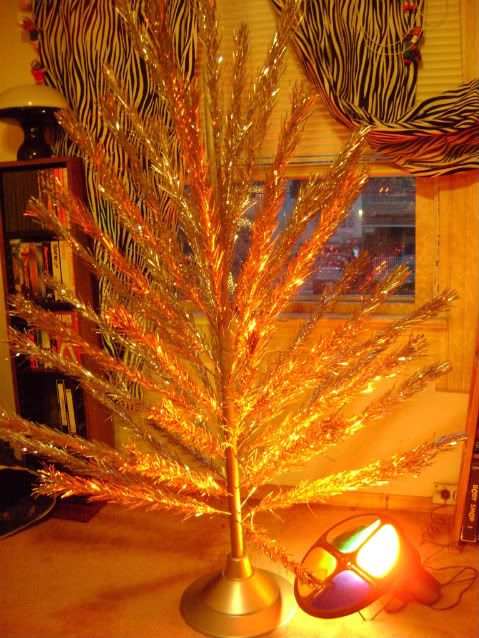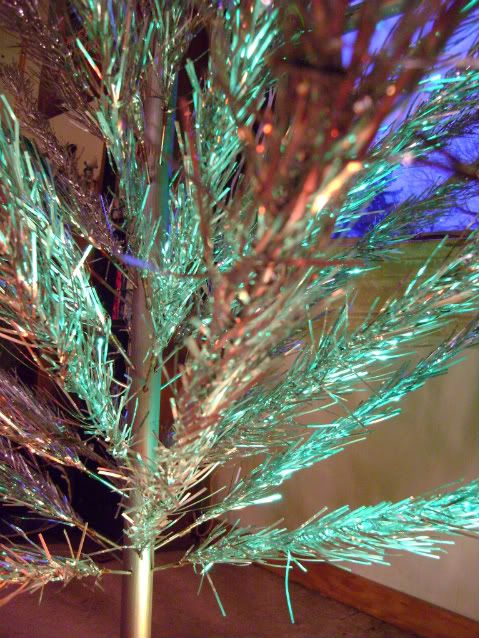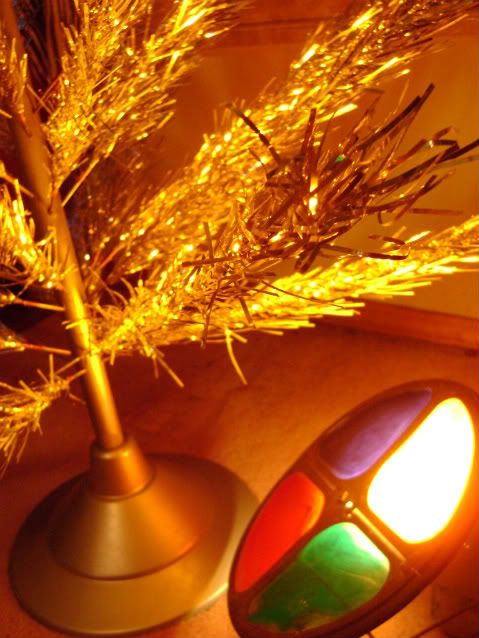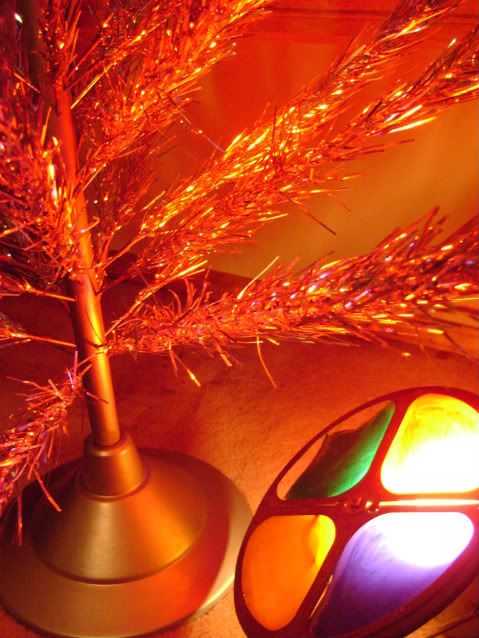 seeing the vintage tree, i realized i had far too many ornaments. if i used them all, the tree would certainly tip over. but i didn't want to choose just a few ornaments because i had so many i liked. the solution?? josh saw the lightbulb above my head before i even got the words out.
"oh no you don't, not two trees!" he cried. i hushed him and told him to let me be. i think he knew he would never win that battle, anyway. so i moved the vintage tree to the record room where it fit in nicely with all my dusty old vinyl and retro collectibles. then i decorated it strictly in vintage ormanents. as soon as i saw the final results i knew it was TRUE LOVE.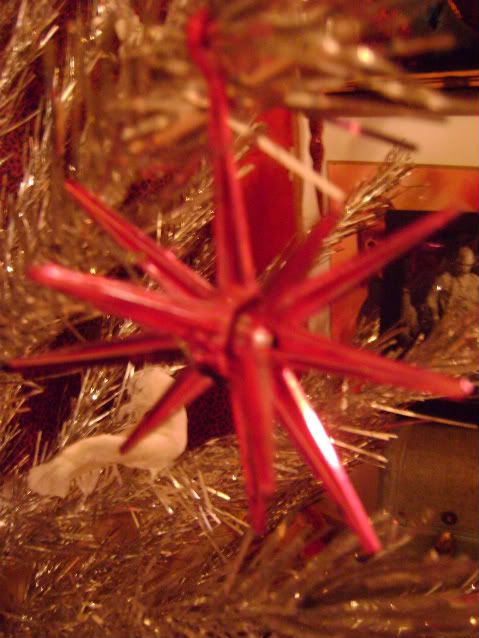 under the tree i put this ceramic santa that used to belong to my grandma, as well as one of my favorite christmas books i got as a gift when i was little. it's called "the gingerbears first christmas" and it's about these bear cookies that come alive at night at do nice things for the people in the house. so cute.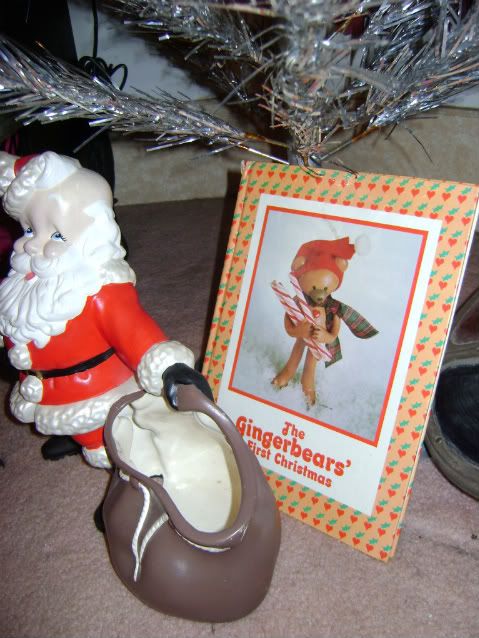 next, it was time to put up the other tree! we took turns choosing ornaments like my family used to do. josh let me get a pink tree last year because he said, "it's our first christmas together, it might as well be a good one!" smart boyfriends know that happy girlfriend=good christmas :)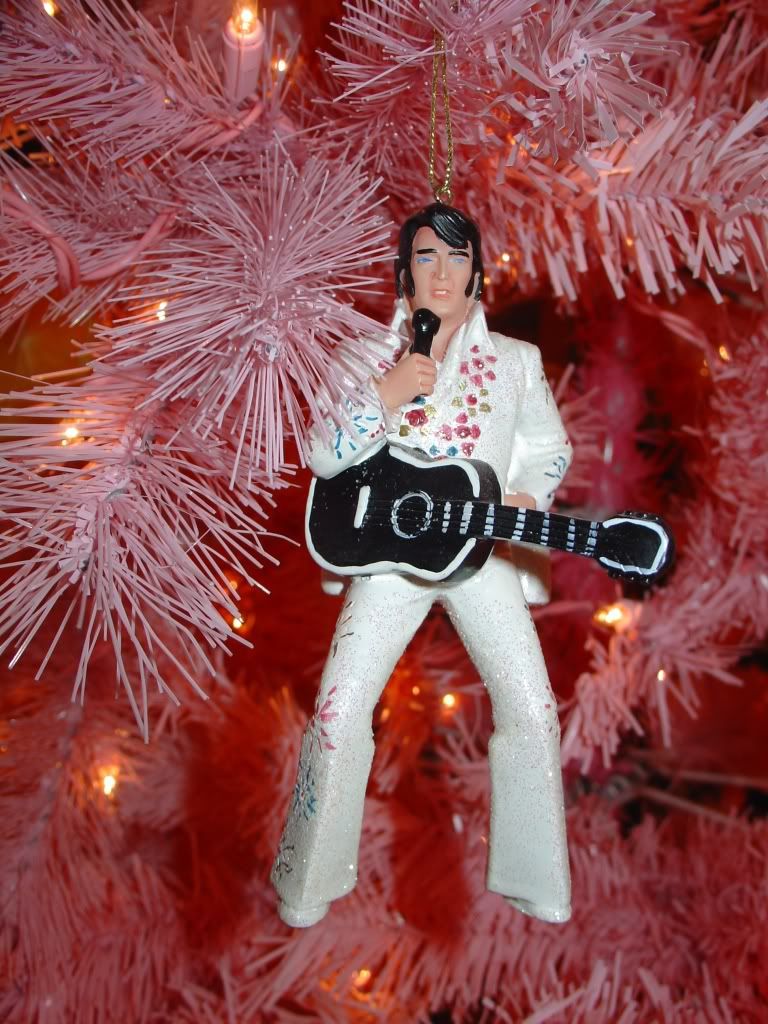 mine and josh's "our first christmas" ornament :)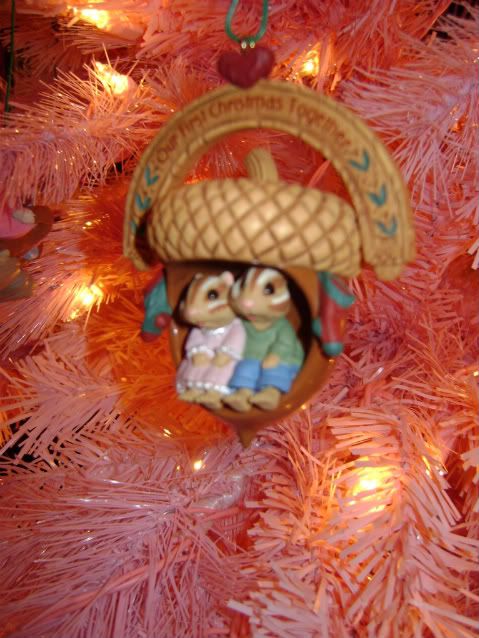 do you know the legend of the pickle ornament? supposedly the first person to find it on the tree would have good luck all year long!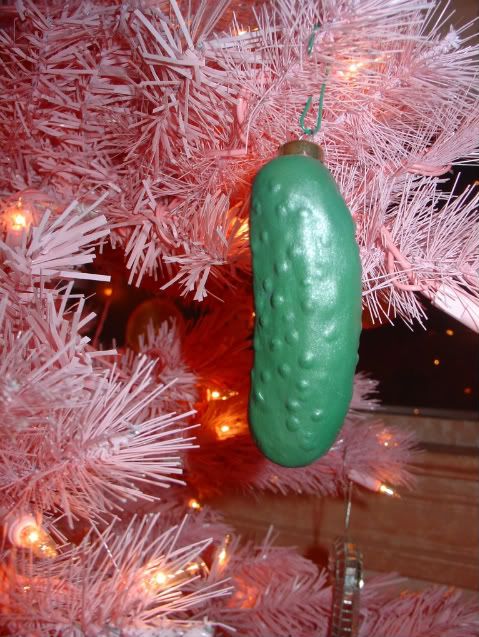 these ceramic kissin clauses also belonged to my grandma. i think she made them when she used to take ceramics classes when i was a baby. after she died, my uncle gave me some of her christmas decorations. they remind me of all my happy childhood christmases.
i found these tacky fifties holiday deer (in shades of white, pink, red and mint green)when i still worked at the thrift store. they were so ridiculous i couldn't pass them up. talk about a kitsch corner sitting next to the elvis lamps!
what would christmas be without a little mouse in his nightcap, carrying a plate of holiday cookies?!?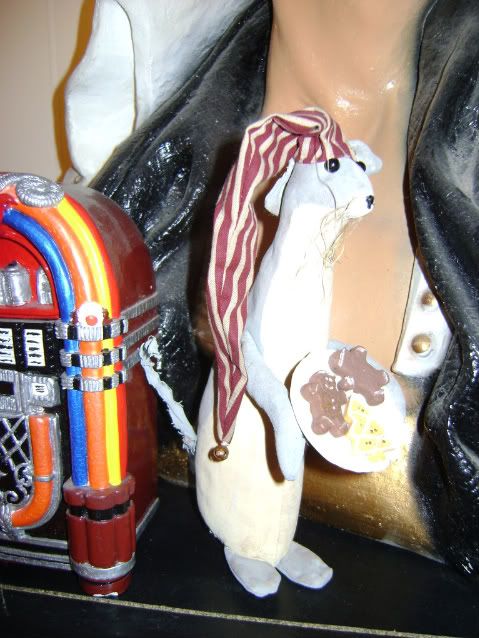 josh and i hung our stockings by the mantle,
and he hung the mistletoe in the doorway: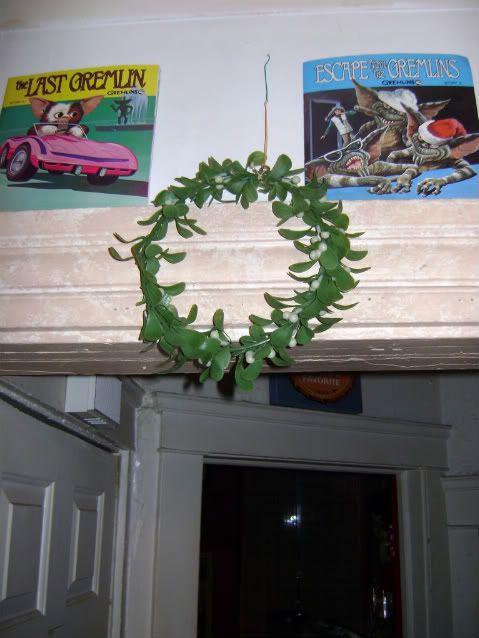 last but not least, i hung my "kittens carrying fruitcake" garland :)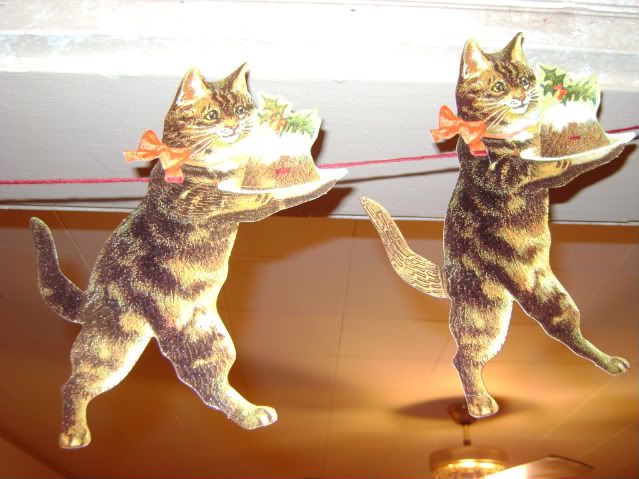 i love the house this year :)
what sort of holiday traditions do you have?