i have put up a lot of bands that came through town and the regulars down at the bar started jokingly referring to my house as "hotel hot trash." as in: "who do you have staying at hotel hot trash tonite?" here is a list of some friends that i have pajama partied with. please check them out and show some support for independent/d.i.y. music! watch their videos on youtube, add them on myspace, buy a record...hell, even give them a floor to sleep on if they come through YOUR town! maybe you'll find some new music to enjoy, or have some crazy adventures of your own :D
1.
the sweet sixteens
and
beat beat
:
2.
the four slicks
:
this band is from france and features jon von of the 90s garage band the rip-offs. the four slicks play greasy, high octane rock'n'roll. they do a lot of 50s rockabilly covers like hasil adkins and the likes. just look at this badass car they drove around on tour! i got to ride in it when we took a trip to the pizza shop for dinner :)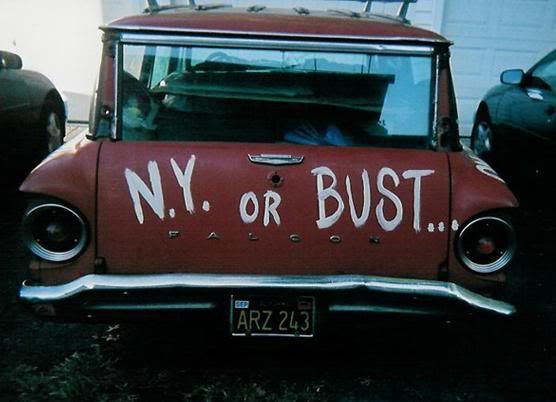 3.
the krunchies
:
the krunchies are from chicago. amanda is my favorite female vocalist ever! she is screamy and cute. sound quality on this video is not great, but the video is too cool not to post.
4.
the feelers
:
these guys are great friends of mine from columbus, ohio. i was so sad when they broke up last year!!!
aleks is this crazy little guy with a russian accent. we became best friends the minute we met.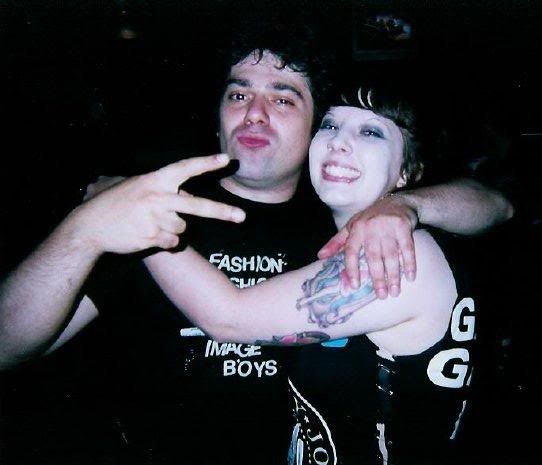 from the last feelers show ever:
if you visit cafe bourbon street in columbus, you can now find some ex-feelers running EXTREME WEINERS, the hot dog joint inside the club. go have some cheesy fries in my honor.
5.
poppets
and
love collector
:
poppets are from sweden. they are a boyfriend/girlfriend two piece with pre-recorded drum tracks that give their songs a dancey feel. lina and magnus are the cutest couple ever! the second song on this video, "the way she walks," is my faaaavorite!
love collector are from texas. we had a cookout when the two bands came over and ate cheeseburgers on the lawn.
6.
brimstone howl
and benji from
the creteens
ok so these kids is CRAZY. one of the silliest nights of drunken debauchery at my house ever. brimstone howl is from nebraska and they have stayed with me a few times. the last time they were in town they had benji from the creteens along playing with them. he is from italy and i met him a few years ago while i was in new york seeing teengenerate/the reatards play. he's a funny kid.
here is me and benji in chicago one time: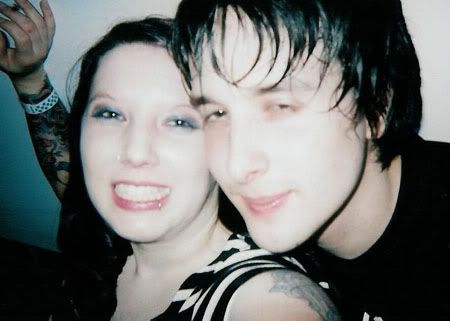 here was one wild nite that involved beer, throwing up, and passing out in awkward places: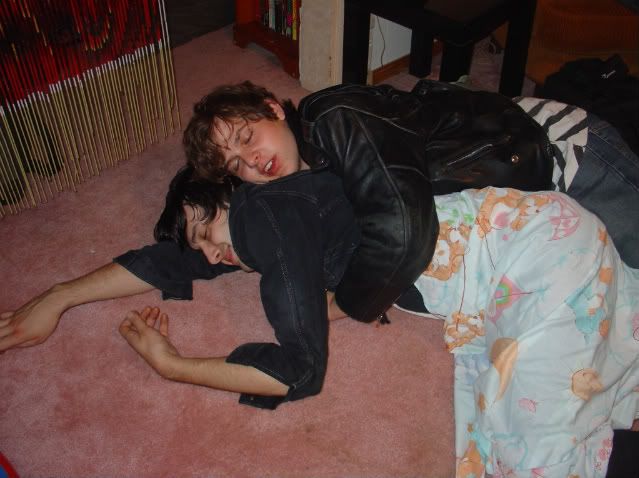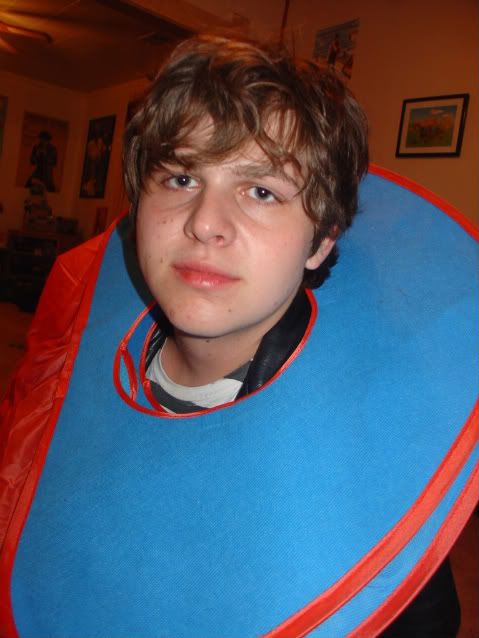 and on that note, i guess i'll end here. i don't want to overwhelm you, so it looks like there's going to have to be a part 3! i know you're dying for more ; )