yesterday was the big art show i haven't been able to shut up about. i was soo nervous. IT WAS AWESOME! there was so much great art included in the show! lots of skeletons and monsters and black cats...all my favorite stuff! i apologize that i didn't take any pictures of the gallery while i was there, but i was so nervous and so busy dj'ing that it totally slipped my mind.
so i brought plenty of records to play and it was really nice to dj a new spot with a different crowd than i'm usually used to. people danced, the gallery owner told me several times that he loved what i was playing, and people even came up to introduce themselves and say they were already fans of my radio show and tuned in all the time! wow! josh and i had three photographs in the show and we sold two on opening night! the third will still hang until the show ends, which is about 2 more weeks. hopefully that will sell, too. but even if it doesn't, i'm thrilled to have done better than i was expecting. now, if only i could have some luck like that in my
etsy store
! as a thank you gift for dj'ing, the gallery owner presented me with this KICK ASS print by local artist jeff lamm. i went and got a frame for it today so it is now hanging in my living room. how awesome is that?!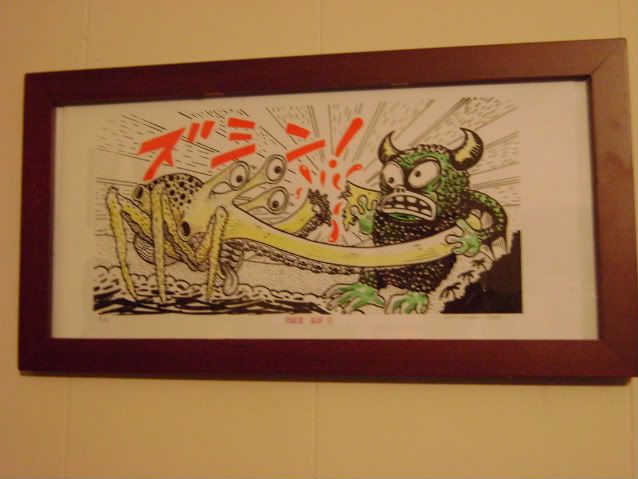 today was the perfect fall day. josh and i went to his mom's house to celebrate his belated birthday. there's nothing like driving down the highway with a cup of hot coffee, blasting white zombie and looking at the pretty leaves changing colors!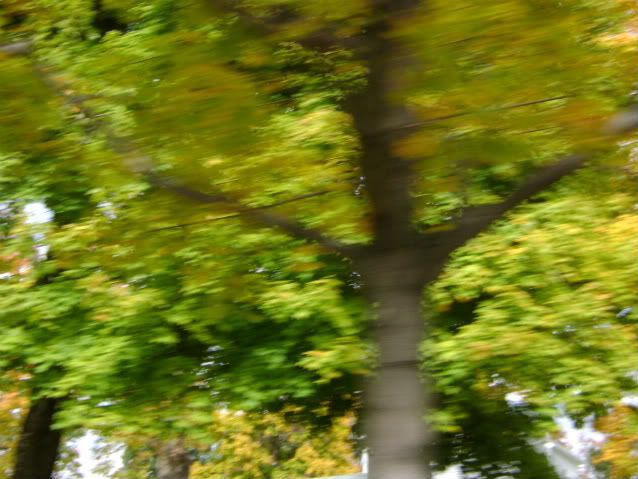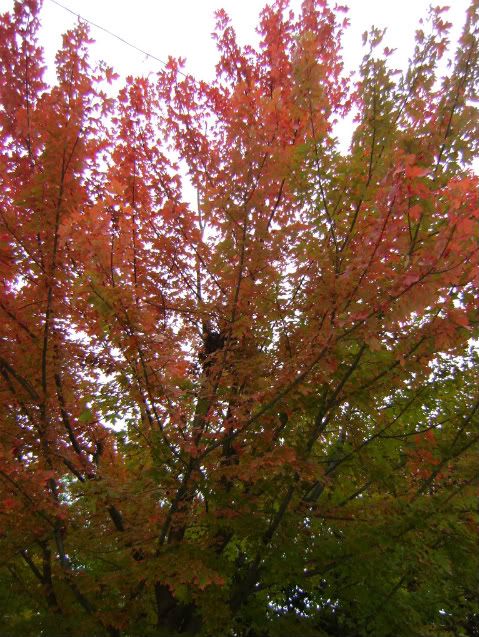 then we came home and had NOTHING SUNDAY, which made up for the fact that my "nothing friday" was kinda ruined because josh spent forever changing his guitar strings and making trips to the music store and then passing out on the couch. hmph. i love ending the weekend like this! yummy grilled cheese, vegetable soup, orange almond hot tea, and my favorite kind of pickles!!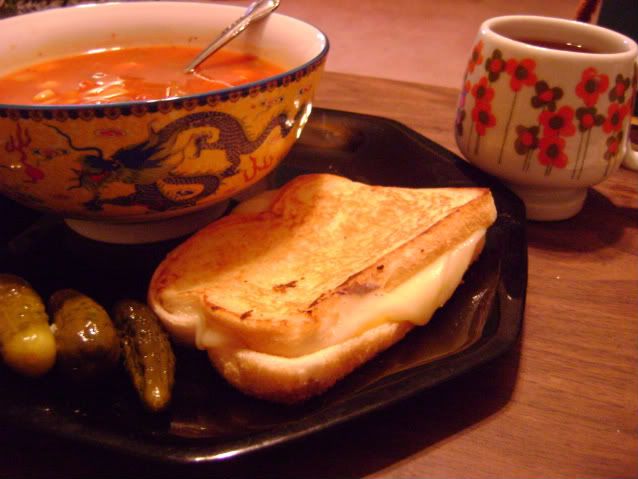 speaking of josh's belated birthday...i think he had a good birthday on wednesday. i surprised him with a romantic candlelight dinner by setting up a card table in the bedroom (ha! it was the only way to keep the cats away from the candles). i ended up secretly ordering takeout to get him the steak he wanted, which worked out perfectly since he texted me halfway through the day and said, "can we just eat frozen pizzas for dinner? i'm too tired to go out and i don't want to deal with the world." so i let him think he was getting frozen pizzas, and instead he got his secret bedroom steak dinner. here is birthday boy opening presents. i got him a record and a dvd box set, and my family got him blank cds, a PBR 12-pack and a hank williams music book so he can learn the songs on his guitar: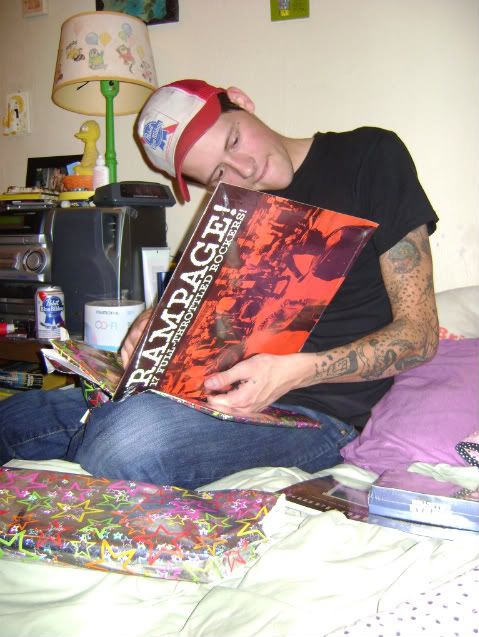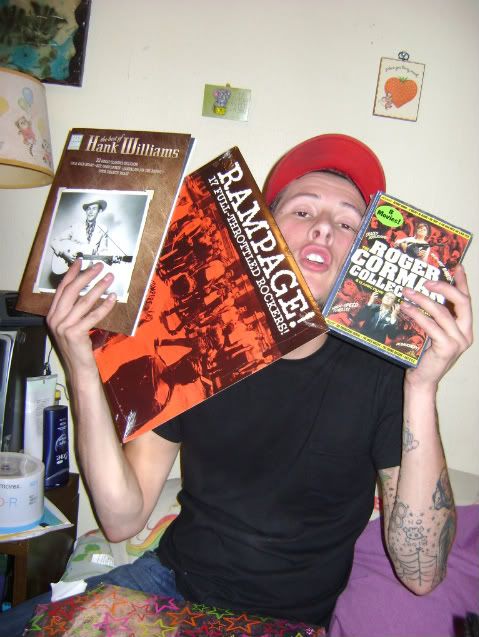 and here is dummy pogo thinking that the wrapping paper was a gift just for her: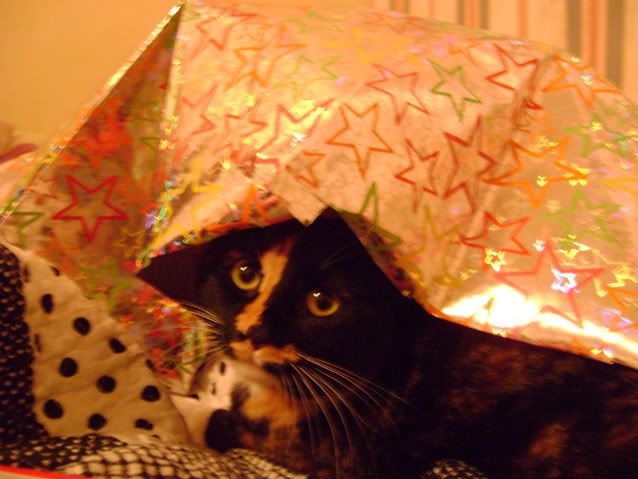 and while we're on the subject of cats...the other day i couldn't find megadeth ANYWHERE. i looked in all her favorite hiding spots and all her favorite napping spots, but she was nowhere to be found. i was walking through the kitchen when i just happened to glance up and HOLY MACKREL would you believe where i found her???
she climbed the sink...to climb the fridge...to climb the CABINETS...where she sat perched like an indignant little parrot nearly touching the ceiling! the look on her face said, "i'm going to sit here if i want to and
nothing
you can do will stop me!" and she's just about right, since if i yell at her and scare her, she begins to walk behind the row of glasses and bottles atop the cabinets and that is the LAST thing i need her to do is knock them down and break them. still, what a little brat!
AND FINALLY: my dear friend
mab jewelry
tagged me for an award because she thinks my blog is over the top! COOL!
as part of the deal, here is a survey i had to fill out using just one word. then i'm off to tag 6 more top blogs, who will have to do the same survey and pass along the award! golly, thanks!
1 Where is your cell phone? desk
2 Your hair? curly
3 Your mother? silly
4 Your father? busy
5 Your Favorite food? cheese!
6 Your dream last night? unknown
7 Your favorite drink? chai
8 Your dream/goal? FUN
9 What room are you in? library
10 Your hobby? rock'n'roll
11 Your fear? bugs
12 Where do you want to be in six years? married
13 Where were you last night? dj'ing
14 Something that you aren't? employed
15 Muffins? cheese
16 Wish list item? ring
17 Where did you grow up? cleveland
18 Last thing you did? dinner
19 What are you wearing? pjs!
20 Your Tv? mayberry
21 Your pets? kittens
22 Friends? funny
23 Your life? comfy
24 Your mood? tired
25 Missing someone? sorta
26 Vehical? borrowed
27 Something you're not wearing? shoes
28 Your favorite store? record
29 Your favorite color? red
30 When was the last time you laughed? minutes
31 Last time you cried? week
32 Your best friend? boyfriend
33 One place that I go over and over? wcsb
34 One person who Emails you regularly? mom
35 Favorite place to eat? melt!!
my over the top blog picks:
heather elaine
miss indie
pardon my ffrench
poodles things
tattoo tales
the lulu bird