i have some news!
as most of you know, i quit my awful job a few months ago thinking it would make me a happier person. and while leaving that place took a lot of bad feelings with it, it brought a whole slew of NEW bad feelings along to keep me company. ones that i never bargained for such as guilt and depression over being unemployed. well, i got some news the other day that is mostly FABULOUS, although it has its pros and cons. more pros than cons, though. alright alright i'll just spill already: my cousin amy asked me if i wanted to be charlotte's "nanny" on the days she and matt both work. how exciting!
here are the pros:
-i get to hang out with cute little charlotte all the time
-matt and amy don't have to leave their baby with a stranger
-matt and amy will save money since they don't have to pay for daycare
-i will finally have some money coming in!
-this will only be 3 days a week (usually)
-i will have a job where i don't have to wear a uniform and could show up in my pajamas if i wanted. i can also read a book or play on the internet or do whatever if she is asleep.
-i can keep doing all my side stuff (etsy, blogspot, etc) without feeling overwhelmed because this won't be a full time job
-it will be practice for the future and hopefully ease josh into the idea of having kids someday ; )
the cons:
-i won't be making much money, at least not like i would at a normal job
-i will probably be seeing a little less of josh, since a few hours are on his day off that we normally spend together (unless i can talk him into going! ha)
-i'm scared of continuing to stress josh out, since i still probably won't be able to contribute equally to our expenses. we talked about this before i accepted and he told me to take the job but to let my cousin know that if a serious job opportunity were to come up for me, i would have to take it. in a way, i'm hoping it doesn't because i'm really excited to do this. but i also don't want josh to get fed up.
so i guess that's it. there is more to be excited about than not...but the few worries i do have are still pretty serious ones. i guess all i can do is go into this hoping for the best. maybe the shops (
swamprat
and
frenzy
) will pick up a little with the holidays coming and that would help ease my mind. i dunno. it's going to be an interesting new chapter for me, i can tell you that much!
here is little charlotte taking a nap, about 3 and a half weeks old. i borrowed this from amy so i hope she doesn't mind!
here is some more news that i'm happy about. i am currently included in THEE most fabulous treasury with a "dark carnival" theme!! it was made by the lovely
creepling
, who makes tentacle accessories. awesome! please
check out the treasury
and click away! i would love to see this thing make it to the front page. isn't it amazing??!?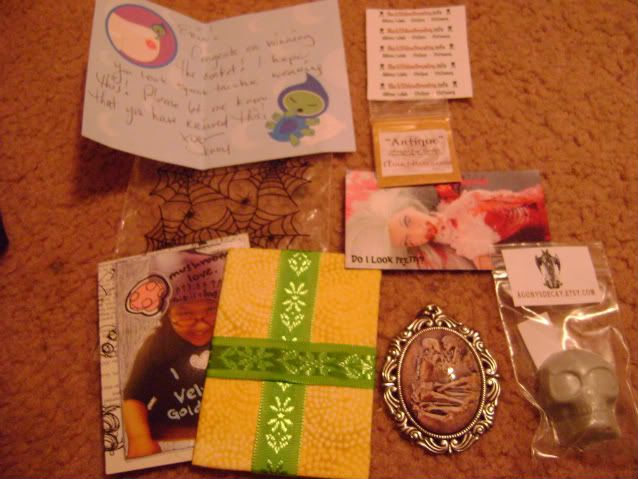 i also got the pendant i won from
agonys decay
in the mail the other day. it was even better in person!! and not only did i unwrap the necklace but my envelope was filled with all sorts of goodies and samples. it was like spooky, bloody christmas came early! thanks so much jenny! please take a minute to check out
her shop
and all the wonderful things she has to offer. i'm drooling over those seahorse cameo pendants! sigh.