well, the cat's out of the bag! the etsy-related news i've been sitting on is this: i've opened up a new shop!
the url is
http://frenzyfinds.etsy.com
. i am hoping i have not gotten in over my head running two shops, but i needed a place to list things that weren't photography related. i like having a specific place just for the photos to go, so that brings me to this.
i decided that i wanted a place to sell recycled or upcycled items, including vintage finds that need a new home and anything i might have crafted out of found items and turned into my own pieces. i like taking something old or ordinary and putting a new spin on it to make it more unique and a little more...me. hopefully people will share my taste, whether it is vintage, retro, punk, rockabilly, weird & creepy...whatever.
so i started with some vintage things i needed to purge from the house. josh is yelling at me that i have too much stuff and i'm finally having to agree with him. so far there are vintage saddle shoes, records, a dress, and these GIG pity puppies. see, i told you that art entry a few days ago would tie in and make sense once i announced this! plus, the banner and avitar for the shop are SHAG images, so i think i tied in my post rather nicely :)
anyway, here are the two puppies for sale in the shop: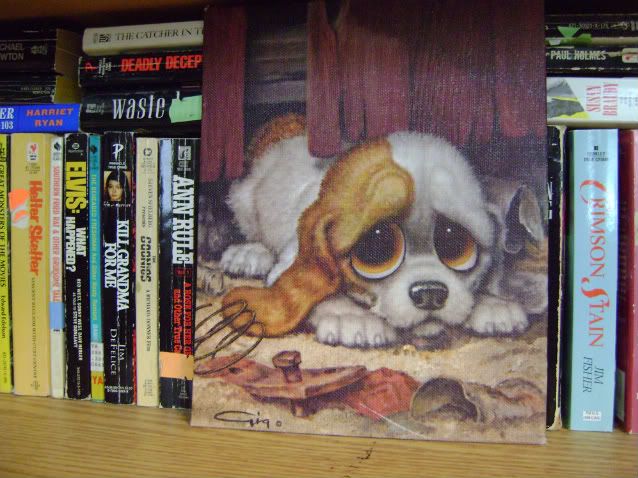 you'll have to visit the store to see the other vintage stuff i have listed. and believe me, there's LOTS more to come once i have time to sit down and add it all!
i also included a few jewelry pieces i made out of found objects. here are two of my favorite necklaces incorporating keys:
and finally, here is the biggest part of the surprise i couldn't wait to share. i didn't want to say a word because i wasn't even sure how well this would turn out. in the past several weeks, i've been teaching myself how to screen print. a very punk rock, d.i.y. method, but screen printing nonetheless.
originally my idea was that i wanted to make serial killer pillowcases. i like to call the line "cuddle with a serial killer!" because now you can cuddle up to charles manson or john wayne gacy when you turn in for the nite :)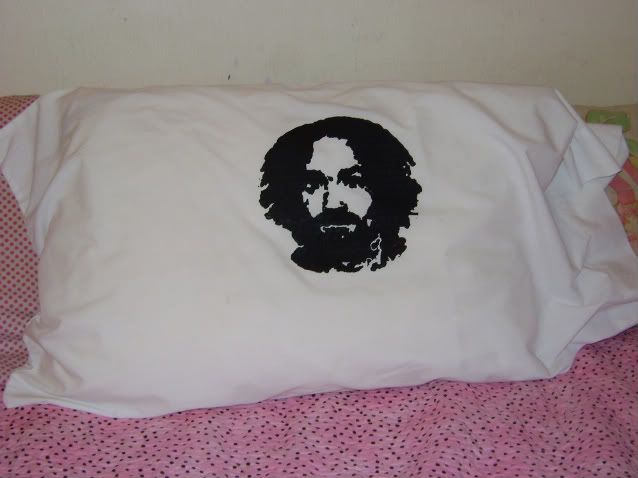 i had a ted bundy screen made but i didn't like the way it turned out, so i decided not to list the pillowcase i made and start over from scratch. i like doing this, but because i am doing it such a d.i.y. way it takes a long time to prepare each screen and make the actual pillowcase (or whatever we print -- josh and i have also been experimenting with t-shirts and bags so far). anyway, i hope to get some more made soon so feel free to put in a request for your favorite serial killer. ha. just in time for halloween!
like i mentioned, i experimented with screen printing on bags and i made this cool buddy holly purse/tote bag. i still have some tweaking to do to get things just right, but i still think it's neat.
so there you have it, folks. please stop by and let me know what you think. and mark it as a favorite if you think we might have similar taste, because i have a lot more to come in the future!