summer is winding down and i'm trying to come to terms with it. i suppose it softens the blow that next week i'll be on vacation and then after that i will be on PERMA-VACATION. or at least until i find another job. but i'm going to miss the warm weather and all the summer activities that go along with it.
one thing i was obsessed with this summer was cooking on the grill. josh invented something he likes to call "volcano burgers" where he puts cheese between two patties of beef and cooks the cheese inside. when you bite into it it's a gooey cheese eruption in your mouth. PERFECT! i like my volcano burgers with sliced avocado and mayo.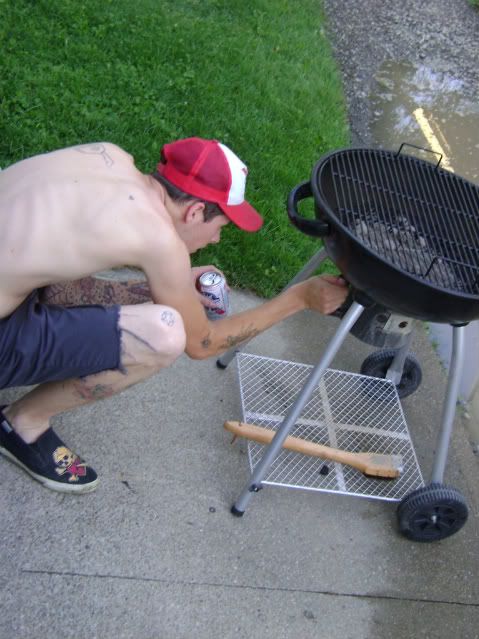 the other thing i was way into this year was my bike. I LOVE MY BIKE!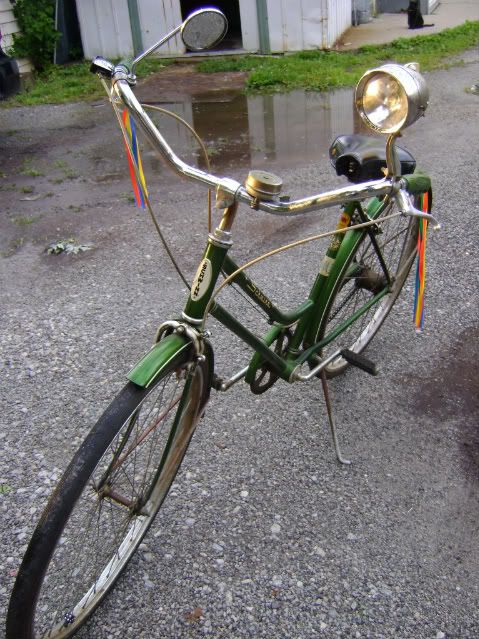 it is a vintage schwinn that i got at the thrift store a few years ago.
i don't know much about bikes, but i think it is a '72 schwinn breeze (without the original seat - wah).
regardless, IT'S GORGEOUS. my favorite part of the bike is this text and the starburst patterns. looooooooove it.
it came with this old bell on it. when josh and i go on bike rides, i like to ring the bell and say hi to all the cats in the neighborhood. most of the time i scare them away by accident.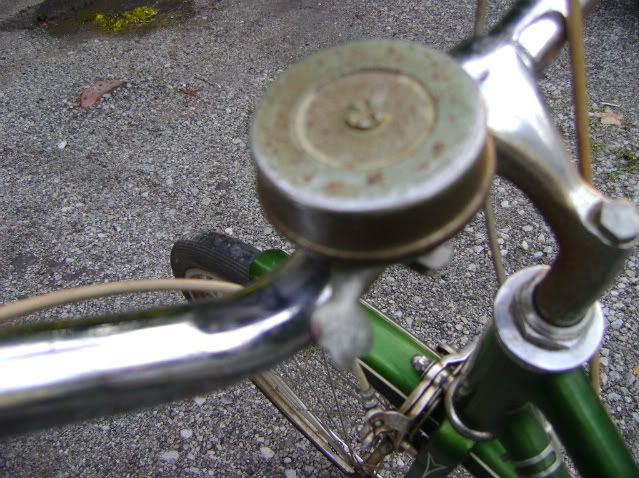 my neighbor noticed my bike in the shed and he found me some parts that he scavenged from other old bikes. awesome! so he got me this cool light. i can't figure out what kind of battery it takes, so it doesn't work right now. they might not even make them any more. it looks very fifties.
he also gave me this cute old mirror: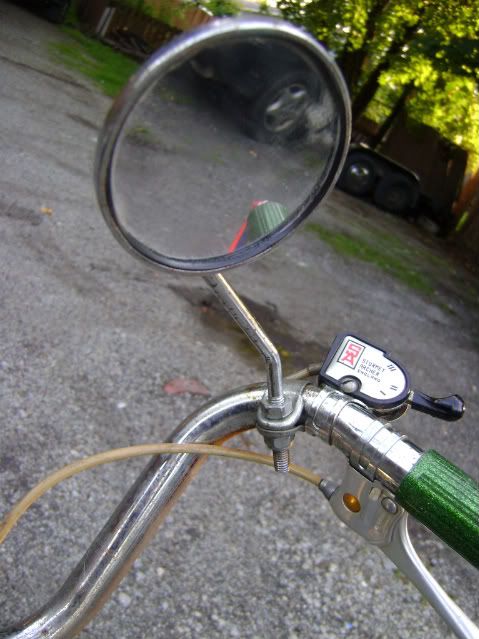 i found josh a powder blue mohawk bike that is big and clunky like mine, so we like to explore the neighborhood and ride around pretending we are in a bike gang. i suppose that's when our gang names i talked about earlier would come in handy.
the bike seat is already as low as it will go, but i am a shrimp. when i am sitting on the bike, i can't touch the ground very well and somtimes this leads to a disaster when i have to stop or start going in a hurry. i feel like bill from the book/movie "it" who rides his huge bike (named "silver") all around town even though it is way too big for him. the main difference is that i am not in a hurry to get on my bike because there is a killer clown or a werewolf in a letterman's jacket trying to rip my head off.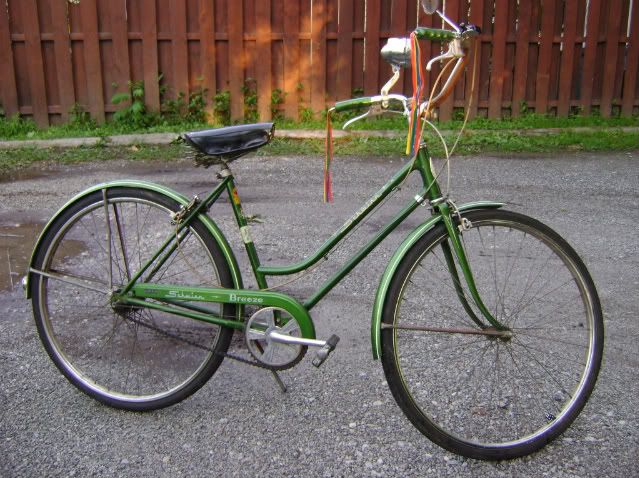 i went to big fun and bought some handlebar streamers so i could feel like pee wee in "pee wee's big adventure."
josh and i got these dice caps for the air valves on the wheels. pretty sharp, right?
aesthetically, i think these bikes are like the equivelant of all the beautiful old hot rods with fins and lots of chrome that i dream about owning some day.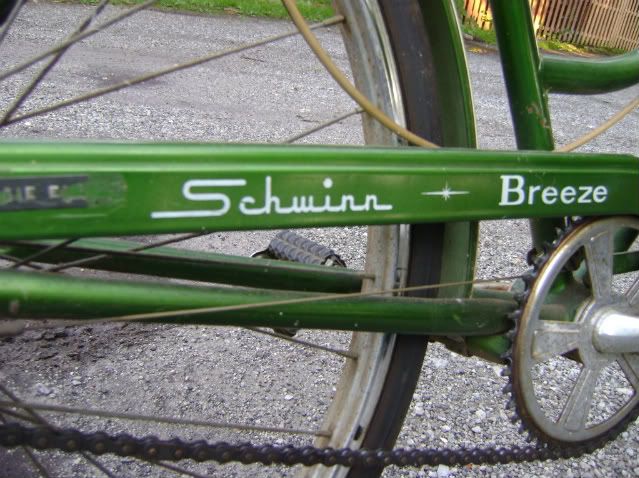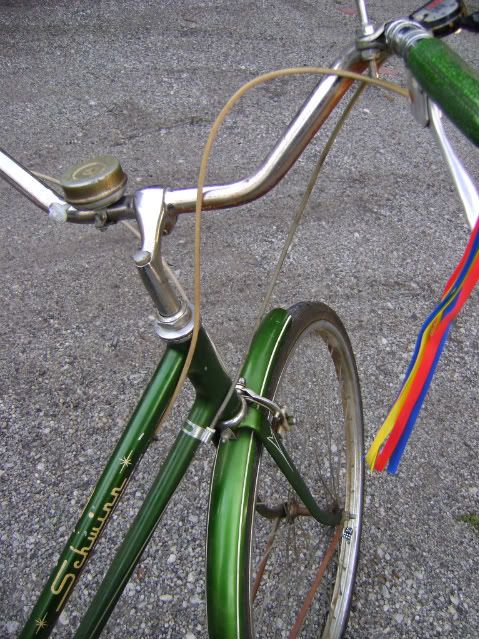 my other favorite part of the bike is the sparkly green handlebars. they make me squeal.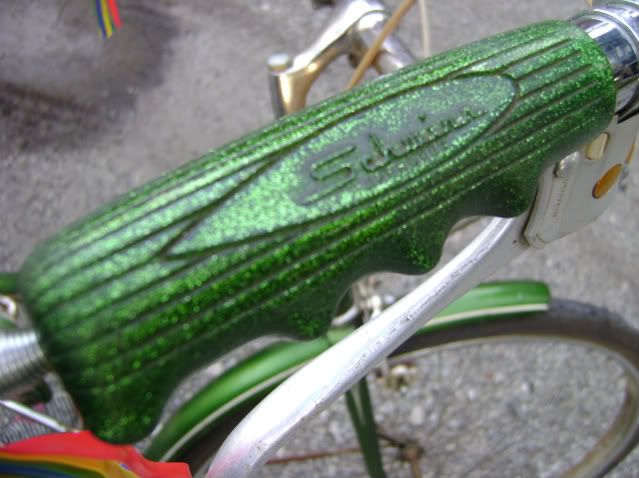 now all i need are some playing cards in the spokes ("not just any cards. bicycle!" -it) and a basket on the front. anyone have a recommendation where i can get a cool basket?
while i was outside taking pictures, my neighbor's friendly little cat came over to visit. i love this guy. he is probably the one leaving the muddy pawprints on the hood of my car to cheer me up in the mornings.