i know that blogspot and etsy go hand-in-hand for a lot of people. this was never the case for me, as i've been an avid journal-keeper and had my share of public writing spots (diaryland, livejournal, myspace and now here). but that doesn't stop me from writing about awesome things i come across from time to time, and here is an entry dedicated to just that. enjoy!
before i was actively involved with etsy, i found a seller who still has some of the coolest stuff i've found on the site. her store is called
sweetheart sinner creations
, and together with her boyfriend she makes jewelry and cigarette cases. i am especially pumped about the necklaces, which are all done in themes that i am way into: horror, pinup, vintage halloween, b-movies, etc. i promptly went crazy and ordered four of them, including a GIG big-eyed kitty, a cartoon of a pinup girl being attacked by a skeleton, an old photograph of a geisha, and a black & white picture from an old medical text book of a doctor standing next to a skeleton model. they are all amazing and i already have a few more picked out that i want to order! when i wear them, i always get a lot of compliments on them.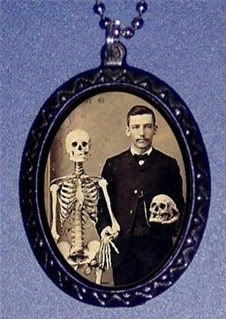 my first purchase once i joined etsy was from my friend phoebe, who is one of the most creative people i know. her shop is called
xxo, phoebe marie
and she has all kinds of goodies inside! immediately i fell in love with her
customizable mini polaroid necklaces
. you send her a photo of that special person, have the option of adding some text, and she works her magic so that your finished product is this unique little gift, just for you and your heart. i chose to get a photobooth picture from not long after josh and i met, which is my favorite picture of the two of us. below it is the title of one of "our" songs, a dreamy doo-wop song by the skyliners called "this i swear":
phoebe even said it was one of her favorite ones that she has made, which made it that much more special. love it!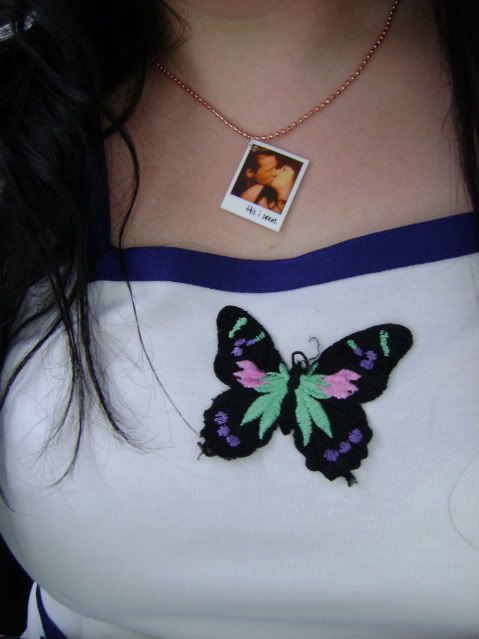 the other day i made another purchase that i'm really excited about. while doing a search for
el dia de los muertos
, i stumbled upon
mis nopales art
. how can you not fall in love with this stuff?!? i had such a hard time picking out just one because there were so many that i wanted...so i settled for picking one for myself and one as a present for josh :)
here is mine:
and here is the one i picked for josh, figuring that if he didn't like it i could just keep it for myself. ha. unfortunately/fortunately, he likes it: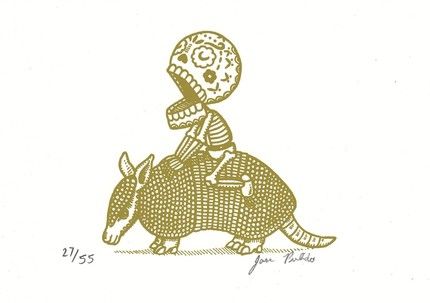 i can't wait to get them in the mail and hang them up!
i am still new to etsy and finding neat stuff every day. here are a few of my favorite recent discoveries!
the first is run by adorable kate and her adorable husband (no, seriously...they posted a photo of the two of them together in
their blog
recently and if it isn't the cutest darn photo then i don't know what is! not that i'm partial to heavily-tattooed couples who are happily in love or anything...)
their shop is called
where eagles dare
and they feature prints and paintings inspired by traditional tattoo art. MY FAVORITE! i totally dig this one that is for sale right now:
i love kate's blog because it is a good mix of etsy talk (and we have very similar taste so i always like to see the cute things she posts!) and personal stuff. i find that i get bored by those blogs that ONLY talk about their etsy store. right now she is having a giveaway in
her blog
for one of their paintings, so go check it out!!!
i've also been very into
the stapelia company
. not only do we share a love for photography, but also an interest in underbelly art like vintage signs and creepy carnival themes. here is one photograph that i have my eye on. it would look so neat framed and hanging in our house among all the other sleazy stuff :)
another amazing one is called "the golden stash." just look it up. you HAVE to.
my friend jeanie has also been making these AWESOME 45 record boxes out of found LP cover art. they are FANTASTIC. her etsy store is called
retail trash
. as some of you may know, i have an intense weakness for vintage 45 carrying cases. THEY MAKE ME CRAZY!!!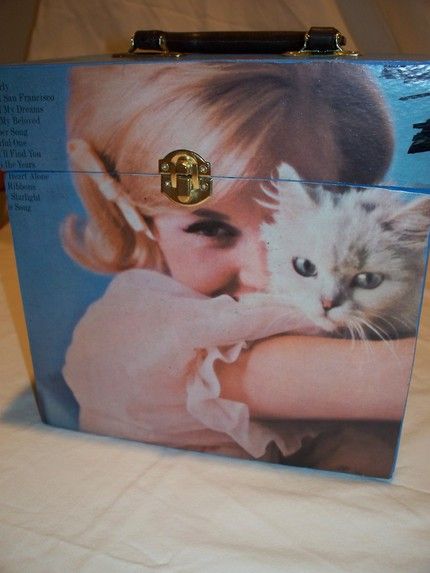 hopefully you'll find something new and sweet after reading this entry :)