if the name of the fest is any indication as to the experience josh and i had while in buffalo, then the name should actually be changed to PAIN IN THE BIG ASS FEST. which is not to say we had a bad time, but we did run into a few snags here and there. or "EVERYWHERE!" as josh so kindly put it. let me fastforward to last weekend...
josh and i have known about this trip for months and we made arrangements to stay with a friend of his since we didn't have the money to get a hotel all weekend. on friday morning, josh got a text from his friend saying he wasn't going to be in town. sorry! UM, SERIOUSLY??? i have less than 8 hours to figure out what we're going to do or the whole trip is off? sweet. i snuck around at work, texting furiously and trying not to get caught so that i could try to find another place for us to stay. in the end, my friend scott saved the day. he was paying back a favor since
the blowtops
have slept and eaten dinner here for the past five years any time they were in cleveland. all set. good deal.
josh and i left after work on friday and made it to buffalo without any problems. right away i ran into people i knew: aaron, scott and dave from the blowtops, kickbart who runs
bigneck records
, bill from
cococoma
, etc. bill showed me pictures of his and lisa's baby (congratulations!) and i told him i was excited to see his new band,
a/v murder
. before the night was through, we would see about 8 bands, the highlights being the terrible twos, av/murder and the last blowtops show ever.
we slept at scott's house and he has a huge, goofy puppy that is as big as me. i slept like shit because 1) we were laying on an air mattress on a hardwood floor, 2) the window was open all night and it was so cold in the room that when i woke up in the morning i found both josh and i had been sleeping with the covers over our faces to keep our noses from falling off, and 3)the big, happy dog kept running in and trying to jump in between us on the air mattress to cuddle. we had nothing to do saturday until the show started at night, so we decided to go exploring. we checked out a big cemetery by scott's house where rick james is supposedly buried, but we didn't find his grave.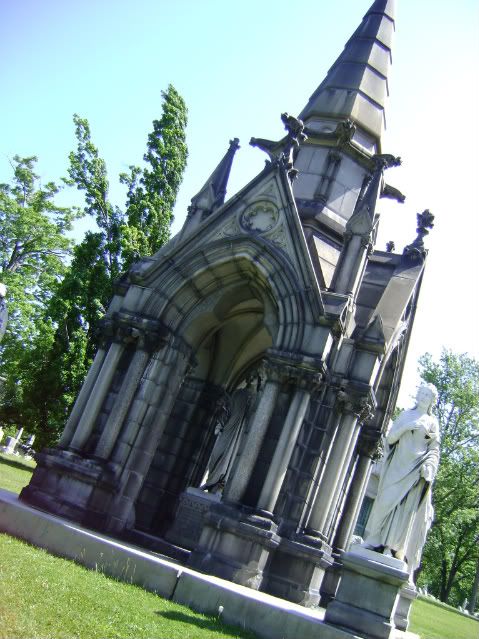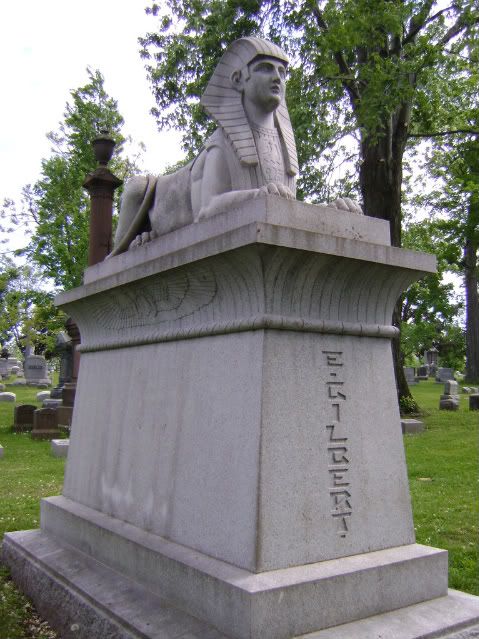 next we decided to go to niagra falls because it was two days before the new law would go into effect, stating that you need a passport to cross the border. we figured we might as well go now while we were 20 minutes away. scott and aaron advised us to park on the american side at the national park and walk across the bridge to canada because you would get "hassled less" this way. haha, UNTRUE. the border guard we had was a total BITCH. she asked for our birth certificates and we said we didn't have any. she asked why. we told her we didn't know we had to. she responded, "you can't just walk in here and pretend like you don't know that you need them. it says it everywhere." unfortunately, there was no pretending involved as we don't cross borders often or find ourselves around canada on saturday afternoons. next i found out that i was accidentally carrying a concealed weapon, as i forgot that there was a little bottle of pepper spray attached to my keyring. she called border patrol officers to escort us to another office, where we had to fill out paperwork saying that they took my pepperspray and destroyed it. ANNOYING. by the time we got inside canada, i was fuming so hard at the way that lady talked to us that i couldn't even enjoy myself. josh tried to cheer me up by taking a picture of me by the falls and sending a text to my mom that said, "think she should try the barrel trick?"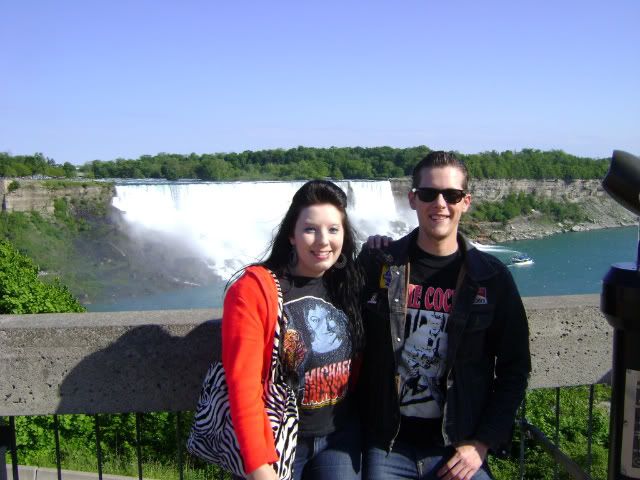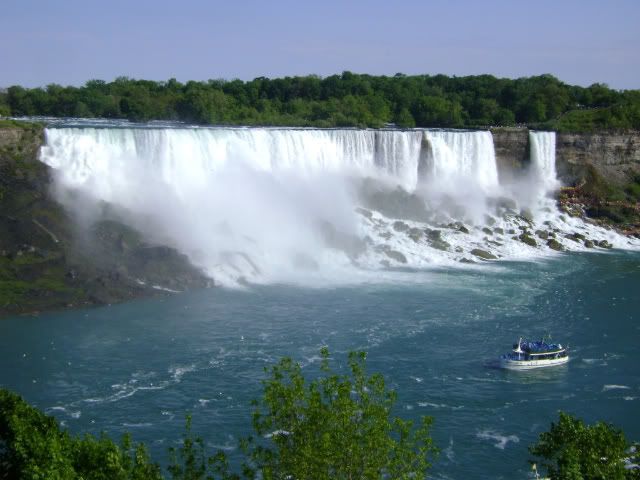 we walked around and looked at things and wished we had more money with us. we went inside the criminal hall of fame wax museum, which was filled with serial killers and mobsters. it was pretty cool, especially when we learned you could take all the pictures you wanted inside.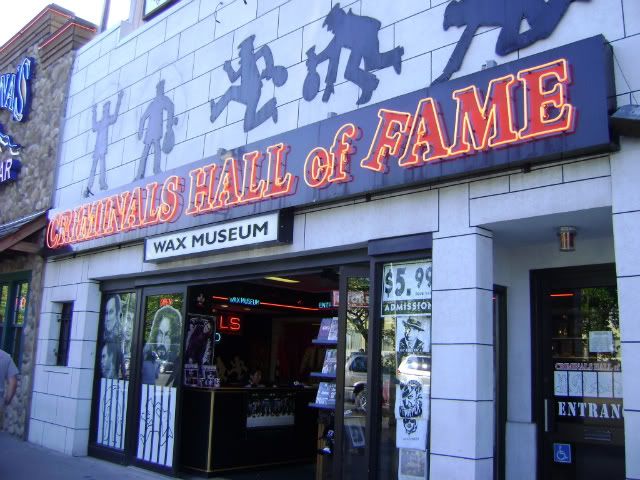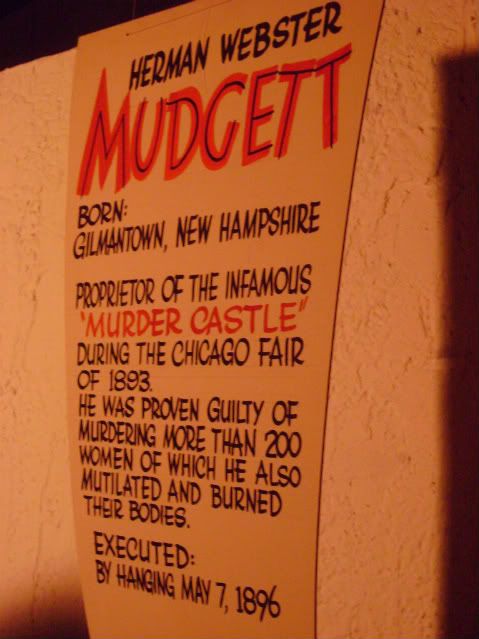 tell me these pictures of john wayne gacy dressed as pogo the clown aren't the creepiest things ever!!!
i LOVE the jeffrey dahmer scene!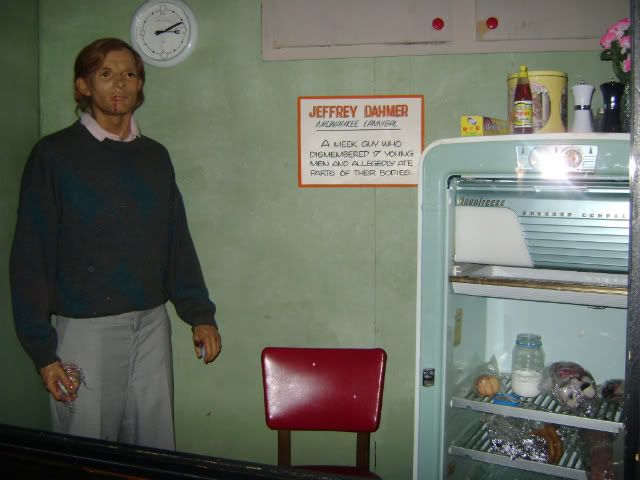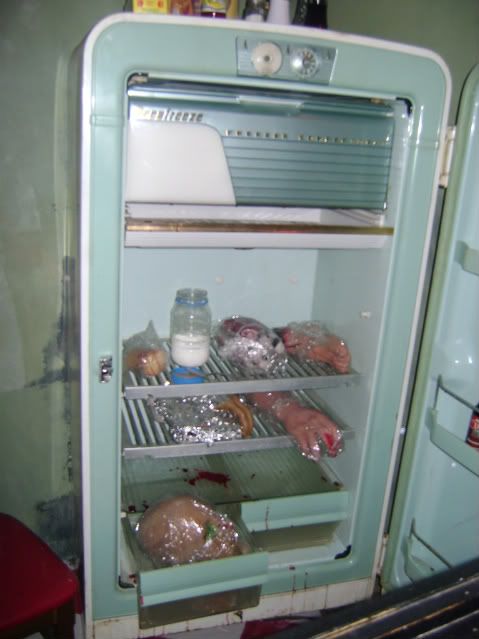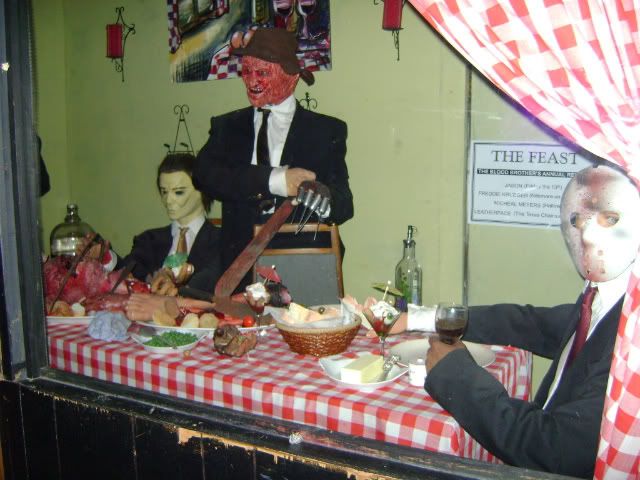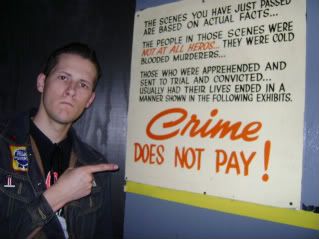 we stopped back at scott's house to take a nap before the show, but i still couldn't sleep. we went to a gas station and almost got into a car accident when a girl backed out of her parking space and almost plowed into the side of our car. it would have been AWFUL. our cars BRUSHED each other. she FLOORED IT IN REVERSE. ugh. i shudder to think about how bad it could have been. i almost peed my pants waiting for the impact to happen, which it (thankfully) never did. by the time we got to the show that night i was feeling terrible from lack of sleep and some sort of cold. i spent most of the night trying in vain to keep my eyes open. i couldn't even socialize with anyone because i felt so awful i didn't even want to be there. it sucked. but i did manange to see some good bands, like the fatal figures (new band featuring ex-blowtops members), homostupids, burndowns, and 2 reunion sets by the baseball furies. i passed out on the couch at scott's and finally got a few hours of sleep before we got up early to go back to cleveland. i didn't get many pictures of bands playing all weekend, but i blame that on my feeling like shit and not being as into the shows as i normally would have been.
we were about 20 minutes into the drive on the way home when we decided to stop at a rest area to get cheeseburgers from mcdonals. that's when i looked at my back tire and told josh it was flat. it didn't FEEL like it was flat, but it was about 2 second away from blowing. so there we were on a sunday morning, 3 hours from home with very little money and no idea what to do. to top it all off, i was still in my pajamas because i figured we would be going right home. we tried calling my dad to see what he suggested we do. my phone went dead because my battery died. then josh called using his and HIS phone died. was this a bad movie, or what??? to make a long story short: one good samaritan, one nerve-wracking trip to walmart on a donut and 3 extra hours added to the trip, and we were finally back home. and let me tell you, home never felt so damn good.