not only am i a packrat, but i collect a lot of stuff: records, books, vintage stuff, 45 carrying cases, GIG pity kitty/puppy paintings, etc. therefore you can see how working at a thrift store is both a blessing and a curse for me. i also have a thing for hawaiian and japanese things: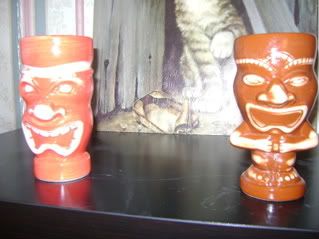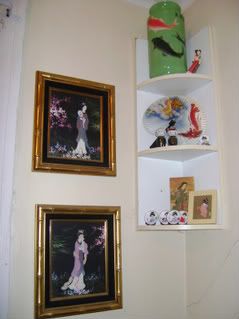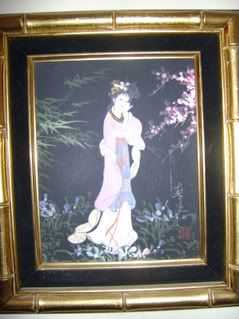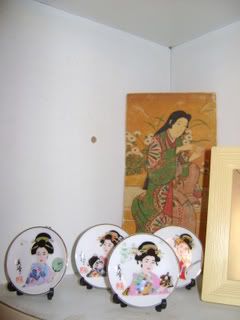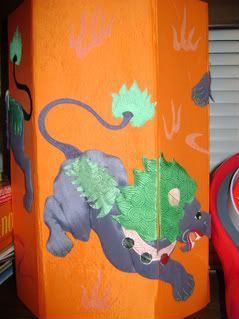 one night when i was bored last week i was doing a search on ebay under "geisha" and i stumbled upon an ebay store called
sweet heart sinner creations
. i immediately fell in love. the couple who run this have such good taste in everything! most of the items are handmade necklaces and cigarette cases. the themes include horror movies, pulp novels, sideshow freaks, vintage halloween images, pinup girls, tattoo flash, old photography, etc. they even made ones with GIG puppies and kittens, and victorian post-mortem photographs of dead people and babies! I SWOONED! then again, i am somewhat morbid and unconventional in my taste. still, i would recommend this store to everyone (especially the tooth necklace to lacey!). here are three i picked out (and i'm sure i'll be going back for more):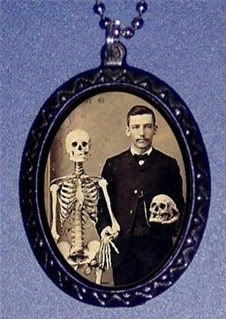 i also got two that i don't have pictures of. one is a drawing of a siamese twin skeleton joined at the chest, and the other is a cartoon of a skeleton chasing a scantily clad pinup girl. they are awesome and i can't wait to get them in the mail.
they also have a
myspace page
and an
etsy store
, but the ebay store has the most stuff in it.
things have been great with josh. the other day we had a weird day where we went to a hockey game (sports? who likes THOSE?) and then we came home and danced. a lot. like idiots. first it was to the new zero boys record, then half a side of a soul record, and then some 45s that i dj'ed (like "nobody but me" by the human beinz!) we danced together like damn fools and i couldn't stop laughing. i am notorious for demanding that everyone around me dances but not doing it myself. i don't dance. but dancing with josh was hilarious and awesome.
speaking of josh...when he first started sleeping over my house 8 months ago, he never warned me that he talks in his sleep. at first he would just roll over and mumble some nonsense (often times incoherent). i would always try to bait him and get him to carry on conversations but it didn't work until recently. here are a few of my favorite:
josh (rolls over): DOG LIFE!
me: what?!
josh: dog years.
me: what are you talking about?
josh: it means unlimited.
me: WHAT means unlimited?
josh: you don't know how to count good! (rolls back over)
josh (rolls over): are you guys gonna put ed on the show?
me: did you just ask 'are you gonna put ed on the show?'
josh: yeah, that'd be sweet.
me: ed who?
josh: A VIKING!
(rolls back over)
josh (rolls over): i can't tell what's dead and what's not!
me: josh, why are you saying such creepy things to me?
josh (gets an angry look on his face): i'm talking about the damn things!
me: what damn things?
josh: the newspapers!
me: what newspapers?
josh: ohhhhhhh, you know, damn it!
(rolls back over)
i still think my favorite one is when josh rolled over and yelled out "PIE!" and then went back to sleep. josh doesn't even like pie.
also, i think this commercial is pretty much the best thing i've ever seen.