there hasn't been any good junk scores lately and that's making me a crabby girl. i haven't found anything decent at a thrift store in soooo long. it makes me cringe to think of how much stuff i used to find back in the 90s. i never left without a huge bag full of stuff. now i'm lucky to find one thing. estate sales have been few and far between lately, or else i just haven't been able to get to them. i'm kicking myself for not blowing off work last week when one promised an old gravestone for sale. no, really! i'm a dummy.
here is some stuff from the last few times we went out, which by now was weeks ago. i'm starting to get that itch that only another junk junky can understand. MUST. ACQUIRE. MORE. STUFF. ugh, it's been out of control lately.
the most recent thing i've found was this vintage shelf/display case. at the moment its sitting in the record room displaying some of my 45 boxes, although i'm not sure if that is where i want to keep it or not. it works for now, because my 45 tote collection has gotten so big that they're all over the record room! on shelves, on the floor, you name it.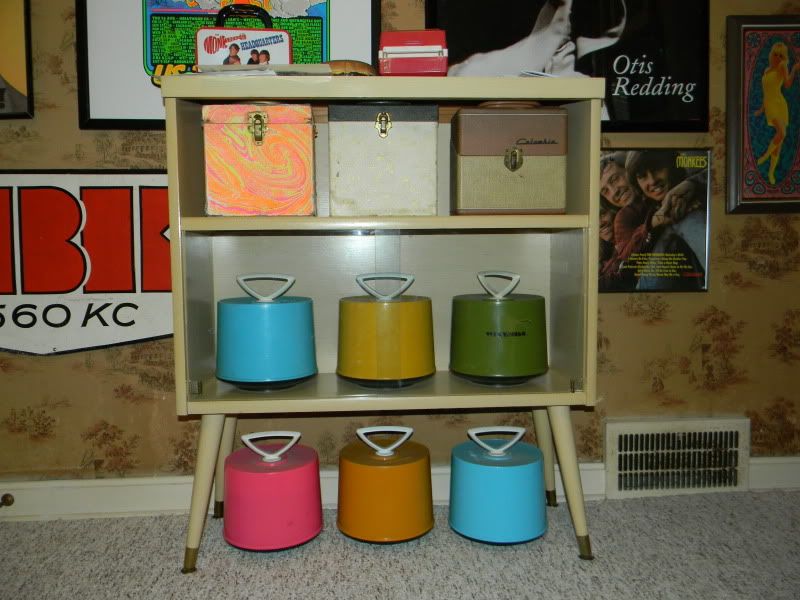 i spotted this vintage kitchen cart at one estate sale under piles and piles of stuff. i've been wanting one of these for a long time! i was afraid they wouldn't let me buy it even though it had a price tag, because so much stuff would have to be moved in order to get it out of the room. in the end, the sale workers helped me get it out of the tiny, cramped room and i managed to shove it in our small car. it's in nice shape with only some rust on one shelf, and it still has the original sticker on it. $10 and i can finally cross a longtime want off my list. this isn't the most ideal spot to put it in our kitchen, but the kitchen is pretty small and this was really the only option. oh well, it works for now.
josh and i also finally scored some vintage chairs that better match the red, white and chrome table that belonged to my grandma. there were 3 chairs but one was all torn up, so for now we still only have two matching seats.
josh found this cool plastic globe light fixture that looks really neat on the high ceiling going upstairs.
i also got some more vintage christmas decorations, including a ceramic light-up tree like my grandma used to make in her ceramics class and a silly-looking tabletop tinsel one.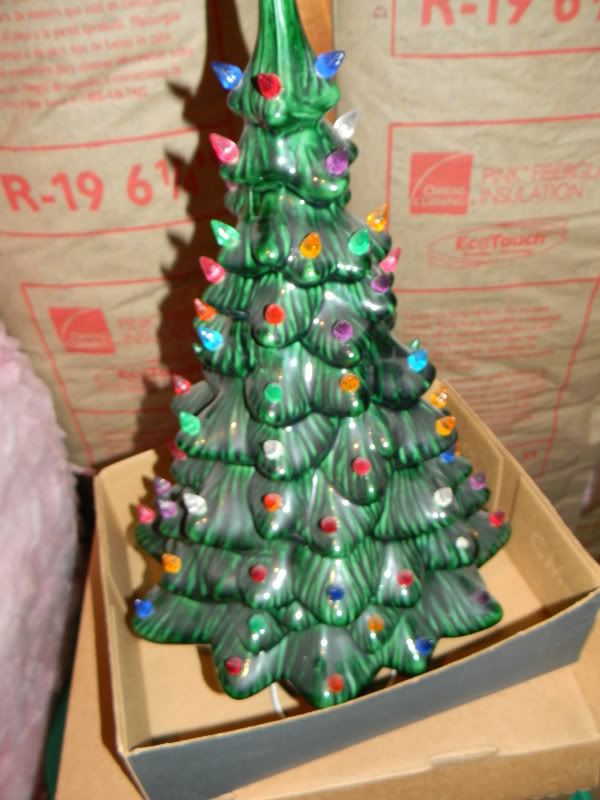 in other house-related news, while i was moving all the hillbilly shelf stuff to the basement bathroom i was inspired to move some of my food with faces/kitschy food-related items into the kitchen where i've been meaning to find them a home. here are some shadow boxes showcasing my growing collection of funny face cups, twinkie the kid, the choo choo cherry bobblehead, and these funny cookie mascot dolls with cookies for hats.
there's more to add, but the kitchen needs a few more shelves hung first.
eartha kitsch
, i'm fairly certain you can appreciate this collection.
found anything good lately?