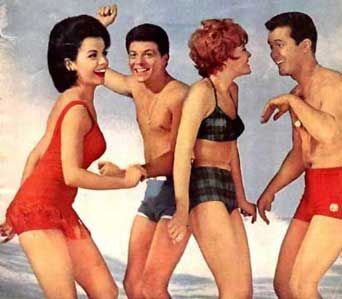 i've got something exciting up my sleeve. i'm helping to plan and execute a big summer party at my regular hangout and it's gonna feature burgers, records and bands...SCORE! i present to you:
HOT FUN IN THE SUMMERTIME RECORD SWAP/FLEA MARKET featuring POPPETS (sweden!) and THE SWEET SIXTEENS!
this is going to be an afternoon show on the back patio of now that's class. it is gonna be on sunday, july 11th and go from 1pm-8pm. bands playing will be my good friends THE SWEET SIXTEENS from indiana, and rock'n'roll's cutest couple POPPETS all the way from sweden!
we will also be having a BBQ in the back parking lot of the bar, as well as a record swap/flea market set up indoors and out. anyone who is interested in setting up a table at this is welcome to no matter what you want to sell, just drop me a line on facebook or at
brainstew3@aol.com
. if you're in the cleveland area this is a cool way to hang out and get some exposure (and hopefully make a little money!). and if you're just outside of cleveland, well, this is a sunday and it will be ending early because there is another show happening at the bar that nite, so you can totally take a little roadtrip and be back at home at a respectable hour!
anybody wanna come sell some records? books? arts & crafts? whatever it is, you should bring it! we're asking for a small vendor fee ($5 measly bucks) to set up and all the money is going directly to the bands. this is a free show, but donations are encouraged.
SO...hot fun in the summertime 2010, who's in?!?
here is a link to the facebook invitation:
hot fun in the summertime!
p.s. speaking of records, if anyone is into punk/rockabilly
josh and i have a few things up on ebay
right now. this includes some autographed shit as well as a french pressing of robert gordon! and a couple brand new elvis purses...