i haven't done a musical monday in weeks. and what better time to bounce back than when the lovely diane is having a contest? anyone who participates in musical monday this week and/or next week will go into a drawing for an itunes/amazon giftcard! that's incredibly sweet (not to mention AWESOME!)...thanks, diane!
i also figured there's no better way to come back with a bang than with a feature on the one and only MOTORHEAD! the news this week is that the long-awaited "lemmy" movie is finally being premiered at this year's sxsw festival. i'm bummed that i won't be there in texas to see it, but i'm hoping it's just a matter of time until it's more widely available and i can. here is a trailer for the documentary-style film about the band's legendary frontman:
the best part is the end when he tells that stupid joke and laughs at himself. i don't think i need to reiterate what a total badass lemmy is...everyone knows it, even people that don't listen to motorhead. don't believe me? (somehow) don't know what i'm talking about? hold on to yer pants...
if you're somehow still on the fence about whether or not lemmy is the epitome of rock'n'roll, just read his autobiography "white line fever." that shouldn't leave a ghost of a doubt in your mind! even when he was a wee little lad...sheesh! he was destined to lead a rock'n'roll band.
i saw motorhead play live once at the cleveland agora. it was amazing and it was THEE loudest show ever. i also saw lemmy perform with his other band (featuring slim jim phantom from the stray cats!) where they only do covers of old rock'n'roll songs like eddie cochran, buddy holly, carl perkins, etc. that show was UNBELIEVABLE because not only was it at a small bar...but the show was sponsored by camel cigarettes and they were giving away free tickets to EVERYONE. so i got in free and managed to squeeze my way to the front of the room to watch lemmy sing elvis songs FRONT AND CENTER. so awesome.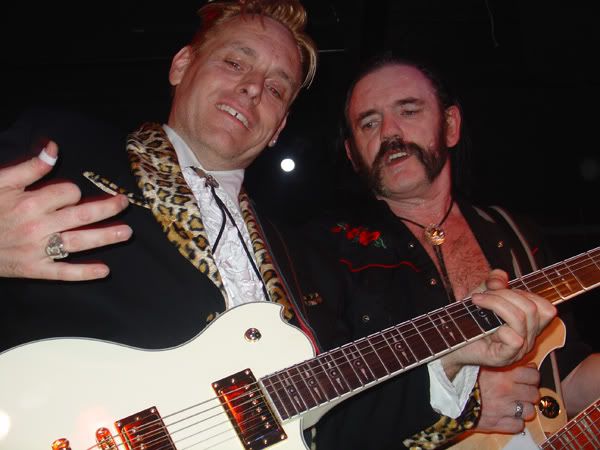 after the show i was determined to get a photo with lemmy. so i waited. and waited. and waited. and i learned that good things really
do
come to those who wait! no, i did not photoshop myself in. i was really that close to his chest hair.
this friday, cleveland's own motorhead cover band (motorhead usa) will be playing at now that's class. they are pretty spot on, and lots of fun to see live. i think i just might have to take josh on a date since he's never seen the real motorhead live and it's the closest he's gonna come at this point!
lemmy is such an inspiration to me that when my cousin and i got our first kitten and he turned out to be a total badass himself, we knew he could only be named after the OG.
lemmy: "yeah, i'm a perv..so what?" *insert belch noise*
"no, i won't be taking any publicity shots today. please move along."
godzilla cat says: "i will DESTROY your goddamn city!!!"