apparently, paul collins has been keeping a
tour diary
while he's on the road with gentleman jesse and his men. i heard him reading it to jesse when we got up in the morning, but i thought it was secret. guess not, so go ahead and take a peek. he keeps referring to hotel hot trash as "erin's very cool rock'n'roll house." i like that. it's even better than the time eric from the jetty boys told me my house was like a museum. a museum of weird, useless crap. (he didn't say that part but i'm ad-libbing).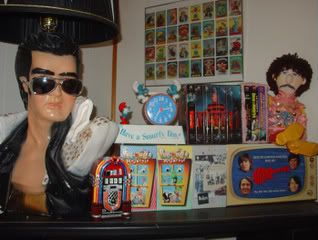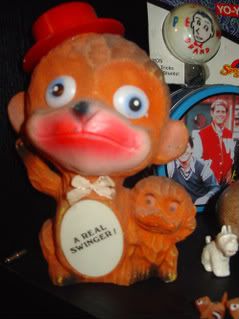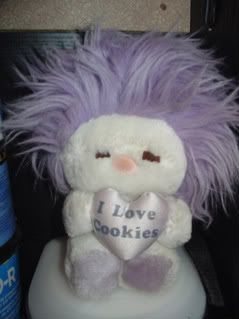 (when the okmoniks and nobunny stayed at my house, justin decided that out of all the junk in my house, this was his favorite thing. i always laugh when i see it.)
maybe you knew that yesterday, february 3, was the 50th anniversary of the day the music died. i miss buddy holly a lot. weird, right? what i find even more strange is that he was only 22 when he died, the big bopper was only 21, and ritchie valens was only 17. i always think of them as being older but i guess that's because i'm already way older than them now than they were at the time this happened. they were just fuckin KIDS, all of 'em.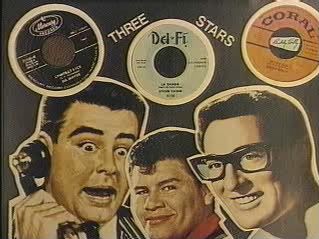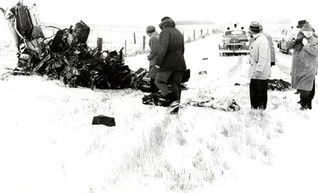 seems like this day is going to be significant for a whole new generation of rock'n'roll fans, as the death of lux interior was announced today. i'm almost positive it happened yesterday, which would be appropriate enough. i saw the cramps a few years ago and admittedly i was not all that impressed. it still sucks because the cramps were such a unique and influential band. plus lux and ivy are notorious for having a sweet record collection and fan-fucking-tastic taste in r'n'r music in general -- all you gotta do is take a look at the kinda songs they chose to do covers of and you can't help but be grateful to them for making sure some of those songs saw the light of day again. AND because that live video of the cramps playing at the mental hospital is one of the best things i've ever seen.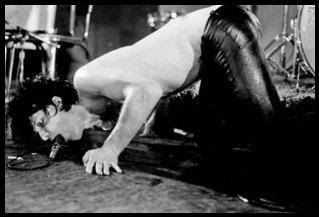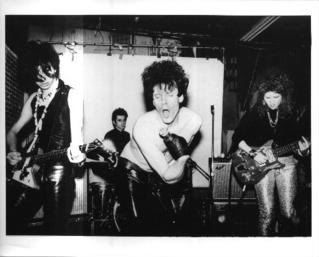 R.I.P.
buddy holly
ritchie valens
j.p. "big bopper" richardson
lux interior